Tech Luncheon 2-26-16 STEM at TAM

Friday, February 26, 2016 from 11:30 AM to 1:15 PM (PST)
Event Details
LA-LV Section Technical Programs Presents
                    Technical Workshop / Seminar 
 STEM at Tomorrow's Aeronautical Museum
                           Presenter:  Robin Petgrave, Founder TAM
Robin Petgrave is the founder and Executive Director of Tomorrow's Aeronautical Museum. He is a Gold Seal Flight Instructor, helicopter pilot, airplane pilot, and President and Chief Pilot of Celebrity Helicopters. He founded TAM to motivate and mentor at-risk youth. He has received many awards and recognition for his charity work, including the General Noel F. Parrish Award, Astronaut Ronald McNair Award, and the LA County Living Legend Award. He is a sought after motivation speaker, and regularly gives speeches at LA area schools. 
TAM

  Tomorrow's Aeronautical Museum, or 'TAM' for short, is a living classroom in South Los Angeles bringing aviation history to life and empowering the dreams of youth to take flight.Their purpose is simple: teach inner city kids about flying, support their academic achievement, and instill in them the importance of their education. TAM's classroom has educational computer systems that range from conventional class materials to FAA training sessions for technicians, flight controllers, and pilots. It's a great place to be a kid.
   TAM is building replacements for an aging workforce in high demand STEM fields such as aviation and aeronautics.  The expansion of our museum, with help of American Airlines, will allow us to reach thousands of kids.  A multitude of school districts nationwide will be able bring an exciting and engaging approach to STEM programs.  This is the ultimate path for the success of these kids, from infant to engineer, cradle to career.
  Date            Friday, February 26, 2016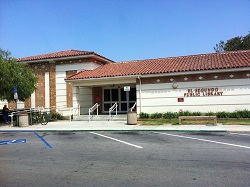 Time           11:30 AM — 1:15 PM (Pacific)
Location     El Segundo Public Library
                  111 W Mariposa Street
                   El Segundo, CA 90245
Take Main Street ~1/2 mile South of Imperial Blvd (western extension of I-205)
The library is on the south side of a park on your right.
A free parking lot is across Mariposa or use free on-street parking
Library Directions 310-524-2728
We invite you to join us for this technical event.
Please sign-up early, it helps our volunteers and shows appreciation for our hosts. The light refreshments and networking start at 11:30am, the presentation before noon, and Q & A should wrap up by 1:15pm. Directions with a map and entry instructions are included in your ticket confirmation. The venue is down a flight of stairs, elevator access is available. 
Lunch will be provided from the Little Gourmet in El Segundo. Please select your choice of sandwiches, wraps, vege or "the works" pizza while ordering your tickets to the event.
If you have problems, email  gary.moir@ingenuir.com or call 310-378-7076
When & Where

El Segundo Public Library
111 W Mariposa Ave CA 90245
Friends of the Library meeting room
El Segundo, CA 90245


Friday, February 26, 2016 from 11:30 AM to 1:15 PM (PST)
Add to my calendar
Organizer
AIAA Los Angeles-Las Vegas Section
The nonprofit American Institute of Aeronautics and Astronautics (AIAA) is the principal society and voice serving the aerospace profession.  AIAA's mission is to address the professional needs and interests of the past, current, and future aerospace workforce and to advance the state of aerospace science, engineering, technology, operations, and policy to benefit our global society.
Tech Luncheon 2-26-16 STEM at TAM