About this Event
Don't miss out. Attend this month's Women's Voice in Tech event!
Be part of the conversation and help change the future for women in tech! Top executives from NBCUniversal, AT&T, Motor Trend Group and ZEFR will discuss:
The greatest opportunities for growing your career in tech
Trending roles -- what's hot now, and what's just around the corner?
The changing landscape for women working in male-dominated industries
Overcoming bias in the workplace -- what they've seen work in their companies
You'll learn how each of these leaders built their careers, and the challenges they faced along the way. They'll offer advice for women working in all tech disciplines, and answer your most burning questions!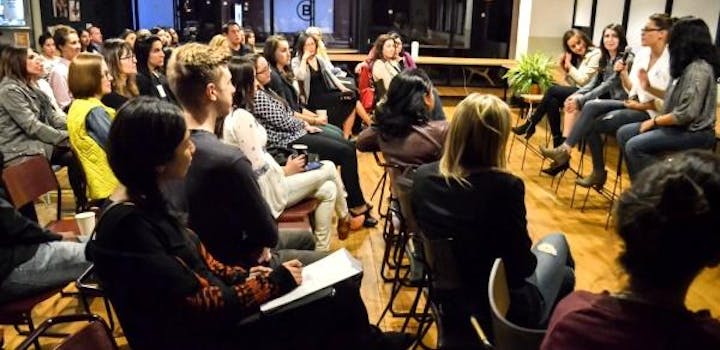 Join the Women's Voices in Tech community in welcoming exceptional leaders from a range of industries:

Pepper Chiavacci - Vice President, Digital Products, Motor Trend Group
Pepper Chiavacci started her career in San Francisco at Accenture, one of the largest global consulting firms in the world. There she held various senior customer relationship management (CRM) roles responsible for launching strategies and programs with Fortune 50 companies.
Now, as Head of Products for MotorTrend, she oversees product management, UX, customer care, and program management teams.
Pepper is charged with developing digital strategies to maximize monetization while improving user experience across the automotive brand portfolio.
In recent months, Pepper's team built and launched "Motor Trend on Demand" - a subscription-based video on demand service (SVOD/OTT) that provides automotive content to consumers across multiple platforms.

Dr. Lynda Murray-Thomas, Ed.D, MBA, PMP, CSM - Director IT, NBCUniversal Theme Parks
Lynda is an innovative leader possessing the ability to inspire and lead teams through digital transformation technology goals. She has a strong passion and proven strategic abilities to lead internal and global teams from idea conception through successful delivery, especially when the request is innovative, delivery timelines are tight, and the technology delivered is transformative.

Mona Rusch - Director Of Technology at AT&T
Mona Rusch is a Directory of Technology at AT&T. She has more than 25 years experience in leading technical teams and has held various leadership roles in areas such as Business Relationship Management, IT Operations, Program Management and Development. Mona has an unconventional journey into IT that started with a BA in religion, and then spent time as a financial analyst in the tax department at a large toy company before moving into technology. She loves spending time with her family, traveling, camping, outdoor activities and a good glass of wine.
Oded Noy - CTO at ZEFR
Oded Noy is a serial entrepreneur and founder of technology companies with over 20 years of expert managerial and leadership skills. He is a co-founder and managing partner of Amplify.LA, a startup accelerator, and CTO at Zefr, a content targeting platform for YouTube. Before joining ZEFR as the CTO, Noy served as a technology and strategy advisor to Internet businesses and pioneering startups. He was the former CTO and co-founder of truecar.com (TRUE). Noy has six patents in pattern recognition and machine learning technologies and won the 2006 InfoWorld Most Innovative IT Project Zag (TrueCar) SOA initiative.
Noy is an active community member and a co-founder of the LA-CTO Forum. He also served as a fighter pilot in the Israeli air force.

Evening's Agenda
Networking - 6:00 p.m - 7:00 p.m.
Panel Discussion - 7:00 p.m. - 7:45 p.m.
Audience Q&A - 7:45 p.m. - 8:15 p.m.
Closing Remarks & Networking - 8:15 p.m.- 9:00 p.m.
Looking for a new career opportunity? Speak Directly with People from Motor Trend Group
Join the Motor Trend team and get experience working in a Video on Demand environment helping develop the next generation of Motor Trend Group's VOD web applications.
With a monthly reach of more than 131 million, MTG is the largest automotive media company in the world. With franchises including MotorTrend, Hot Rod, Automobile, Wheeler Dealers, Roadkill, Best Driver's Car, and dozens of other world-class brands, we are reimagining storytelling around mobility.
Speak to Mark Bradbury, Recruitment Manager at MotorTrend Group about positions at Motor Trend's Manhattan Beach office. Positions include:
Mid Level JavaScript Engineer (React and Node)
Software Development Engineer in Test - Web
Software Engineer PHP/JS
Senior Software TV Engineer
Software Engineer, Android
Senior Software Engineer, React
Senior Software Engineer, Backend Java
Senior Roku Software TV Engineer
Senior Product Manager
Director, E-Commerce & Business Development
Software Engineer, Digital
QA Engineer - Web
About Women's Voices in Tech
Women's Voices in Tech is presented by Code District Software, Engineering Training. Our purpose is to help women in the technology field and those aspiring to begin careers in the field, to forge strong, lasting relationships within the community. We're creating unique opportunities & connections to help you grow your business and career.