Description

TECH JOBS TOUR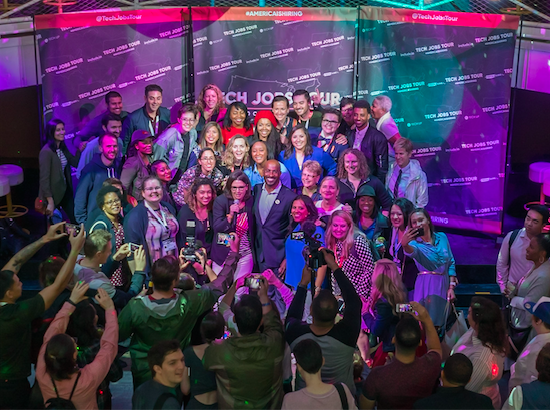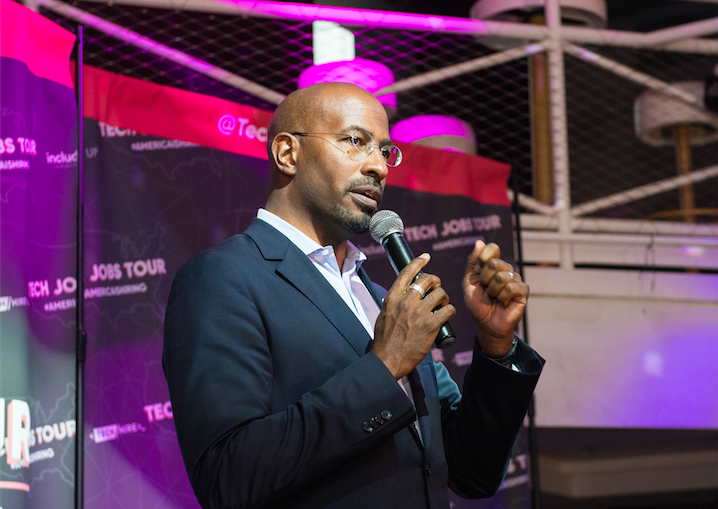 1 Year. 50 Cities. 100,000 Jobs.
Tech Jobs Tour will convene thousands of influencers and innovators across all areas of technology. Come for the speed mentoring and product demos, stay for the high-fives and ultra-diverse networking. Learn more about your career development, recruiting and retaining non-traditional tech talent, and more.
At 5PM we're kicking the night off with some professional headshots and interviewing practice, so be sure to get here on time.
We're excited to welcome the following companies to our career fair:

Votem: votem.com/careers/

fitTechnologies: fittechnologies.com/about/careers/

Jumpstart: jumpstartinc.secure.force.com/careers

Mobile Defense: mobiledefense.com/careers/

Hyland: hyland.com/en/careers
Check out their open jobs and see if there is anything you're interested in!
Special Guests + Local Partners Include:
- Megan Smith, 3rd CTO of the United States + Entrepreneaur and Engineer
- Leanne Pittsford, CEO & Founder of Lesbians Who Tech, Tech Jobs Tour, and include.io
- David Ebersole, Interim Director of Economic Development for the City of Cleveland
- Denise Williams, Data Scientist +Implementation at IBM
- Chris Smith, Deal Flow Associate at Jumpstart, Inc.,
- Seth Pinckney, IT Client Manager at Hack Cleveland and Cuyahoga Community College
- Justin M. Bibb, Managing Principal and Co-Founder at Hack Cleveland
- The entire Hack Cleveland Team (we love you!)
Learn More: techjobstour.com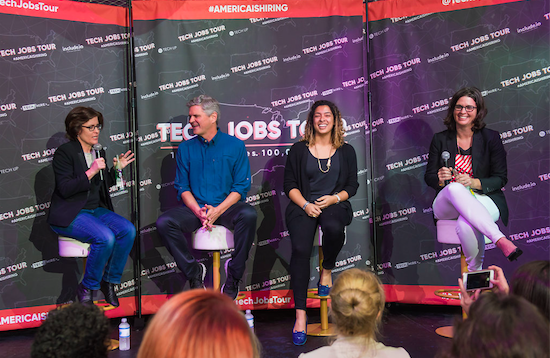 EVENT AGENDA
5:00 PM - Doors Open + Career Fair Starts
5:00 PM - Professional Headshots + Interview Practice
5:30 PM - Speed Mentoring I
6:20 PM - Welcome by Tech Jobs Tour + Hack CLE Teams
6:30 PM - Keynote Speaker: Megan Smith, 3rd CTO of the United States
6:45 PM - Panel Discussion: Cleveland Diversity + Inclusion in Hiring
7:00 PM - Speed Mentoring II
7:30 PM - Lighting Talks: Tonya Kinlow, Founder UGottaEat + Brandyn Armstrong, Founder Studio Stick
7:45 PM - Coding Bootcamp Showcase with: We Can Code IT, CCVC, Cleveland Codes, Tech Elevator
8:00 PM - Speed Mentoring III
9:00 PM - Career Fair + Tech Jobs Tour Event Ends
*Agenda Subject to Change

SPEED MENTORING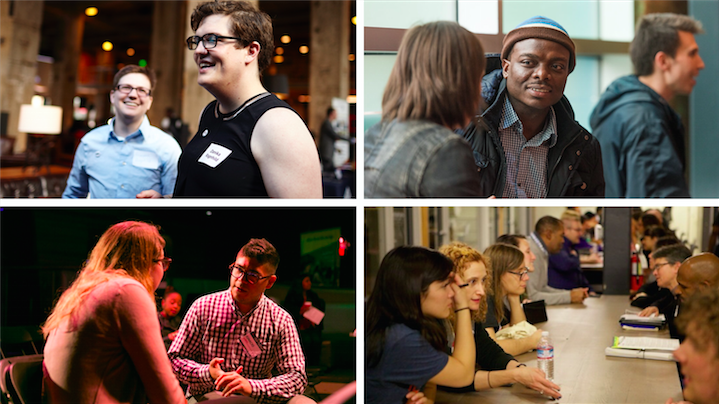 Speed mentoring == networking that doesn't suck! It's a great way to build relationships quickly and connect with other people in tech. We especially seek mentors and mentees in software development and design, QA, data science, and product management. To sign up, just tell us what skills you have and which skills you'd like to learn.

SHOWCASE + DEMOS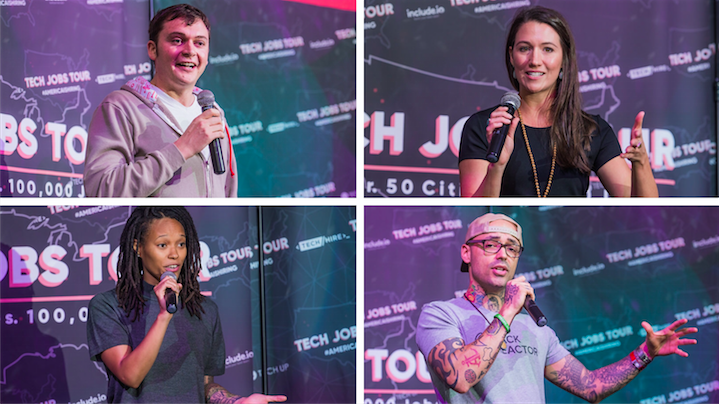 Past Participants: ​Make School, ​Dev Bootcamp, ​Hackbright Academy, ​Hack Reactor, Grace Hopper Academy, Coding Dojo, Telegraph Track, ​BLOC, ​MotherCoders, ​Floodgate Academy, The Iron Yard, Turing School, Galvanize, Metis, Designation.io, Fullstack Academy, MakerSquare, Rithm School, Epicodus, General Assembly, Apprentice.io by Thoughtbot, Grace Hopper Program, DevMountain, Sabio.la, UT Austin Coding Boot Camp, and more.

TECH CAREER FAIR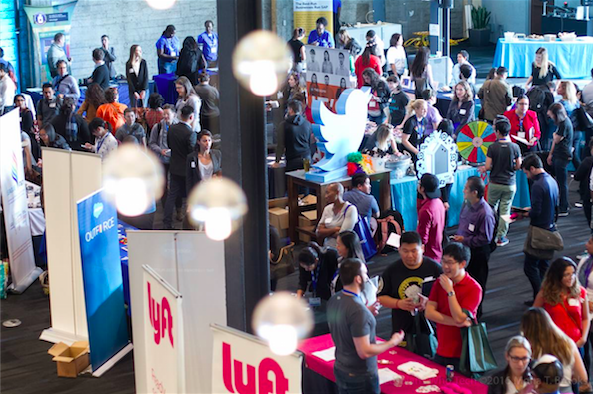 Previous partners: Accenture, Adobe, Airbnb, Amazon, Apple, AT&T, Atlassian, Automattic, BlackRock, Bloomberg, Box, CA Technologies, Conde Nast, Credit Karma, Deloitte, Disney, DocuSign, Dropbox, eBay, Facebook + Oculus, GE, Genentech, Github, GoDaddy, Goldman Sachs, Google, Google, IBM, LinkedIn, Lyft, MailChimp, Microsoft, Morgan Stanley, Optimizely, Oracle, Pantheon, PayPal, Qualcomm, SAP, Slack, SpaceX, Spotify, Stripe, Symantec, T-Mobile, Target, Twitch TV, Twitter, Two Sigma, WorkDay, Zynga, and more.
We recruit: front end developers, back end developers, mobile developers, graphic designers, UX + UI designers, data scientists, database administrators, tech journalists, product + project managers, IT professionals, full stack engineers, JavaScript, Ruby, Python, and Java programmers, social media professionals, marketing professionals, and more.

PRESENTED BY


include.io is a recruiting platform that uses mini-mentoring to validate diverse and nontraditional technical talent allowing you to be intentional about inclusion and direct referrals. We make it easy for you to search by opt-in diversity data and by candidates that have been validated by your technical leaders.
Video: bit.ly/includevideo
Deck: bit.ly/includepitchdeck

TOUR PARTNERS
TOUR ADVISORS