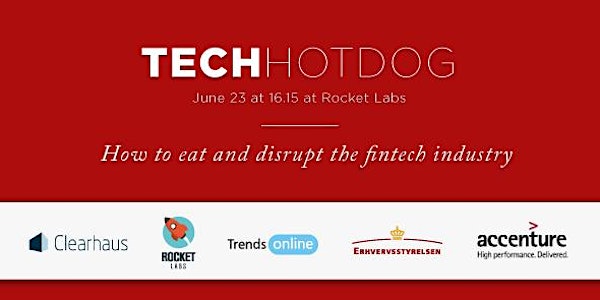 Tech Hotdog: How to eat and disrupt the fintech industry
When and where
Location
Rocket Labs 30 Hejrevej 2400 København Denmark
Description
TechHotdog er tilbage og denne gang har vi samlet et super panel med fire fremadstormende fintech startups. Efter en endt panel diskussion er vi som altid klar til at sætte ild under pølserne.
Som sædvanlig lægger vi op til debat. Denne gang handler det om, hvor svært det er for fintech startups at komme igang, hvad det kræves og har København virkelig potentiale til at blive en fintech hovedstad i norden. Debatten vil blive styret af Kim Vindberg-Larsen fra CFIR, så nivueaet bliver højt og der vil være fokus på data, faglig viden og udvikling.
Inden paneldebaten vil tre centrale aktører i det danske fintech branche introducere tilhørerne for deres perspektiver fra hver deres placering i landskabet.
Panelet
I panelet har vi Claus Christensen fra Clearhaus, der lige er blevet kåret til nordens 'Most Exponential Startup' ved Nordic Startup Awards i slutningen af maj. Jørgen Christian Juhl fra Cardlay og tidligere co-founder af Wallmob. Cardlay vil ændre den måde firmabetalingskort håndteres på. Den tredje mand i panelet er Mikael Breinholst fra Tradeworks.io, der lige har landet en stor aftale med Monex, der er den største fondsmægler i Indonesien. Sidst men ikke mindst har vi Simon Ousager fra Paradigm Consulting, der blandt andet holder kurser og foredrag i virksomheder om den digitale valuta bitcon.
Programmet:
16:15 Velkomst
16.20 CFIR præsentation v. Kim Vindberg-Larsen
16.30 Clearhaus præsentation v. Claus Christensen
16.40 Accenture præsentation v. Bent Dalager
17.00 Networking
17.15.Paneldebat
18.20 Hotdogs og øl
--------------------------------------------------------------------------------------------------------------------
ENGLISH:
It's time for this years Tech Hotdog and we have gathered a panel of four booming fintech startups. After a panel discussion we are as always ready to start the grill.
As usual, we are looking forward to a debate. This time the panel will discuss and share their knowledge on how hard it is for fintech startups to get started, what it takes and if Copenhagen has a real potential to become a fintech capital of the north. Kim Vindberg-Larsen from CFIR will run the debate and there will be a focus on data, professional knowledge and development.
In the panel we Claus Christensen from Clearhaus, who just won the Nordic region's 'Most Exponential Startup' at Nordic Startup Awards. Jørgen Christian Juhl from Cardlay and former co-founder of Wallmob. Cardlay will change the way business debit cards are handled. The third man in the panel is Mikael Breinholst from Tradeworks.io who has just landed a large contract with Monex, which is the largest investment in Indonesia. Last but not least, Simon Ousager of Paradigm Consulting, who among other things facilitates courses and lectures on the digital currency bitcon.
Program:
16:15 Welcome
16.20 CFIR presentation v. Kim Vindberg-Larsen
16.30 Clearhaus presentation v. Claus Christensen
16.40 Accenture presentation v. Bent Dalager
17.00 Networking
17.15.Panel debate
18.20 Hotdogs and beer