Join Tech Bloc and Weston Urban on Thursday, May 27 at a Tech District Reboot Rally & Website Launch Party in downtown's new Legacy Park.
About this event
Enjoy free food, drinks, and treats from the acclaimed Pinkerton BBQ as we unveil a new Tech Bloc web platform for exploring all of the Live-Work-Play-Learn opportunities inside SA's downtown tech district. Generously funded by Bexar County, this new web resource will document and share the exciting story of our growing tech district with the world for years to come.
Free BBQ plates, drinks, rally t-shirts, music, activations, treats and parking. Tickets are free but capacity is limited. Attendees must register for Eventbrite tickets.
Let's reconnect with friends old and new, celebrate Tech Bloc's 6-year birthday, and toast your growing San Antonio tech community!
Thursday, May 27, 2021
5:30 p.m. to 8:30 p.m.
Program begins at 6:30 p.m.
Weston Urban's Legacy Park (across from the new Frost Tower)
103 W. Houston St.
Title Sponsors: Weston Urban, USAA, Centro San Antonio, and Rackspace Technology
Event Sponsors: 80/20 Foundation, Alamo Angels, Capital Factory, Codeup, Geekdom, Giles Design Bureau, Jungle Disk, OCI Group, Port San Antonio, San Antonio Economic Development Foundation, Scaleworks, SecureLogix, Texas Research & Technology Foundation, UTSA, VelocityTX
This is an outdoor, masks optional event.
Get your free tickets here while they last.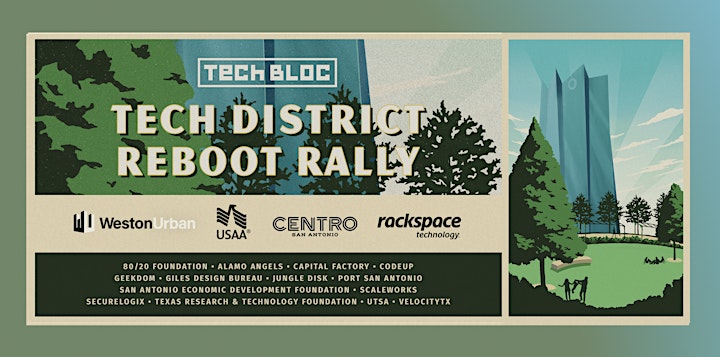 Organizer of Tech District Reboot Rally
Tech Bloc, a 501c6 not-for-profit, is an IT industry advocacy movement of more than 5,000 area tech workers and employers. We work to make San Antonio a city-of-choice for tech job creation, lifestyles, and careers. We are San Antonio's lead trade association for the IT/tech industry, and help unify the SA tech community into a single public voice.