Event Information
Location
Lavo
39 E. 58th St.
New York, NY 10022
Description
Please join us July 18th in Midtown's latest extravagant nightlife venue - LAVO. StartupLife and Laugh Fiend Productions present Tech Comedy Ball Fights Cancer to benefit Gabrielle's Angel Foundation for Cancer Research. The evening will be jam-packed with comedy, networking, dancing and tons of fun! The comedy show will be hosted by Emmy Award winning and birthday boy Louie Torrellas with a surprise guest comedian. Featured DJs Mysto & Pizzi will be spinning the turntables for a night you can't forget!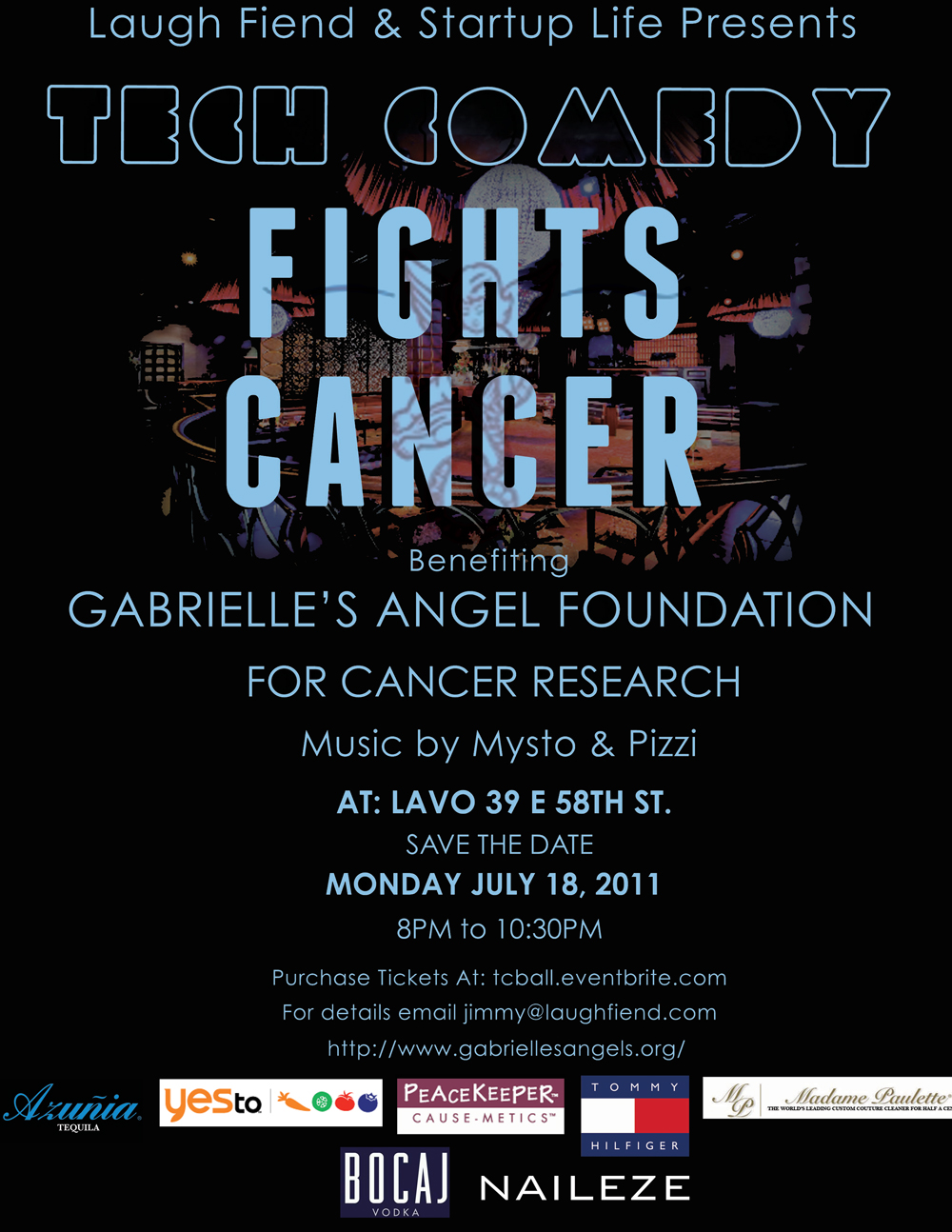 Note: Please plan to eat before the event as there will not be food at the venue.

Gabrielle's Angel Foundation for Cancer Research was created by songwriter Denise Rich and her daughters in memory of her daughter and their sister Gabrielle who died from leukemia at the age of 27. The Foundation funds young scientists whose research focuses on better treatments, preventions and ultimately cures for leukemia, lymphoma and other blood related cancers. The Foundation has funded over 80 researchers totaling over $16 million in research grants since 1998. Tech Comedy Founders are passionate about the work of the Foundation and need your help to raise awareness and much needed research dollars for the charity.
Please LIKE Gabrielle's Angel Foundation at
http://www.facebook.com/gabriellesangels
and find them on twitter @curecancernow. We need your help to raise thier social media profile! Additionally, a portion of the ticket price wil be donated to cancer research.
http://www.gabriellesangels.org
LAVO
39 East 58th Street
New York, NY 10022-1617
Open Bar 8:00 - 9:00pm
Comedy Show 9:00 - 9:30pm
Dance Party 9:30 - 10:30pm
Hosting Committee:
Ankur Jain - Founder of Kairos Society
Ben Wolff - President of Tech@NYU
Cheni Yerushalmi - Sunshine Suites
Dan Allen - Founder of SuperMango Media
Dan Lack - Founder, CEO of Meeting of the Big Minds
Denise Rich - Founder of Gabrielle's Angels Foundation
Devorah Rose -

Founder & Editor-in-Chief of Social Life Magazine

Edward Dalton - Founder, Attica
Eric Lerner - Board of Directors, Gabrielle's Angel Foundation
Frank Cascio - Founder, The Entity
Gary Whitehill - Founder of New York Entrepreneur Week
Jeffrey Gurian - Producer, Comedy writer for Comedy Matters
Jeffrey Meshel - Strategic Forum, Author
Jimmy Aponte - Co-founder of LaughFiend Productions
Jody Weiss - Founder of Peacekeepers
Joshua 'Zeke' Thomas - Crowd Management, DJ
Julianne Feder - President of Young Strategic Forum
Lauren Francesca - Actress, Producer, YouTube Sensation
Liam McMullan - Actor, Photographer, Patrick McMullan Company

Louie

Torrellas - Actor, Junior Board of Gabrielle's Angel Foundation
Matt Shampine - Co-founder of WeWork Labs

Michael Ellsberg – Author at Penguin and HarperCollins

Michele Rella - Board Member of Gabrielle's Angel Foundation
Neil Anderson - Founding Investor of Arc Angel Fund
Norah Lawlor - Founder of Lawlor Media Group

Patrick McMullan – Founder, Patrick McMullan Company

Robert Davidman - CEO of EarthQuake Media
Robert Frost - Koherent
Sally Golan - Actress, Founder - Social Exposure Media
Sean Koh - Chairman at Koherent
Steve Liu - Co-Founder of Startup Life
Sergio Fernandez de Cordova – Founder of Fuel Outdoor
Trevor Owens - Founder of Lean Startup Machine
Walter Masterson - Actor, New Media of Ambitious Media Group
Date and time
Location
Lavo
39 E. 58th St.
New York, NY 10022