Description
Under the GUI specializes in Coding for Kids and we're excited to offer the experience year-round. Welcome to Summer Tech Camps 2017! Our instructors are industry professionals and love working with kids! Register today to tinker & learn about technology with real world experiences.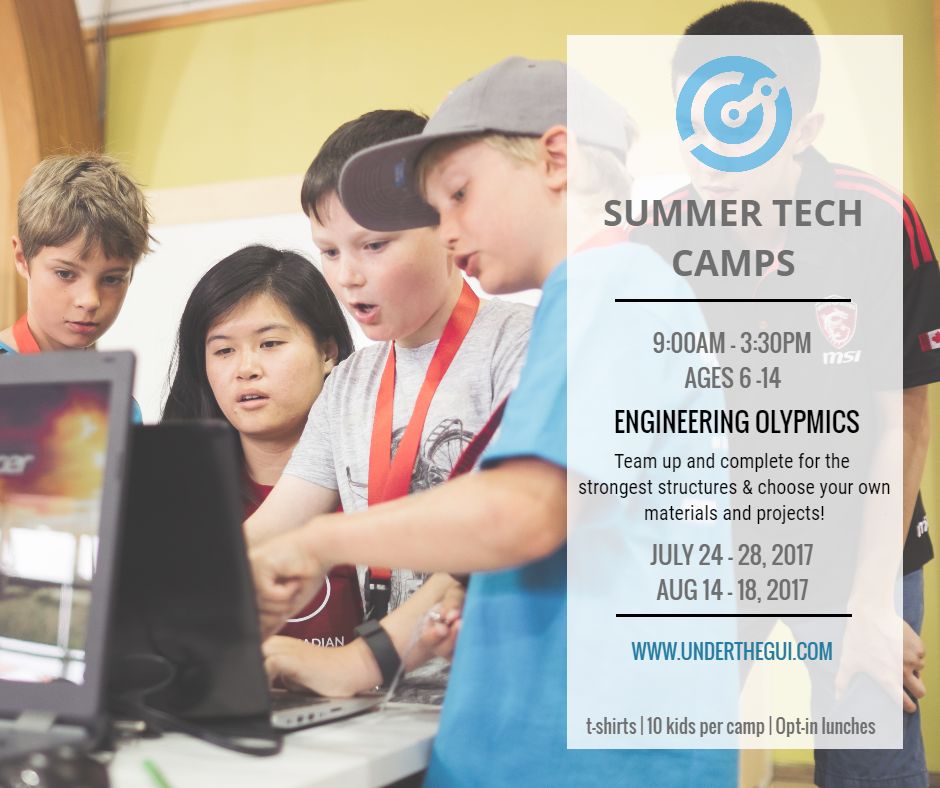 The Mechatronics & Engineering Olympics will introduce students of all ages to the exciting world of Engineering through a full week of competitions and engaging activities. Activities and challenges will include Paper Physics Triathlon, High Egg Drop, Popsicle Stick Bridge/Tower, Robotic Transporter and many more! Groups will receive a budget each to invest in their own materials and projects! It's all about the team-work at this camp.
Camp Details:
Ages 6 – 14 (separated into age groups)
Maximum 10 campers per age group; maximum 30 campers per camp
Small camper-to-instructor ratio
Daily hands-on building experience
Challenging Team-building activities
Introduction to "finance" and smart spending
T-shirts & Camp Certificates
What Campers will Learn:
Learn to collaborate with others, as well as creative and critical thinking
Effective-communication in group settings
Physics and strength of different materials, including recyclables
What materials are best to use for what structures
Engineering vocabulary: beam, truss, arch, suspension
Ask critical questions, think creatively, brainstorm solutions
Plan key components in the building process
Improve on their builds and revise for the final competition
The Ultimate Engineering Olympics:
Campers participate in groups of 2 – 3 in a multi-project engineering competition. Groups will be given a standard set of materials as well as "building credit" to upgrade, trade or buy necessary materials to build the strongest, most indestructible structures!
In Hunger-Games fashion, campers are required to work as teams to decide quickly what materials are needed before other teams grab them all! Each day campers will learn from their mistakes and trials to build increasingly difficult projects and challenges. Campers will feel empowered by building advanced structures and by solving difficult problems.
Check out our other camps:
- Robotics, Circuits & 3D Printing
- Coding & Animation in Game Development