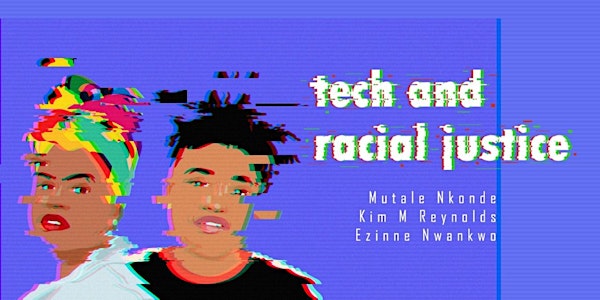 Tech and Racial Justice Panel + #RecruitMeNot Campaign Launch
Panel on race and technology with Mutale Nkonde, Kim M Reynolds, and Ezinne Nwankwo, plus the campaign launch of #RecruitMeNot.
About this event
In December 2020, Google informed Dr. Timnit Gebru that she was terminated from her position as Staff Research Scientist and Co-Lead of the Ethical Artificial Intelligence Team. Google then falsely claimed that Dr. Gebru had resigned, citing Dr. Gebru's pushback against company censorship of her research on the dangers of large-scale AI language models. The firing was unjust and indicative of structural racism against Black women at Google and in the tech industry. Since December, Google has proceeded to fire Dr. Margaret Mitchell, the other Co-Lead of the Ethical AI Team, and announce reorganization of its AI Ethics Team. In addition to raising red flags about Google's research, the company response to criticism over firing Dr. Gebru has displayed a complete disregard for its workers and an alarming lack of accountability.
As a first step in solidarity with Dr. Gebru and her colleagues at Google Walkout for Real Change, we are launching #RecruitMeNot: a student pledge that we will not be recruited by or work for Google until the demands of Google Walkout for Real Change are truly met.
Please join us for a campaign kickoff event, featuring a panel on race and technology in discussion with Mutale Nkonde, Kim M Reynolds, and Ezinne Nwankwo.
SIGN THE PLEDGE NOW: change.org/recruitmenot
____________________
PANELISTS:
MUTALE NKONDE - AI FOR THE PEOPLE
Mutale Nkonde began her career as a journalist producing documentaries for multinational news agencies before working in AI governance, introducing legislation concerning algorithmic transparency and biometric data collection to the US House of Representatives. She is the founding CEO of AI for the People, a non-profit communications agency, which aims to eliminate the under-representation of black professionals in the tech industry by 2030. She is a fellow at the Digital Civil Society Lab at Stanford and an affiliate at the Berkman Klein Center of Internet and Society at Harvard.
KIM M. REYNOLDS - OUR DATA BODIES
Kim M. Reynolds is a Black and queer critical media scholar, freelance writer and community and arts organizer from Ohio. She studied at the London School of Economics and then at the University of Cape Town in media and communications. Her research largely focuses on postcolonial theory, Black queer theory, Black feminist thought and how oppression is reproduced through discourse and media. She writes and organizes about tech, race and inequality as part of US-based research collective Our Data Bodies, and co-produces an independent study on Black identity and dance for radio in Cape Town.
EZINNE NWANKWO - LEVERHULME CENTRE
Ezinne Nwankwo is the recipient of the Harvard-Cambridge Fellowship, which funds a year of research and scholarship at the University of Cambridge, where she is part of the Leverhulme Centre for the Future of Intelligence. She holds a B.A. in Applied Mathematics from Harvard University, where she was vice-president at the Harvard Black Students Association. She applied statistical analysis to evaluate the effectiveness of public service programs run by the Phillips Brooks House Association and interned in data analytics at the City of Boston's Department of Innovation and Technology.
Event organized by students at Cambridge University Tech & Society; Edinburgh University Digital Rights Society; and No Tech For Tyrants.