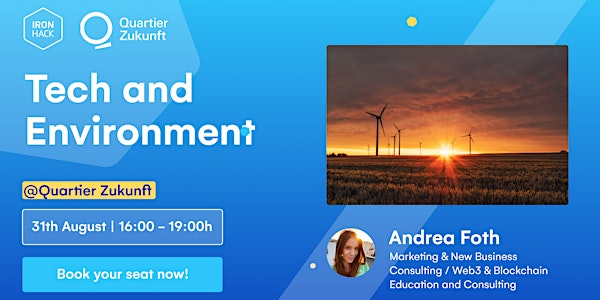 Tech and Environment
Technology has profoundly shaped society, the economy and the environment.
When and where
Location
Deutsche Bank Quartier Zukunft Friedrichstraße 181 10117 Berlin Germany
About this event
// ABOUT //
Technology has profoundly shaped society, the economy and the environment. Technology has caused many environmental and social problems, but it is also key to addressing environmental degradation, climate change, food scarcity, waste management, and other pressing global challenges.
// ABOUT THE SPEAKER//
Andrea has been consulting brands for more than 20 years now. About half way on this path, she felt the lack of purpose and became a yoga teacher on the side supporting employees on mental and physical health to be able to unleash their full potential in their professional lives.
Over the years the way she evaluated brands and companies she worked for changed whilst the desire to contribute her experience to more meaningful and impactful tasks and topics was constantly nurtured. Going full crypto nerd since 2021 was another big game changer. Triggered by curiosity, she jumped into a world of unregulated beta platforms managed by pioneers thriving to test and learn. A system so volatile and fragile is easy to criticise and yes, there are the dark sides. But that's why she felt to educate herself and others about the vast opportunities of digital ownership being one important key to reward ones efforts to do good in any way in the real world.
// USEFUL LINKS //
Andrea Foth LinkedIn Profile - https://www.linkedin.com/in/andrea-foth-7b166ba7/
Welcome to the Quartier Zukunft
Deutsche Bank opened the Quartier Zukunft in Berlin-Mitte five years ago.
At Friedrichstraße 181, customers can experience everything that awaits them in a bank branch in the future - such as the complete networking of all analogue and digital access channels to the bank.
In the Quartier Zukunft, customers and guests play the decisive role, for example the 1,500 Berlin start-up companies that are served with banking services from here, along with approximately 12,000 other private and business customers.
The greenhouse, for example, is open to the young companies: a co-working space where founders can develop new ideas and business models.