A virtual celebration of Nepali Tea. Learn about and sample teas direct from the foothills of the Himalayas. Samples ship to home. Serves 4.
About this event
Nepal has been growing teas for over an entire century, however it has only received recognition for the last few decades. In quite a short period of time, Nepali teas have gained a worldwide reputation for its quality and unique flavors. It has also finally achieved its international geographic trademark as "Nepal Tea: Quality form the Himalayas" and some of the teas have won international awards including recognition at the Global Tea Championships.

In this virtual tea tasting, we will take you on a journey to Nepal to really understand what makes these teas so special. You will learn about the harvesting and processing techniques of these unique teas while you are guided through a tutored-tasting of three organic high-mountain teas by the founder of Nepal Tea, Nishchal Banskota, a second-generation tea producer. His family has been producing organic teas for the past 36 years and views tea not just as a beverage but as a catalyst for social change. You will get to discover why Nepal Tea is definitely not your average cup of tea. This is truly a special event for tea lovers and a unique opportunity to sample and learn about the teas of Nepal.
What's Included:
A ticket ($29) serves up to four people from one location. You will receive 10g loose-leaf tea (enough to make 4-5 cups) of each of the following organic teas:
Organic Green Tea: Kanchenjunga Verde. A mellow, high-quality loose leaf green tea with a floral aroma. This tea has subtle fruity flavors, with grassy and nutty notes shining throughout.
Organic Black Tea: Kanchanjangha Noir. A premium brisk Nepal black tea with fruity and floral aromas, with hints of caramel. Flavor notes of raisins, cherry, and dark chocolate are prominent in this unique tea.
Organic Chai: Nepali Breakfast. A medium-bodied black tea invigorated by its unique masala chai flavors. Black pepper and cardamom create a warm spice found throughout the tea.
Direct shipping to your home.
Access to the 60-minute virtual, interactive, tutored-tasting event conducted via video conference. Note: while the tea for this seminar serves up to four people, all must be present to view together at one location. One access code provided per ticket purchased.
OPTIONAL ADD-ON PURCHASE: THE WALL tea infuser mug.

THE WALL teacup is the simplest and cleanest way to infuse tea, herbs and berries in a single cup. The glass cup has a fused glass strainer on the preferred drinking side to act as a filtration barrier to keep the leaves from your mouth allowing for a full, unrestricted infusion to occur. The reusable cup comes in 1 size – 440ml with a right-handed option. Each unit is handmade from 100% borosilicate glass (laboratory grade, heat resistant), and has proven to be extremely durable through extensive testing. Because the entire unit is made from the same material, the mugs are fully recyclable as well as dishwasher and microwave safe! Note: This mug is NOT included as part of the cost of the seminar, it is an add-on option at checkout. ($39.99 includes shipping).
Tickets are limited. Deadline to purchase is 11:00PM on June 16, 2021. If maximum capacity is reached prior to cut-off date, no additional reservations will be available. Buy now to guarantee delivery and participation.
Although this virtual class is open to all tea enthusiasts nationwide, the class will be taking place at 11:00AM EST and will be conducted in English. International shipping is not available for this event. Please refer to the FAQs below for additional information.
This virtual class is sponsored by Nepal Tea and the Coffee & Tea Newsletter.
About the Presenter: Nishchal Banskota & Nepal Tea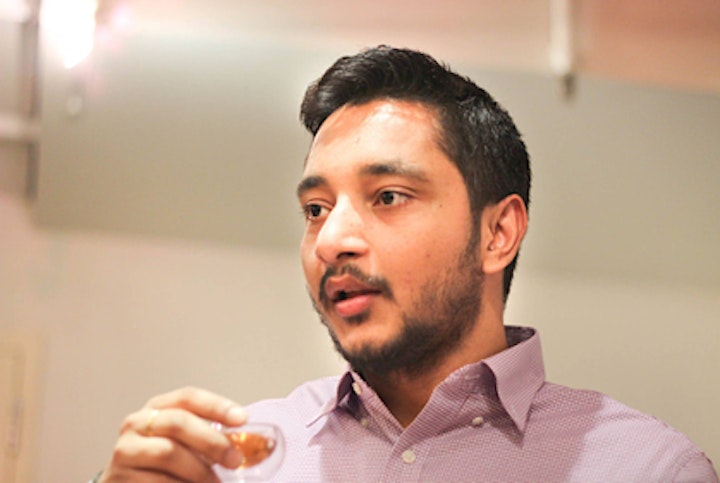 Nishchal Banskota is a 2nd generation tea producer and the founder of Nepal Tea which directly brings certified organic teas from Nepal to the American market. After graduating from Colby-Sawyer in 2015, he moved to his homeland, Nepal, for almost a year to venture into opening the very first Tea Bar in Nepal with a vision to educate people more on tea and his unique business model. He believes the tea industry to be a social enterprise focusing on people and planet before profit and his mission is to bridge the ever-widening gap between the producers and the consumers. His ultimate aim is to get one million farmers out of poverty within their generation and within his lifetime.
Nepal Tea company is a social enterprise that distributes the finest high-mountain organic teas from the foothills of Mt. Kanchanjangha, the third highest mountain in the world. Not only do they empower their farmers economically by providing them better revenues, but they also uplift them socially by providing free housing, free education to their children and distributing cows for additional income. On the other side, consumers receive fresh high-quality teas at a fair price and an opportunity to directly impact the underprivileged farmers.

Kanchanjangha Tea Estate & Research Centre (KTE) is located at Ranitar in the remote hilly region of Panchthar district in eastern Nepal bordering the tea area of Darjeeling at an altitude of 1300-1800m. The tea garden lies at the foot hills of Mt. Kanchenjunga which covers the largest vegetation area with a combination of unique blends of natural factors for the growth of exclusive aromatic tea. The enterprise was launched in 1984 by Mr. Deepak Baskota along with the local farmers on a cooperative model. Over a 100 farmers joined hands, pooled in their marginal land holdings and became owners of the first orthodox tea plantation covering nearly 94 hectares of land. The land which was barely enough to sustain them is now utilized to produce High Quality Organic Orthodox Tea of the Himalayas.
Their vision is to get at least a million farmers out of the vicious cycle of poverty within their generation and they reinvest majority of their profits to reach, refine and further their vision for a better future. www.nepalteallc.com

FAQs:
What is included in the ticket price? All tickets include access to the online event, the tea which you will be tasting and direct shipping to a single address.
How will the tea be shipped to me? The tea will be shipped to the mailing address provided at the time of purchase.
Do these teas contain caffeine? Yes, all the teas contain caffeine.
I would like to order THE WALL tea infuser mug for an additional $39.99, how do I do that? You will be given the option to add THE WALL tea infuser mug into your cart/purchase during the checkout process. It will ship to you along with your tea samples for this seminar.
Where do you ship to? We can ship nationwide (USA). No international shipping at this time.
Can you ship to a PO Box? Yes. Although it is recommended that you provide your home address as your shipping address.
When will I receive the tea that is included with my ticket? We will close ticket sales on June 14, 2021 to ensure delivery to you on time. Your tea will be delivered 2-3 days in advance of the seminar.
I missed the cut-off date. Can I still get a ticket for the virtual class? No, unfortunately to guarantee delivery of the tea in time for the seminar, we must adhere to the strict cutoff date for enrollment.
How will you ensure the tea gets to me in time? The ticket sales end date allows for ample processing time and ensures adequate shipping time to all participants.
I can't make the online event. Can I still purchase a ticket and get the tea? Yes. If you can no longer attend the online event or simply are not interested in doing so, you can still purchase a ticket to receive the tea shipped directly to the mailing address provided. Please note that all sales are final and there are no discounts, refunds or exchanges should you not join the online event portion.
Will the online event be recorded? Yes, the event will be recorded but it is best enjoyed live via participation link. The link to the recording will be forwarded to ticket purchasers only.
Can I buy more than one ticket? Yes, each ticket provides access to one individual buyer log-in and shipping to one physical address.
How do I join the online event? Prior to the online event taking place, you will receive a number of emails reminding you of the date and time. Within these emails will also be a link to the Online Event Page which has the video conferencing link to join.
Can I ask questions during the online event? Yes! We encourage you to ask questions but please do so using the chat feature. This will ensure we avoid people talking over each other and all questions can be answered.
How will you ensure the online event is a safe environment? We ask that all participants be polite and courteous. Starfish Junction and its sponsors/partners reserve the right to remove any participant from the video conference that is disruptive or behaving inappropriately with no refund.
Do I need to download special software or an app to participate in the video conference? The online event will be conducted via the video conferencing platform, ZOOM. You should be able to click the link provided and access the video conference in any web browser from a desktop computer or laptop. Before joining a Zoom meeting on a computer or mobile device, you can download the Zoom app. Otherwise, you will be prompted to download and install Zoom when you click a join link.
Can I take part in the online event by phone only? No. Attendees can participate with audio only.
What happens if I lose internet connection during the online event? If you lose internet connection and leave the video conference, simply click the link again to re-join.
Can you help me with my technical difficulties accessing the video conference? Yes, please email help@starfishjunction.com. It is important for you to try accessing the video conference before the day of the online event so we can fully assist you.
Do I need anything besides the tea to participate? In addition to the tea that is being shipped to you for the tasting, you will need:
o a kettle filled with room temperature water, which will be boiled as needed during the class
o tea pot or brewing device
o tasting cups (one for each tea recommended per person)
o a spoon
o milk and/or sugar (optional, depending on your preference)
Organizer of TEAS OF NEPAL: Tasting Teas Straight from the Himalayas