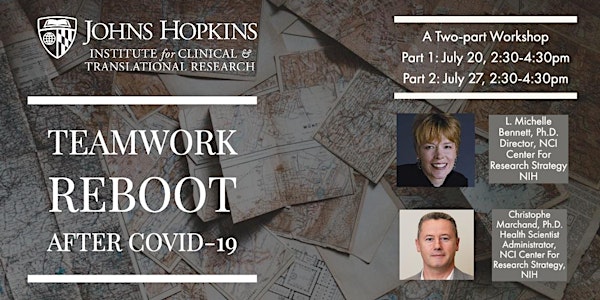 Teamwork Reboot after COVID-19: An ICTR Team Science Workshop
This 2-part workshop provides an introduction to fundamental concepts of team science and tools to build effective research teams.
About this event
OVERVIEW: Increasingly, high impact science is conducted in teams. Managing these teams may seem straight forward initially, but these teams can be fraught with challenges like communicating across disciplinary boundaries, aligning goals and incentives, sharing resources and credit. These challenges become more complex within the context of COVID-19. A deliberate approach to planning and applying the science of teams to these collective scientific endeavors is required. The overall goal of this two-part workshop is to provide to attendees with an introduction to fundamental concepts of team science and practical tools and strategies for building and managing effective research teams. The workshop will be held in two parts; registrants are encouraged to participate in both.
WHO SHOULD ATTEND? This workshop is appropriate for any Johns Hopkins or ICTR partner researcher interested in improving their ability to lead or work within research teams effectively. Whether you are starting a new team or seeking to enhance the effectiveness of your current team, this workshop will provide you with insights and tools to apply in your work.
OBJECTIVES: 1) Describe the basic principles and practices of team science, and why it is important. 2) Detail the three pillars of effective science teams. 3) Practice styles and approaches to managing conflict. 4) Demonstrate effective leadership behaviors for science teams. 5) Share strategies for building effective research teams.
WHAT TO EXPECT. While this is a virtual event, it is a "hands on" and interactive workshop. Experts from the National Cancer Institute will facilitate discussion and you will work with peers in breakout group sessions.
Agenda – Part 1: July 20, 2020, 2:30 – 4:30 pm
1. Welcome remarks: Michael Rosen, Ph.D., ICTR Faculty, Host; Daniel Ford, MD, MPH, Director, Johns Hopkins Institute for Clinical and Translational Research; Cheryl Dennison Himmelfarb, Ph.D., RN, ANP, FAAN, Deputy Director, CCC/RIU, ICTR
2. Introduction to the workshop : L. Michelle Bennett, Ph.D., Director, Center for Research Strategy, National Cancer Institute, National Institutes of Health; Christophe Marchand, Ph.D., Health Science Administrator, Center for Research Strategy, National Cancer Institute
3. Introduction to Team Science
4. Three Pillars : Small group breakout
5. Managing Conflict: Small group breakout
6. Leadership
7. Closing: L. Michelle Bennet, Christophe Marchand, Michael Rosen
Agenda – Part 2: July 27, 2020, 2:30 – 4:30 pm
1. Welcome remarks: Michael Rosen
2. Building a Research Team: Phases in team development- Overview, Forming/Re-forming (Small group breakout)
3. Closing : Michael Rosen