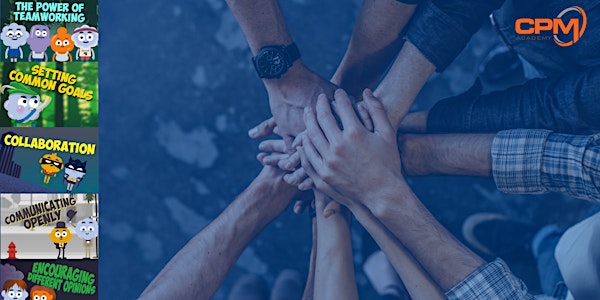 Teamwork Essentials - Bundle of 5 Courses
Online Course. Study at your own pace. Bundle of 5 Courses.
About this event
CPM Academy and TalentLMS bring 100% Online Courses for your professional development. Receive a Certificate of Completion from CPM Academy after each course.
This Bundle includes the following 5 Courses:
The Power of Teamworking
Successful teams build better businesses and are highly valued by employers. When you don't embrace teamwork, you're instantly reducing your worth to an organization. The great news is, you can work on your soft skills to become better at teamwork.
By the end of this course, you'll be able to:
Understand the benefits of teamwork
Negotiate the barriers to teamwork
Use essential skills to improve your team working
Setting Common Goals
To be a successful team, common goals are crucial. They help employees stay focused, keep tasks on track, and aid in organizing valuable resources. Without common goals, teams will just become a group of individuals with their own aims.
By the end of this course, you'll be able to:
Understand what common goals are
Recognize the benefits of setting common goals
Define and set common goals
Communicate goals effectively
Differentiate between short- and long-term goals
Collaboration
Collaboration is key to improving output, quality, and effectiveness. Each person brings something unique to the table and contributes to achieving the best possible result. Luckily, thanks to technology, there are now even more ways to work together efficiently.
By the end of this course, you'll be able to:
Understand what collaboration is
Identify the benefits of collaborative working
Overcome barriers to collaborative working
Use technology to work collaboratively
Communicating Openly
Sharing is especially important in the workplace. And, no, we're not talking about those cat videos. Work-related sharing is always a good thing because it allows everyone, from employees to managers, to feel like they're valued and trusted members of a company.
By the end of this course, you'll be able to:
Understand what communicating openly means
Identify the benefits to your organization
Encourage an open communication culture in your workplace
Encouraging Different Opinions
Whatever you think of the Beatles, their historic impact on music cannot be disputed. But did they always see eye to eye? Nope. Chances are, if they'd agreed on everything, then "Love Me Do" would now be regarded as a one-hit-wonder by some obscure band from the 1960s.
This is because differences of opinion, whether creative or otherwise, are vital for growth and development. Welcoming diverse thoughts at work can equally lead to more fruitful ideas and efficient, productive teamwork.
By the end of this course, you'll be able to:
Identify the risks of conformity bias
Understand how dissent can lead to innovation
Create a psychologically safe workplace