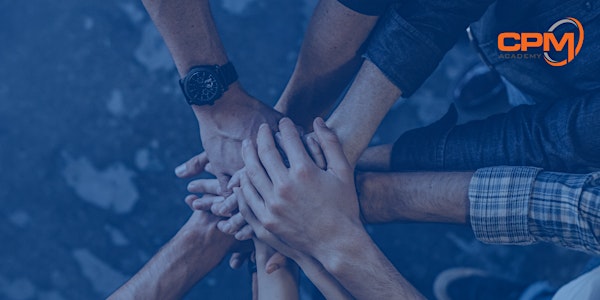 Teamwork Essentials 2 - Bundle of 5 Courses
Online Course. Study at your own pace. Bundle of 5 Courses.
About this event
CPM Academy and TalentLMS bring 100% Online Courses for your professional development. Receive a Certificate of Completion from CPM Academy after each course.
This Bundle includes the following 5 Courses:
Celebrating Differences and Diversity
A team that is filled with differing genders, interests, cultures, and abilities has a selection of ideas to consider and more perspectives to help. And the more diverse your workforce, the more tasks will be completed with ease.
By the end of this course, you'll be able to:
Understand what it means to be diverse
Identify how a varied workforce helps business
Celebrate culture and differences
Create an inclusive workplace
Building Trust and Respect
Trust and respect are essential within teams. Without them, teams just won't work. Trusting someone means that you know you can rely on them. Respecting someone means that you can rely on their ability and knowledge. Trust and respect go hand in hand. After all, you can't really trust someone you don't respect, right?
By the end of this course, you'll be able to:
Understand the importance of trust and respect
Identify the benefits of trust and respect
Build trust and respect within your team
Roles and Responsibilities
A successful workplace should work in the same way. Unfortunately, employee roles and responsibilities are often vague and ambiguous, leading to workplace stress and poor productivity.
By the end of this course, you'll be able to:
Understand the importance of identifying roles and responsibilities
Identify how unclear definitions negatively impact organizations
Avoid role ambiguity and create role clarity
Dealing with Difficult Personalities
Dealing with pleasant, positive people is easy. But everyone goes through a period in their life when they aren't at their best or are 'difficult', at least from someone else's point of view. Whether it's a 'one-off' or a permanently difficult personality you're dealing with, being able to maintain a relationship with them in the workplace is vital for achieving goals successfully.
By the end of this course, you'll be able to:
Understand how to be assertive with someone difficult
Keep a clear narrative and communicate successfully
Deal with difficult people
Defuse difficult encounters
Identify the different types of difficult people
Celebrating Success
Achievements and milestones in the workplace can be big or small. But if they are routinely getting overlooked and ignored, it can feel like...like it's your birthday and everyone's forgotten.
By the end of this course, you'll be able to:
Understand why recognizing achievements is important
Identify when and how to celebrate successes
Create a culture of appreciation