#TeamNatural Weekend & Supernatural Festival
Description
TICKETS SOLD AT DOOR: $25.00

CELEBRATE NATURAL HAIR * ART * WELLNESS * HEALTHY LIVING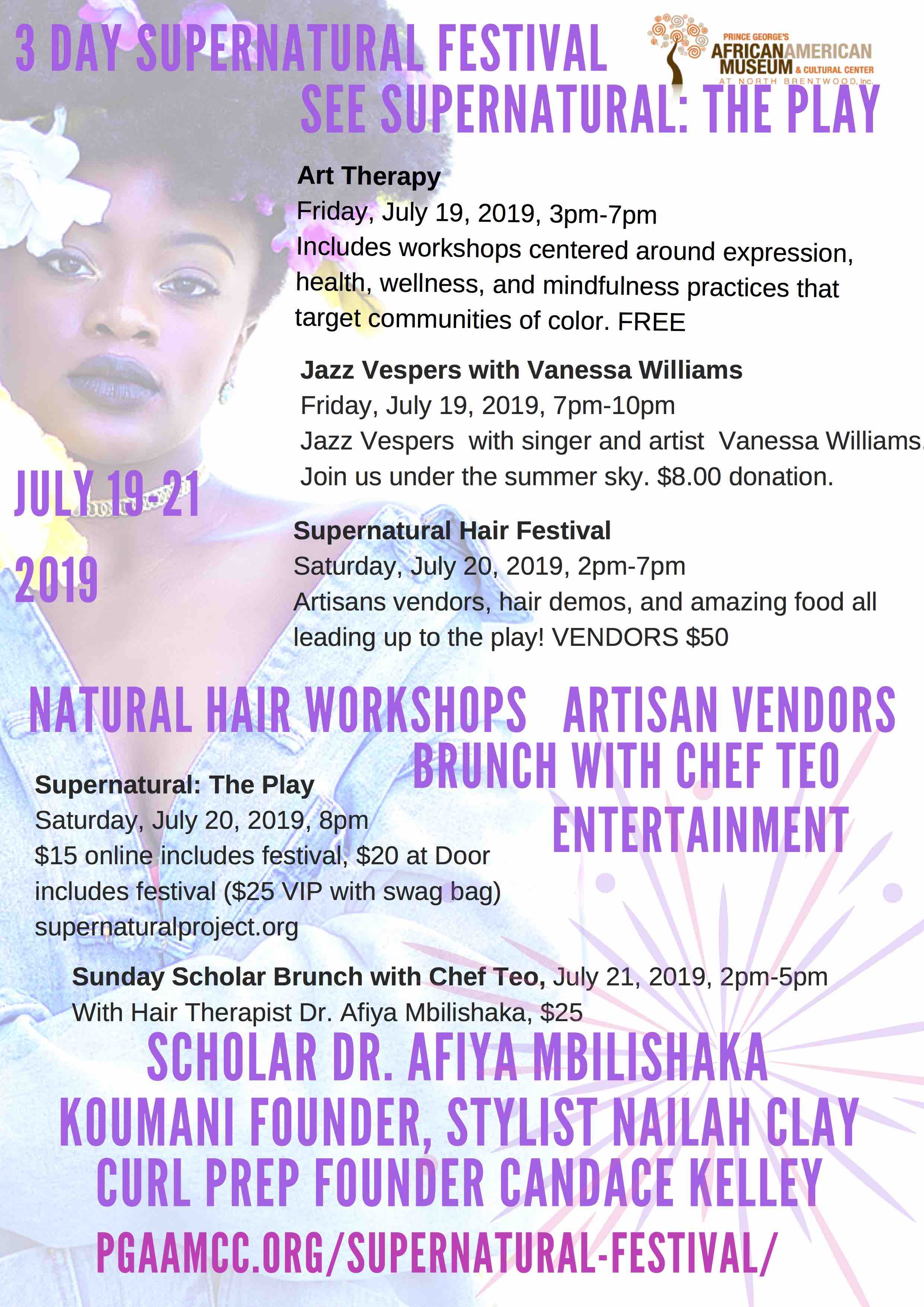 ---
Art Therapy Day - Friday, July 19th
- "Queenin" Pop-up Pageant Exhibit by Synatra & Carmia Smith
They will take the audience through Carmia's journey from representing the Freshman class to the entire student body with grace, glamour, and moxie. Exhibition will include her gowns, sashes, crowns, etc from coronations, homecoming suits, photos of events where she represented the school, jewelry, official shirts and anything else related to her experience.
- #BeautyIsAFeeling Experience by EatForBeauty DC
For #TeamNatural Weekend we would like to create a multidimensional interactive experience(Presentation/Discussion/Workshop/Exercise) that dives into why there is a need to redefine beauty in our community, especially as Black women, and allows us to fully exist in our infinite beauty from the inside out.
- Community Art Making with Vanessa Williams
Community sing-a-long, poetry readings, and paper mask making for stenciling or collage
- Paint & Sip with Manique Buckmon
A group of participants will be guided step by step through an original work of art. At the end of the event, guests will confidently walk away with a vibrant finished piece and a newly discovered love of creativity)
- Collaborative Art Piece with Dr. Yemonja Smalls
Participants can share in her completion of a 40x60 art piece by adding chosen pieces of fabric yarn and buttons to the subject's huge hair
- Illuminating Bliss Life Support with Brittany Powell
A passionate spiritual healer and Intuitive card reader of ten years. She is offering sage baths, spiritual readings, providing guidance from the standpoint of a full spectrum Doula, Reiki practitioner, and Crystal healer.
---
#SUPERNatural Hair Festival - July 20th

- "The Get Down" with Jonas Davis
An hour of cardio for: Upbeat hip-hop and R&B dance fitness class - Not just a class but an experience. Bur 400-800 calories. All fitness and dance levels welcome.
- "Hairlooms" & "Good Hair" with Michele P. Roseman
Michele will facilitate a discussion and book talk. We planned on showing the full version of the movie "Good Hair" by Chris Rock, but with your proposal we think it would be appropriate to just show an extended clip from the movie and then have you speak on it with your audience, and plug in discourse surrounding her non-fiction book, Hairlooms: The Untangled Truth About Loving Your Natural Hair and Beauty. In addition to speaking on Black hair and beauty. Giveaways & Prizes included.
- Loc'd & Loose Hair Demos with Ryan Collins
After completing a 3 year apprenticeship, Ryan was able to take clients to her very own space which birthed Unruly Royalty. A natural hair salon that strives everyday to meet ALL your natural hair care needs. Specializing in product knowledge and hair type analysis. Unruly Royalty has been in business for over 5 years and is dedicated to service and making sure you have an outstanding experience. She is our official MC for the #SUPERnatural Hair Festival and will be presenting two 30-minute hair demos demonstrating loc maintenance methods, product usage, blow dryer techniques and efficient detangling methods
- Self-Care Workshop w/ Helena Hailu & AFROS OF MSU
Helena and AFROS OF MSU are inviting you to join them in a self-care experience. Various activities and discussions will push attendees to expand their concept of self-care and self-love. Free samples will be included.
- "Naturally Confident" by Temi Roberts
Temi Roberts aka Lady Styles will educate us on proper hair care, understanding different hair textures and building self confidence no matter the hair type. Includes a styling technique as well. Handouts will be available.
- The Game of Fro: How to Get Into the Beauty Game with Natty Locks
Learn how to get into the beauty game! What does it take to manage a business and compete in the world of beauty? Learn from the founders of Natty Locks Boutique located in Prince George's County.
- Twist & Shout with Candace Kelley
You will be shouting with amazement about your fab twists created by Natural Hair Expert, and Founder, Curl Prep Natural Hair Solutions Candace Kelley. Get in the chair during these live demos and learn how to create the perfect twists.
- How to Choose The Right Stylist with Nailah Clay
How do you know if your stylist is right for you? Learn the process with Holistic Hair Designer Nailah Clay. She's operated her own private studio, KOUMANI, since 2000, where she grooms and consults people to get in tune with their natural hair.
- Black Marriage Social Club with Shanai Shobowale
Founded in 2018 the Black Marriage Social Club gives other couples an examples that love does exist. Shanai will be representing the couple as she talks with us about all things Black love.