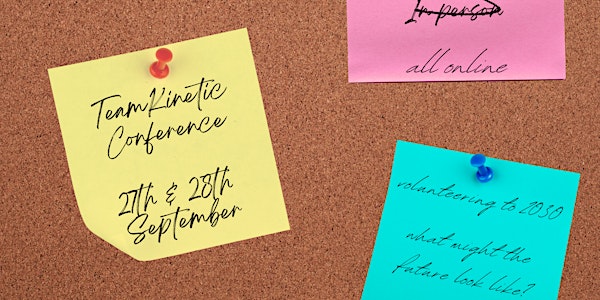 TeamKinetic Conference 2022
TeamKinetic's 2022 Conference - Volunteering to 2030: what might the future look like?
Refund Policy
Refunds up to 7 days before event
Eventbrite's fee is nonrefundable.
About this event
The TeamKinetic conference is back! This year we're bringing you a range of exciting speakers from across the third sector, all tying into our main conference theme: 
'Volunteering to 2030: What might the future look like?'
The conference will be split over two days, with day one focusing on TeamKinetic itself and day two taking a look into the third sector as a whole.
The event is entirely online, all attendees will be sent a meeting link to join closer to the event.
Dates: Tuesday 27th - Wednesday 28th September 2022
Day One
Features a range of sessions hosted by Chris, Steve, and Rolf on the TeamKinetic system as it stands today and how it could change in the future. See below for the full Day One agenda.
Day One is catered specifically towards existing TeamKinetic users, but all are welcome to join!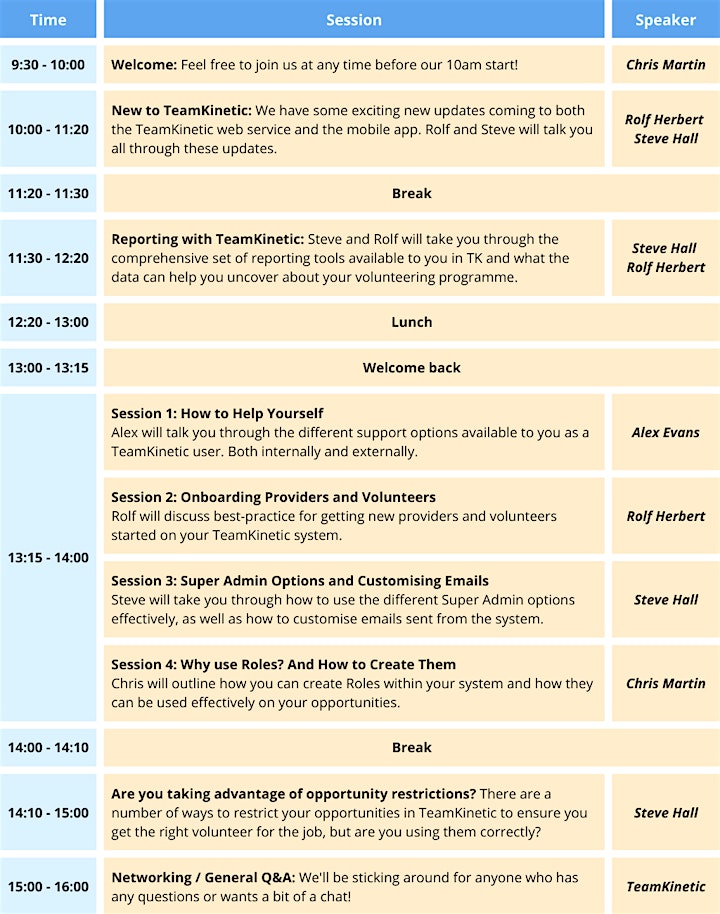 Day Two
Featuring a keynote from Rob Jackson, day two takes a look at the third sector as a whole. Our speakers look into best volunteer management practices, their recent work, and how managers may need to adapt for the future. See below for the full Day Two schedule.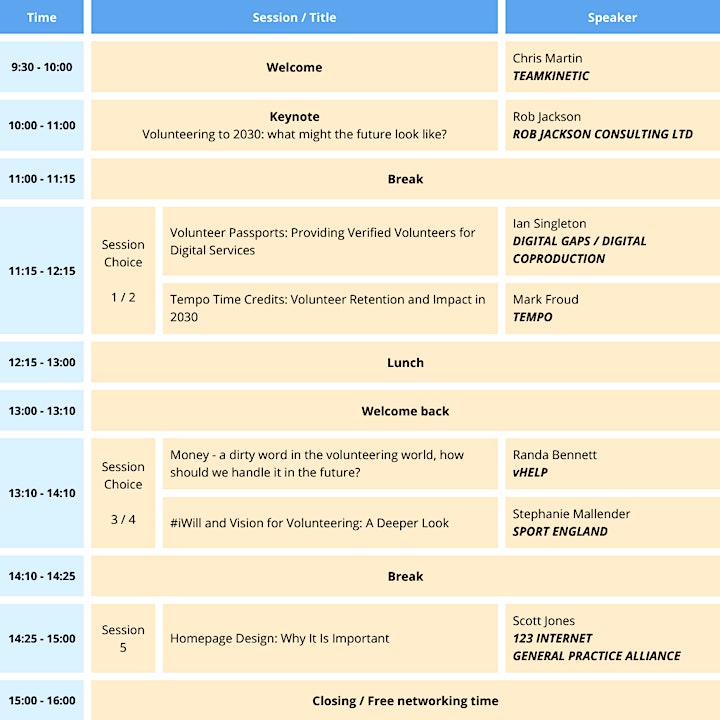 The conference will be between the hours of 09:30 - 16:00 (BST). We will be in touch with all ticket holders about reserving their place on individual sessions closer to the event.
If you have any questions regarding the event, please get in touch via the live chat on our website or by emailing alex@teamkinetic.co.uk
Meanwhile, subscribe to our blog and follow us on social media to keep up-to-date on everything TK!
Frequently Asked Questions
Q: I'm not a TeamKinetic user, can I still attend both days?
A: Of course! While Day One is catered to our existing users due to us discussing features our system possesses, you can still attend and pick up some digital volunteer management tips. Who knows, you might even find yourself interested in becoming part of the TeamKinetic family!
Q: Why is it such a low price?
A: We believe in accessibility in all forms - we want as many as possible to attend and hear from our speakers. That's why we've set a super affordable price and are hosting everything online. The £10 covers the costs associated with us running the event and that's it!
Q: How do I choose between sessions?
On the day we will invite you to different rooms depending on which session you want to attend, so don't worry!
Q: Will it be recorded?
Where possible, and with speaker permission, we will record sessions to send to attendees. We'll also be writing a summary blog of the two days. So don't worry if you have to miss any parts of either day, we'll make sure there's something for you to look back at.