Team-M Training Camp

Saturday, May 13, 2017 from 9:00 AM to 12:00 PM (PDT)
Event Details
TEAM-M TRAINING CAMP
This will be the first of a new series of events, featuring dynamic training with Team-M. Our camp will feature different dynamic aspects of Taekwondo: poomsae, dynamic kicks, demo kicks, acrobatics, and more!

The camp is perfect for all Taekwondo practitioners: from grassroot athletes looking for exposure to new dynamic training methods and techniques - to advanced athletes looking to take their Taekwondo training to the next level for competition. Through these series of training camps, Team-M aims to generate new interest and enthusiasm for athletes by covering multiple aspects of Taekwondo, so that camp participants can discover and enjoy Taekwondo as both sport and art.
Team-M is an elite Taekwondo demonstration team that started in San Jose, CA in 2004. Since then, the demo team has performed at more than 300 events throughout the nation and world, spreading the art of Taekwondo at each event. Besides being well known as one of the best Taekwondo demonstration teams, Team-M Taekwondo has also become one of the most successful Taekwondo Poomsae teams over the past decade. Team-M coaches (Huy Nguyen, Anh Nguyen and Long Nguyen) began poomsae development as a recreational curriculum within the team and have grown the team into one of the poomsae power houses in the world.  Since 2009, Team-M has developed 32 US National Team members, 25 World Medalists, and 4 World Champions.  
We invite all athletes to come to this event as Team-M coaches and athletes look to share their experience and training methodologies that have lead their team to success over the years. We are also excited to provide this unique and valuable opportunity for athletes to come train with some of the best coaches and athletes in the world.
---
Training Camp
Saturday, May 13th (9am-12pm)
Open to all color belts and black belts age 6 and above
Overview:
Training with 15+ current U.S. National Poomsae Team members
Hands-on training with close supervision under experienced team of instructors

Training methods to help achieve power, flexibility, balance, rhythm, and more for pairs, team, and free style poomsae

Basic and advanced training methods for demonstration kicks and acrobatics
Registration:
Register soon! Space is limited to 50 participants!
Early Registration: $65 (Register by April 25th)

Late Registration: $80 (Register by May 12th)
FREE Shirt:  All camp participants that register online will receive 1 FREE t-shirt (Sponsored by Mooto USA | BMA).  Please register by the Early Registration deadline to guarantee your size. Youth and Adult t-shirt sizes are available.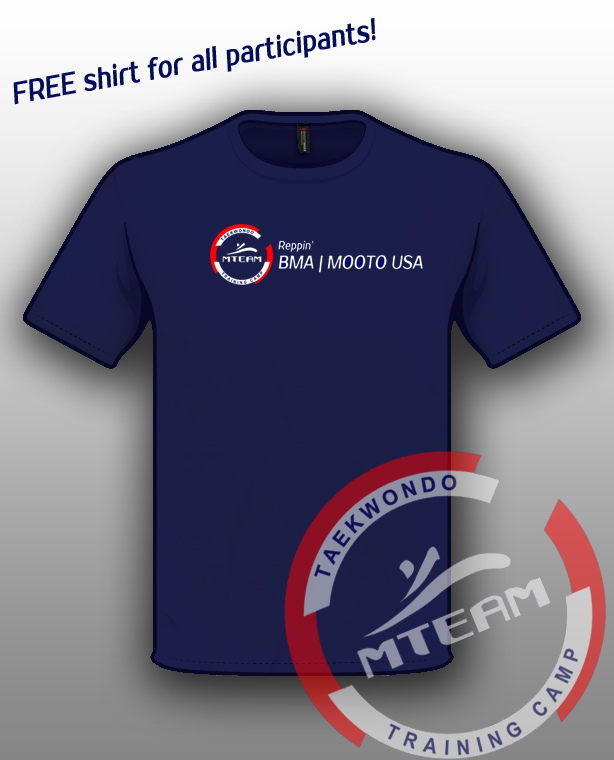 IMPORTANT!
Please print, sign and bring the waiver form to the event: Vega's Tumbling Waiver Form
---
Camp Head Instructors:


Coach Huy Nguyen
- Team-M Taekwondo Director
- Stanford University Taekwondo Poomsae Head Coach
- USA National Poomsae Team Coach (2013-Present)
- 2012 National Collegiate Poomsae Team Head Coach
- World Poomsae Championships Medalist (1x Gold, 1x Bronze)
- USA National Team Member (2011-2016)


Coach Anh Nguyen
- Team-M Taekwondo Coach
- World Poomsae Championships Medalist (1x Silver, 3x Bronze)
- USA National Team Member (2011-2016)

Coach Long Nguyen
- Team-M Taekwondo Coach
- 2016 US National Poomsae Team Associate Coach
- 2015 National Collegiate Poomsae Team Coach
- World Poomsae Championships Bronze Medalist (3x Bronze)
- USA National Team Member (2011-2016)
- USA National Collegiate Team Member (2011 and 2012)

Camp Assistant Instructors
Current and former members of the U.S. National Poomsae Team and Team-M Taekwondo
Team-M Taekwondo
- Taekwondo Hall of Fame "Taekwondo Demonstration Team of the Year" (2007)
- World Taekwondo Hanmadang: Team Demo - 5th place (2008)
- Official CA Taekwondo Demo Team (CA Unified Taekwondo Association) (2009)
- World Taekwondo Hanmadang: Team Demo - 3rd place (2012)
- USA National Poomsae Team Members (2009 - 2016)
---
FAQs
What's the refund policy?
As much as we would like for you to be with us during the camp, we understand that emergencies do come up. If this is the case, please simply let our event admin know if you are unable to attend our event in a timely and realistic manner. We would be more than happy to process a complete refund to you.


Is my registration fee or ticket transferrable?
Yes. If you would like to transfer your registration to someone else, please simply contact our event admin and let us know.


Are there uniform requirement for the camp?
Yes. All camp athletes are required to wear standard taekwondo uniforms (WTF sparring v-neck or poomsae y-neck).


Can we wear jewelry, watches, etc.?
During poomsae competition, accessories (jewlery, watches, etc.) worn will not be allowed and may result in deduction of your score. We also follow the same guideline at our camp during training.


Can parents and coaches spectate, take pictures, or record videos?
The matted training area is for camp instructors and registered seminar instructors / athletes only, but we have plenty of free seating for only the immediate family members of the campers. Parents are allowed to take still pictures only in between training sessions. Recording videos is not allowed at any time.

When & Where

Vega's Tumbling
1111 Felipe Avenue
San Jose, CA 95122


Saturday, May 13, 2017 from 9:00 AM to 12:00 PM (PDT)
Add to my calendar