About this Event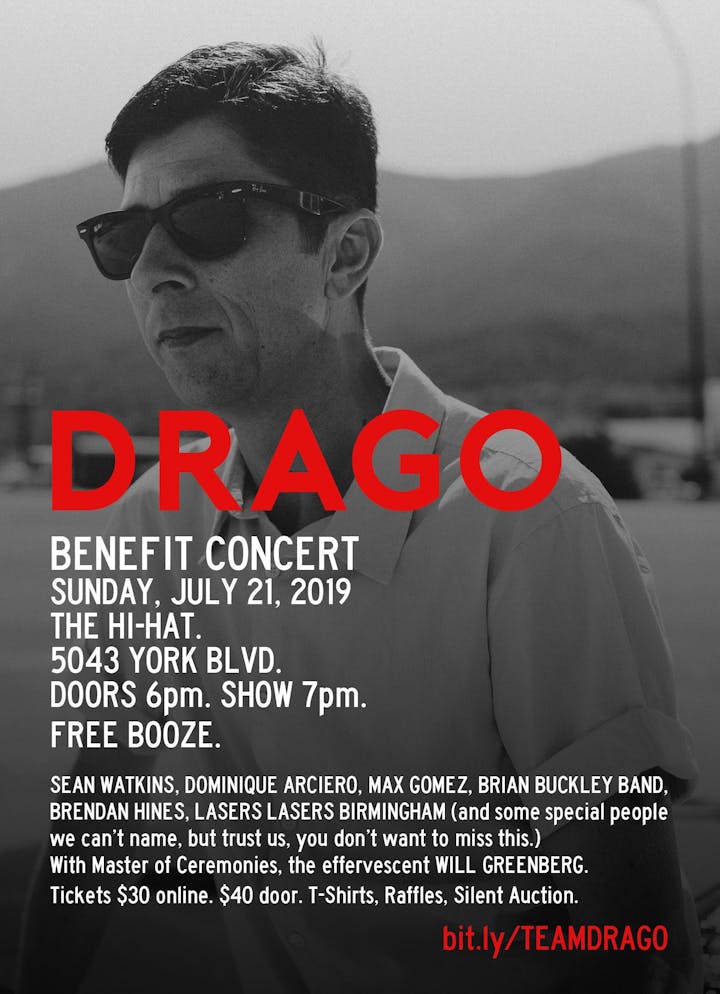 TEAM DRAGO BENEFIT CONCERT
Sunday, July 21st 2019
Doors: 6pm
Show: 7pm
TICKET INFO:
General Admission: $30 (INCLUDES OPEN BAR 6-9!)
Buying online guarantees your admission to the event on Sunday, July 21st!
Buy at the Door: $40 (INCLUDES OPEN BAR 6-9!)
Buy your ticket at the door (cash only please) on Sunday, July 21st unless sold out!
Please see Drago's story below for more info. Thank you in advance for joining us!
Hello Friends-
In November of 2018 our dear friend Drago Sumonja began seeking medical advice for some digestive discomfort. By January 2019, his doctors had discovered a mass on his pancreas and numerous lesions on his liver, leading them to diagnose Drago with stage IV pancreatic cancer. In the month that followed, Drago's pain got worse as he sought the opinions of several doctors and naturopaths around Southern California.
After much consideration, Drago decided to go with what was recommended by the conventional doctors across the board: an aggressive form of chemotherapy administered intravenously, along with numerous other drugs to combat pain and keep his organs functioning. His insurance covers some of his treatments but not all of them, and his deductibles are pretty high. Our hope in putting this fundraiser together is to supplement the insurance in order to give him the support he needs to get back on his feet. We also want him to be able to explore every possible avenue of becoming and remaining cancer free without the added strain of worrying about money. Many of you have asked how you can help. This is an immediate and powerful way that you can do just that, and it will be a great night of live music.
We want you to know that even if you aren't able to give monetarily, any effort you make to get Drago's story out there will be of great value. Thank you for your time, your consideration, and most importantly, your love. We all hope to see you there!
Thank you so much,
Team Drago