Multiple Dates
Team Building Improv and Comedy Classes | Jacksonville, FL
Improv Team-Building from Jax's # 1 Studio!!!
About this event
TEAM BUILDING & IMPROV EVENTS: Creative Veins offers a wide-variety of team building & improv classes for businesses, corporations, schools and are suitable for both adults and kids! Our classes are private so only your group participates with our instructors. They're a fun and low cost way to help boost morale, develop stronger communication, strengthens adlib skills and demonstrates how thinking on your feet is crucial in business, encourages bonding and friendships, builds confidence and trust, and as a result, helps build a stronger team! PLUS, they're a LOT of fun! Using acting and improvisational exercises and games, these classes also help build emotional awareness and promotes more effective listening skills in order to work as an ensemble. Best of all, we can adjust the curriculum to suit your organization's goals! 
Our team-building & improv classes are typically 1 hour in length, but we can always provide more or less instruction depending on your specific needs. It's totally up to you! Discounts offered for larger groups! Please contact us via email or phone so we can provide you with a quote for your event!
HOURS: Daytime, evening, and weekend time slots available! Our team-building classes can be held at our downtown studio, virtually, or we can come to you; even out of state!
A FEW OF OUR PREVIOUS CLIENTS: Yelp, Wounded Warrior Project, Legacy Irish Dance Academy, Root Realty, Barry Callebaut Chocolate Company, Phocas Software, Ulta Beauty, UF Law Department, The Rocco Group, & Keller Williams
CONTACT US: For more information call or text us anytime at 904.323.2471 or email us at admin@creativeveins.com! You can also visit us online at www.CreativeVeins.com. We'd be happy to help you book a team building event! 
ABOUT US: Creative Veins is Jacksonville's premier performing and creative arts studio whose mission is to provide students with intellectually informed, hands-on instruction in multiple artistic disciplines. We offer beginner and advanced acting classes for both children and adults, stand-up comedy classes, improv classes, screenwriting workshops, audition prep, demo reels & taping services, and fun monthly social events for the local community! All of our classes are taught by professional working artists and designed to foster each students' unique talents in a positive and supportive environment so they may reach their full potential. Feel free to explore our website and check out our class calendar at www.CreativeVeins.com and discover all the ways we can help you grow!
CREATIVE VEINS PERFORMING ARTS
337 East Forsyth Street
Jacksonville, FL 32202
904.323.2471
www.CreativeVeins.com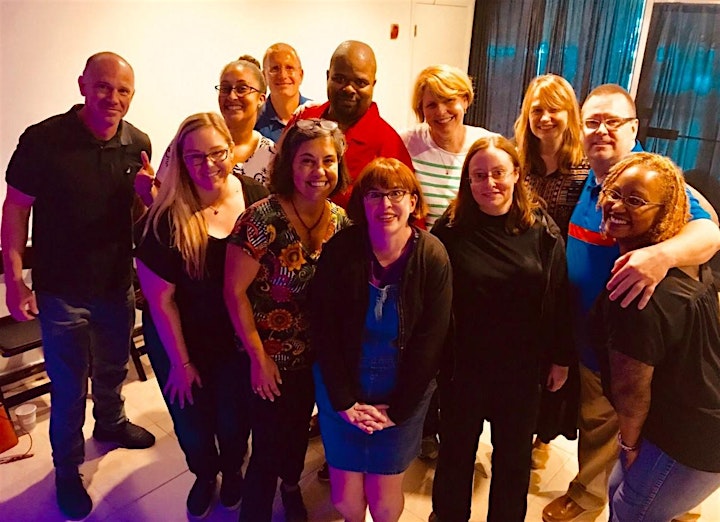 Organizer of Team Building Improv and Comedy Classes | Jacksonville, FL
Jacksonville, Florida's # 1 Performing Arts Studio for Acting, Improv, Stand-Up Comedy and Screenwriting! Classes for Kids, Teens & Adults! We're conveniently located in the heart of downtown Jacksonville; just two blocks up from the historic Florida Theatre! Additional Services include Audition Tapings, Head Shots, Reel Editing, & Private Coaching! Producers of Laugh Lounge, The Good Show, Suds 'N Shakespeare & Smorgasbord All Arts Open Mic Night!