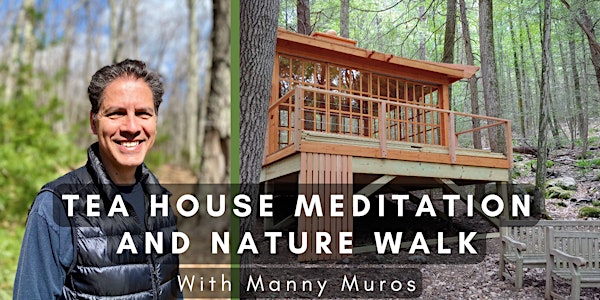 Multiple dates
Teahouse Meditation & Nature Walk with Manny Muros
Join Manny Muros for a nature walk and guided seated meditation teaching in Alnoba's tranquil Japanese Tea House.
Date and time
Wed, Apr 19, 2023 9:00 AM - Wed, Sep 20, 2023 10:30 AM EDT
Location
Alnoba 24 Cottage Road Kensington, NH 03833
About this event
Our nature walk and guided seated meditation will take you through Alnoba's peaceful nature trails leading to the tranquil Japanese Tea House for wisdom teachings and a guided seated meditation. Embedded in the natural surroundings of the Alnoba forest we will enter deep states of inner peace and harmony. This sanctuary holds a design that provides you with a sense of protection and will make you feel like you are floating in a tree house.
You'll be led on this experience by Alnoba Peace Foundation founder and spiritual teacher Manny Muros.
He'll guide you into entering a state of deep listening, surrendering your inner dialogue to the peace and harmony of the natural world. With practice you'll learn to immerse yourself in the beauty inherent in each moment, finding in that a source of strength and a spark for inner transformation - a transformation that will better equip you to take on the challenge of changing the world.
Notes and Guidelines
• Meet Manny in the Main parking lot promptly at 9:00 AM.
• Guests must stay with Manny at all times.
• Please dress appropriately for exploring the outdoors.
• Wear appropriate footwear and bring a bottle of water and sunscreen. In the winter months, bring appropriate footwear and warm clothing.
• This tour will last roughly 90 minutes. Be prepared to walk at an easy pace, with breaks, for that length of time.
• Alnoba's buildings are closed. Walkers may use the portable restroom in our parking lot.
• No dogs are permitted on the property.
• This is a walking tour only - no bicycles.
Refund and Weather Policy
Tickets are non-refundable. Please note that all events at Alnoba are rain or shine. If an event is cancelled due to extreme weather you will receive an email notification. If you do not get an email notifying you that the event is cancelled, that means the event is still going forward as scheduled.
About Manny Muros
Manny is the founder of the Alnoba Peace Foundation and for many years served as owner and Spiritual Director of the Yoga Center of Newburyport. He teaches Asana, Meditation and Yogic philosophy, leading workshops and retreats in the US and internationally.
He is the author of 3 books on the path of spiritual awakening. The Other Side of Me, The Mind Overlay, and The Oneness Within, are readable and engaging guides to inner transformation.
About the Alnoba Peace Foundation
A world in need of healing
From climate change to the impact of technology on our minds and the economy, our world is in crisis. A winner-take-all society isolates us from each other and from the earth that sustains us. Our communities are broken, consumption and waste run rampant, and we are severed from the healing power of the natural world.
Both we and the world need a change. Start that change on the inside. You can overcome the harmful and destructive patterns imposed on you by this broken world we're living in, opening to a more natural and authentic way of engaging with yourself and our planet.
The power to change
There are both ancient and pioneering tools you can use to rewrite your patterns, breaking free of the old way of thinking and being as you tap into something stronger: a way of living that connects us harmoniously to both each other and the earth we share.
Manny Muros has spent decades studying, practicing and sharing the spiritual techniques that lead to greater self-awareness and self-realization. His wisdom teachings are insights gained through a lifetime of deep practice and exploration. Through meditation and affirmative practices, he teaches students how to center, deconstruct old patterns and recover a truer way of being.
The sacred land of Alnoba, with its pristine fields and forests and inspiring collection of outdoor art, serves as a potent space for undertaking this journey of transformation.
Be the difference
To use the ancient words of wisdom: as it is above, so it is below. The world we cultivate inside ourselves makes a real impact on the one that surrounds us. By changing one, we impact the other.
Step forward into your own change, breaking free of a paradigm that destroys both our well-being and that of our planet. Discover a healthier, more authentic alternative that empowers you to be the change you seek.
About the organizer
Alnoba is dedicated to developing courageous leadership and sustainability models to help change people's lives, create stronger communities, and save the earth we share. We believe that it is through deep personal reflection and connection to our humanity and the natural world that we access passion and purpose—transforming how we lead, live, love, build communities, and honor our planet. Lead from anywhere. Make a difference. Go deep inside to come out strong. Care about community. Connect. Live mindfully. Walk the earth. Be wild again. Eat local food. Access passion. Find your purpose. Take risks. Give back.