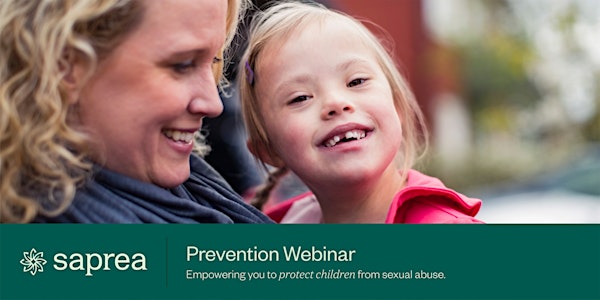 Teaching Your Child Healthy Sexuality
A virtual community discussion on how you can help reduce the risk of childhood sexual abuse.
About this event
Teaching Your Child Healthy Sexuality
Join us for an interactive, community discussion to learn practical tips on teaching your child about healthy sexual development as you:
Learn why teaching healthy sexuality is key to reducing the risk of abuse.
Solidify your own family views and values concerning topics of sexual development.
Identify when and how to have age appropriate conversations.
This content and presentation are designed for:
Parents, caregivers, and trusted adults interested in protecting children
Community Leaders interested in providing free prevention resources to their network
Volunteers interested in becoming a community educator
SAPREA MISSION
We empower healing for individuals who were sexually abused as children or adolescents through retreats, support groups, and online resources.
We educate and engage parents and caregivers to protect children from sexual abuse through community and online resources.
We drive awareness to motivate individuals to take action against child sexual abuse.
Self-Care Note
This presentation will cover sensitive topics including childhood and adolescent sexual abuse and may discuss other adverse or traumatic life experiences. Please consider if this event is appropriate for you at this time.