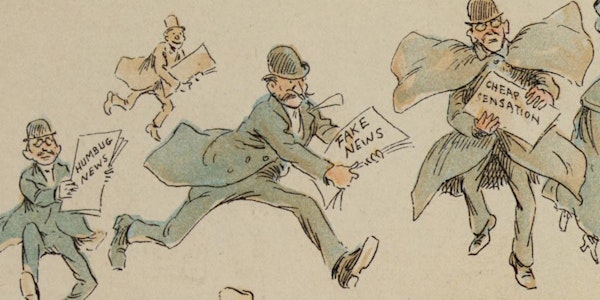 Teaching Writing in the (New) Era of Fake News
Dr. Ryan Skinnell shares how we can teach familiar rhetorical concepts in new ways to help students better navigate the fake news era.
About this event
Looking at the state of the world, it's not hard to conclude that fake news is a sign of our times and despair. But although fake news feels exceptional in the post-Trump era, it's not. We are in an era of fake news, but not the first one. By situating our current moment on a longer timeline, we can recognize the persistence of fake news and begin to reinvest in rhetorical tools that writing teachers have long had at our disposal in eras of fake news, but which we allowed to rust and dull when we thought we could rely on truth, objectivity, and "real news."
In this talk, I will illustrate how writing teachers might put rhetoric to better use in a new era of fake news. Rhetorical concepts such as ideologic, kairos, stasis, and enthymemes are vital to teaching writing in a new era of fake news, but it is beneficial to begin by looking at three of our most familiar concepts: ethos, pathos, and logos. Most writing teachers are familiar with these concepts and may even teach them as introductory rhetorical concepts. But ethos, pathos, and logos are not introductory concepts, especially in a fake news era, and acknowledging as much makes them more valuable for writing teachers.
Following the presentation, we will have a Q&A. Those who can stay for the last half hour will join breakout rooms where they will brainstorm course design and assignment ideas inspired by the presentation and share them in small breakout groups.
Ryan Skinnell (he/him) is an associate professor of rhetoric and writing and an assistant writing program administrator at San José State University in Silicon Valley. He is the author, editor, or co-editor of six books, including Conceding Composition: A Crooked History of Composition's Institutional Fortunes (Utah State UP, 2016) and Faking the News: What Rhetoric Can Teach Us About Donald J. Trump (Societas, 2018). He has also published more than 80 articles, book chapters, and op-eds for academic and non-academic audiences on topics ranging from demagoguery, fascist rhetoric, and contemporary political discourse to American education, writing pedagogy, and faculty development. He is currently writing a book about Adolf Hitler's rhetoric.