Teaching Mathematical Thinking Course K-5, Pocatello, Winter 2018
Description
Teaching Mathematical Thinking (TMT) is Idaho State University's State Department of Education approved version of MTI.
This course provides an opportunity to study fundamental mathematical theory underlying the content area of number and operation and student reasoning of number and operation topics within a framework of a student-centered, problem-based classroom. Topics will include: number systems, ways of representing numbers, meanings of operations and how they relate to one another, and computation within the number system as a foundation for algebra. Pedagogical topics will focus on attending to student thinking and reasoning through the use of discourse and questioning, professional noticing, and the effective use of manipulatives or other mathematical tools.
COURSE FEE: There is a mandatory $165 fee associated with the TMT course. It provides three (3) Continuing Education credits to officialy transcript your completion of this course.
DATES/TIMES: This TMT course will be start January 20, from 8:00 a.m.-5:00 p.m. There are no meals provided.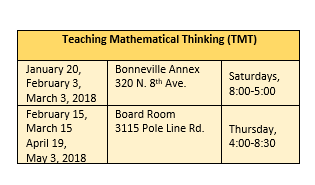 PARKING: Parking is free. No permits are needed.
WAITLIST: When the tickets for this course are "SOLD OUT," simply click on the 'Add Me to the Waitlist' button, enter your information, and you will automatically be notified via email once an opening is available.
QUESTIONS: Please email your questions to irmc@isu.edu.
There is no need for paper tickets or to print this email, your name will be on a guest list. If for any reason, there are not enough reservations to support the scheduled course, we reserve the right to cancel and reschudle at a later date upon notification.