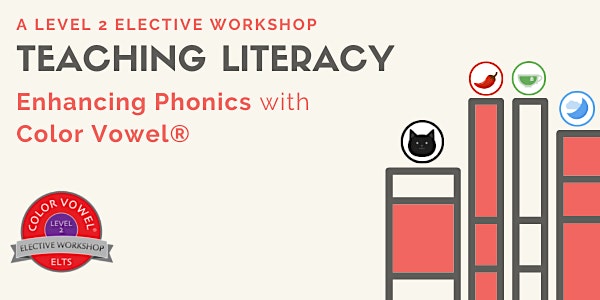 Teaching Literacy: Enhancing Phonics with Color Vowel®
Refund policy
Contact the organizer to request a refund.
Eventbrite's fee is nonrefundable.
Teachers of emerging and low-literacy adult readers will explore practical ways to enhance phonics programs with Color Vowel strategies.
About this event
THE PROBLEM: English Learners struggle with phonics.
In a phonics framework, letters are treated as the primary or basic units for learning to read. However, because English does not have a one-to-one correspondence of sound to symbol, phonics instruction in English requires the learner to 'sound out' all the possible pronunciations of a spelling until they happen to hear a word they recognize. This process crucially depends on the learner already possessing a well-developed oral vocabulary to which they can connect the words they are trying to decode.
English learners, with their limited English vocabularies, need intervention that boosts their oral/aural word recognition as they learn to make use of the English spelling patterns presented in a high-quality phonics program.
THE SOLUTION: Complement phonics with Color Vowel Approach (CVA) strategies.
The Color Vowel Approach starts with oral words and phonemes as primary. The spellings of those sounds are treated as inherently secondary, mirroring natural language development in which the alphabet, reading, and writing, stem from spoken language.
Workshop Description
Guided by Dr. Robin Barr, lead instructor at the Washington Literacy Center, participants will explore practical ways to enhance phonics programs with Color Vowel strategies.
Week 1: Why combine phonics with Color Vowel? Dr. Barr will guide participants through an experiment with stand-alone phonics as a means of identifying how Color Vowel serves as an essential complement to a good phonics program.
Week 2: Who needs phonics? Understanding learner variables and learning differences is of obvious importance when deciding on literacy interventions. We will examine factors affecting both adult ELs and younger learners and explore strategies for connecting literacy to the learner.
Week 3: How does a good phonics + Color Vowel curriculum work? Here, Dr. Barr will walk participants through spelling sequences typically found in a phonics program. Color Vowel will provide a structure for the 'sight words,'-- the words that fall outside the parameters of the earliest phonics sequences.
Week 4: How does it all fit together? Participants will present their literacy projects as a path toward implementing feasible and effective literacy supports both online and in the face to face classroom.
This Level 2 workshop is open to Level 1 certified teachers. It is highly recommended that participants have completed the Level 2 Spelling Exploration workshop in advance of this workshop.
Workshop Dates
Friday, November 4: 1-2:30 pm ET
Friday, November 11, 1-2:30 pm ET
Friday, November 18, 1-2:30 pm ET
NO CLASS - November 25 - Thanksgiving
Friday, December 2, 1-2:30 pm ET
All sessions occur online through Zoom, are recorded, and are posted in a private YouTube playlist for those who have to miss part or all of a session. Contact us at customersupport@colorvowel.com if you have questions.
Workshop Tasks
Following Weeks 1, 2 and 3 of the workshop, participants are assigned a small number of performance-based tasks that require no more than 1 hour per week. The workshop and all tasks are managed through our course platform.
Certificate
Upon completion of this course, participants will receive a Level 2 Workshop Certificate reflecting 6 hours of instruction. This course fulfills one of multiple requirements of Level 2 certification.