Teaching Ideas to Enrich Instruction and Increase Motivation | Adult Ed/IEP...
Description
The Rennert New York TESOL Center's Adult Ed/IEP TESOL Mini-Conference is a biannual half-day event that offers practical professional development for teachers and administrators working in the field of Teaching English as a Second Language, specifically in Adult Education or in an Intensive English Program. Each event provides opportunities for networking as well as a great chance to revitalize your teaching practice with new trends in the field of English Language Teaching.
Please see program and presenters below:
Program*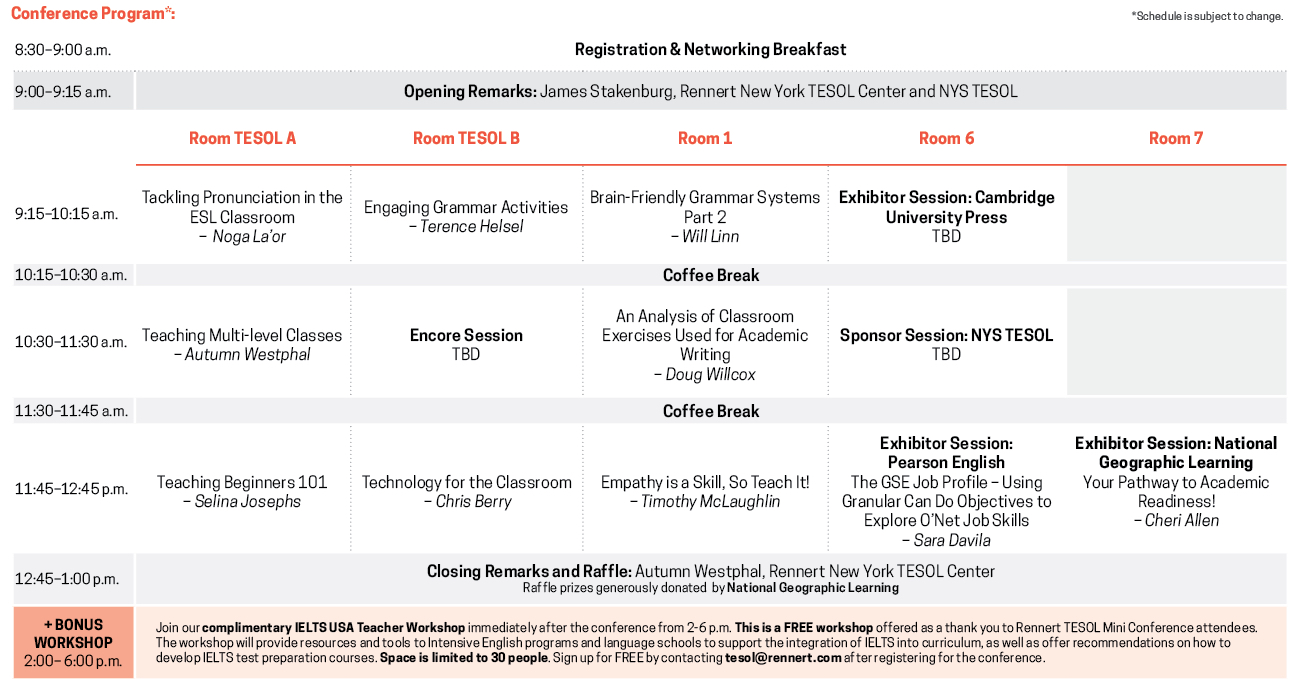 Download the program by clicking the following link: http://bit.ly/RennertTESOL-Fall-17-schedule
Presenters:
Autumn Westphal | Head of Teacher Training – Rennert NY TESOL Center
Terence Helsel | Director of Studies – Rennert New York
Chris Berry | Teacher Trainer – Rennert NY TESOL Center
Will Linn | Teacher Trainer – Rennert NY TESOL Center
Selina Josephs | Teacher Trainer – Rennert NY TESOL Center
Noga La'or | Director of ESL Programs – English Language Institute, LIU - Brooklyn Campus
Timothy McLaughlin| Intructor, American Language Program – Columbia University
Doug Willcox | Head Teacher – Target International Student Center
Regina Snyder | Cambridge University Press
Sara Davila | Learning Expert – Pearson English
Cheri Allen| Educational Consultant – National Geographic Learning
NYS TESOL Presenters | TBD
For more information or questions regarding Group tickets or payment alternatives please contact tesol@rennert.com
*Schedule is subject to change.