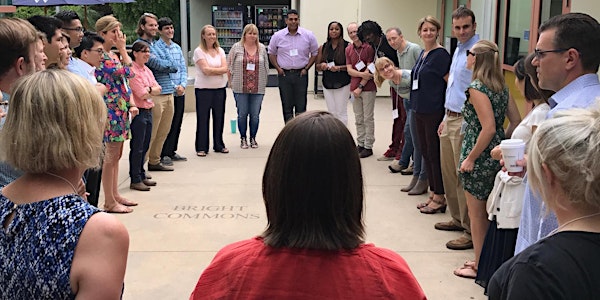 Teaching Foundations
Even seasoned teachers find useful tools and benefit from the opportunity to work with top educators in a supportive, inclusive atmosphere!
When and where
Location
Head-Royce School 4315 Lincoln Avenue Oakland, CA 94602
Refund Policy
Contact the organizer to request a refund.
About this event
The Teaching Foundations program is designed to support the growth and success of all teachers—particularly those in their early years at independent schools—by focusing on foundational areas of teaching. Clearly, COVID-19 continues to change the landscape of teaching and learning, presenting us with new challenges and opportunities in the field of education. Teachers must be ready for new forms of learning, adopting and refining their curriculum and practice to respond to the ever changing demands while simultaneously developing a steadiness that promotes their own well-being and safeguards the social-emotional needs of their students.
Sessions are organized around the following topics: identity and culture (self, school, and learning environment); lesson design and pedagogy; building successful professional relationships; communication and feedback; and sustaining a career in teaching.
Led by master teachers, administrators, and guest presenters, this respected program provides participants with personalized attention and specific instruction that is adaptable for all grade levels. Emphasis is placed on modeling and using inclusive practices for lesson planning, classroom management, and assessment, as well as on developing time management and communication skills, cultural humility, and confidence as an advisor and leader. Even seasoned teachers find useful tools and benefit from the opportunity to work with top educators in a supportive, inclusive atmosphere.
ACCOMMODATIONS
CATDC has not reserved rooms at a hotel. Out of town guests are encouraged to research and choose their own lodging that best meets their needs. Our host school is located in a residential area in Oakland, CA. We recommend that you look for hotels in the neighboring city Berkeley and plan on taking the 15 minute drive by Lyft/Uber/Taxi to the host school. There are also airbnb options in Oakland if you would prefer to stay closer to our host school, Head-Royce.
COVID-19 SAFETY PROTOCOLS
The health and safety of participants is our utmost concern. All attendees are required to wear KN95 and/or double-masks (with a surgical mask covered by a cloth mask or two surgical masks) for all indoor spaces. Before participants enter the Head-Royce campus, they must present a vaccination card (showing they are fully vaccinated) upon check-in at the Gatehouse. "Fully vaccinated" means at least 14 days after the third dose (booster). Approved visitors should self-monitor symptoms and refrain from coming to campus when not feeling well. All visitors to campus who are symptomatic and test positive for COVID-19 within 48 hours of their visit, must report this to CATDC as soon as possible. Anyone who does not submit proof of full vaccination, who shows symptoms of COVID-19 during the session, or who refuses to comply with our host school's requirements will not be able to attend.
CANCELLATION POLICY
Life happens. We understand that there will be times when you cannot attend a workshop that you have registered and paid for. Below we have outlined our cancellation and refund policy, which we have in place to ensure the most accurate numbers when we secure well in advance locations, catering, and facilitators. Thank you for understanding.
For this in-person workshops refunds are available up to 14 days before the scheduled starting date. We are unable to provide refunds for cancellations made 13 days or less prior to the workshop. Registration may be transferred to a different person up to 7 days before.
Please contact us by email as soon as you know you cannot attend a workshop. This will allow us time to contact our waitlist and hopefully fill your spot.
You will receive a full refund if CATDC chooses to cancel this event.