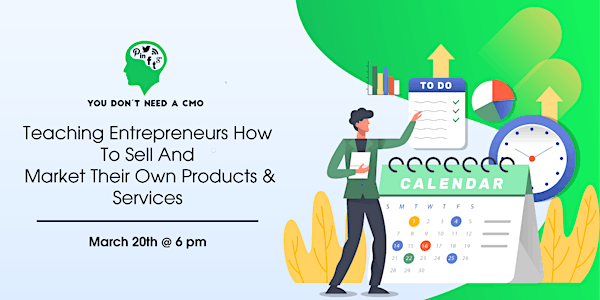 Teaching Entrepreneurs To Market Their Own Products & Services
The Top Marketing Tips and Tricks for 2019: Experts Easily Explain The Best Ways To Get Your Brand Out There
When and where
Date and time
Wednesday, March 20, 2019 · 6 - 9pm EDT
Location
447 Broadway 447 Broadway New York, NY 10013
Refund Policy
Contact the organizer to request a refund.
About this event
Is your brand looking to make major gains in its marketing strategy this year? If so, then You Don't Need a CMO has your back.
We're a team of actual startup founders, ex-CMOs, and agency owners. We know what works because we've been there and made it work for ourselves.
Attend this event and we'll teach you the real, down and dirty marketing methods that have helped scale startups we've worked with from $0 to millions in revenue.
YDNACMO experts have managed brands and produced content for clients and audiences across the globe, including Owl Labs, LearnRoll Immerse, Loansnap, Easy Group Airfare, RealAtom, Club Getaway, Casa Fryzer, Bordelle, Modern Sanctuary, Tiffany & Co., and IBM.
These techniques are powerful, and they'll help you get ahead in competitive markets no matter your niche. Over the course of just one evening, our world class team will show you how to get your money's worth out of marketing, advertising, video, copy, and much, much more.
This 3-hour event will feature presentations from industry experts as well as networking opportunities. Each talk will dissect a range of different cutting edge marketing techniques. Talks will be short (<30 min each) and focus on actionable takeaways rather than exhaustive theory.
AGENDA AND FEATURED SPEAKERS:
6:00-6:30pm: Networking and Refreshments
6:30-8:30pm: Presentations
1. How To Clearly And Effectively Describe What You Do – Rowan Price, Business Development Strategist and Lead Generation Expert (rowanprice.com)
2. Is This Your Time? - How To Get The Most Out Of Now - Sean Dillon, Agency Owner, Cyentist (cyentist.com)
3. Learning Marketing As A Non-Technical Entrepreneur: The Why, How, And When – Chris Hanson, YDNACMO Managing Director and Agency Owner, Hanson Partners Consulting (hansonpartnersconsulting.com)
4. Getting 4x ROI On Google Ads – Max Bidna, Facebook and Google Ads Expert, Agency Owner, Hell's Creative (hellscreative.com)
8:30pm+: Questions and Networking
You Don't Need a CMO puts on events for small, intimate audiences. We find that small groups of people make for the best learning and creative environments. As such, participation is limited to just 100 attendees to allow ample time for questions and networking.
Wine, beer, and food will be provided.
If you have any questions about whether this event is right for you and your team, feel free to email us anytime at events@youdontneedacmo.com.