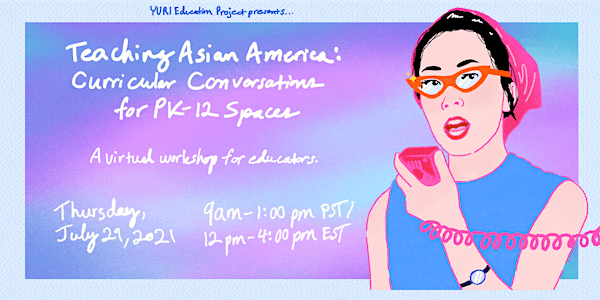 Teaching Asian America: Curricular Conversations for PK-12 Spaces
A half-day online workshop to guide educators on how to integrate the history and experiences of Asian Americans into their classrooms.
Refund Policy
Contact the organizer to request a refund.
Eventbrite's fee is nonrefundable.
About this event
Hosted by the YURI Education Project, this half-day online workshop will guide educators and instructional leaders on ways to integrate the long and complicated history and experiences of Asian Americans and Pacific Islanders into their classrooms.
While Asian American Studies has existed as an academic field in higher education for more than 40 years, this field has been less emphasized in PK-12 curricula. With growing calls to include these narratives more expansively within classrooms across the U.S., this workshop aims to provide concrete teaching strategies and pedagogy on how to bring these untold stories into PK-12 classrooms.
Participants will gain an understanding of the historical background of Asian American Studies in schools. Led by seasoned classroom educators with decades of PK-12 experience combined, participants will learn and collaborate on a variety of topics. Topics will include Asian American children's literature and history young children's worlds, solidarity, place-based education of historic sites, transnational perspectives on Asian American lives, and anti-Asian racism in history.
Through these inquiry-driven sessions, educators who register and/or attend will be provided with ready-to-use materials and strategies for their classrooms.
This event is co-sponsored by Rutgers Graduate School of Education and the University of North Texas.
Please contact us yurieducationproject@gmail.com if you have any questions!
Schedule
Opening Session: Introduction to Asian American Studies in Schools
General Session: The Possibilities and Pitfalls of Implementing Asian American and Pacific Islander Curriculum in PK-12
Two Sessions of Your Choice (*the six topics will be repeated)
Anti-Asian Racism: Connections in History
Teaching Asian American History through Children's Literature
Thinking Transnationally and Diasporically about Asian American Lives
Place-Based Learning and Asian American History
Thick Solidarities: Black & Asian Alliances
The Worlds of Asian American Children
Closing Session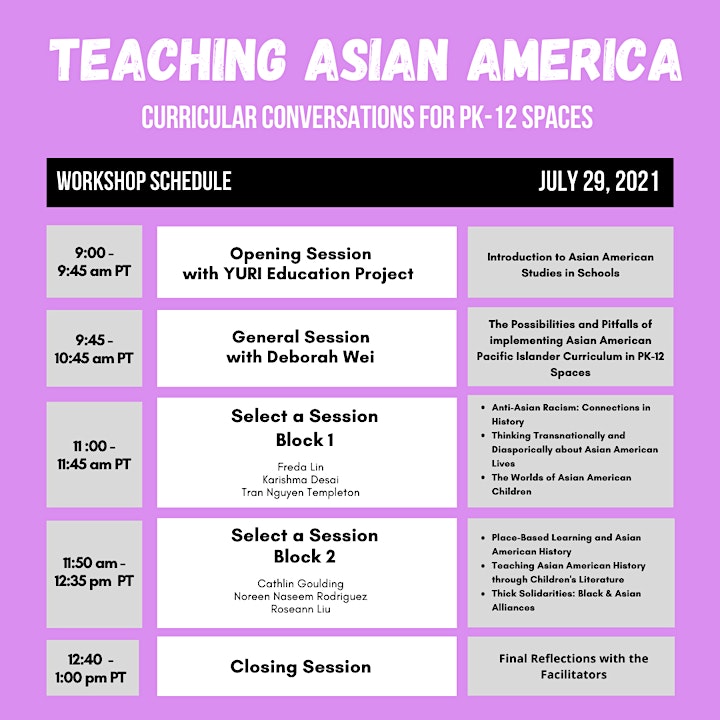 Registration Fees | Sliding Scale $50.00-200.00
We are committed to providing income to our collaborators and facilitators, particularly when women and people of Color are increasingly asked to perform emotional and intellectual labor for little compensation. At the same time, we want to ensure that as many committed educators are able to attend as possible.
We offer a sliding scale for the 4-hour workshop. Depending on your financial capacities, you can select a level ranging from $50 to $200. We ask that those with more financial access pay as much as you are able to; this payment can support the access of others.  
Please note that many participants may be able to use professional development funds. You might wish to inquire with your employer as to whether part or all of your fee can be covered. Please contact us yurieducationproject@gmail.com for information on payment.
Organizers
Cathlin Goulding, Ed.D., is the co-director of YURI, an education consulting business that offers curriculum, youth workshops, and teacher professional development on Asian American history and stories. A fourth-generation Los Angeleno, she started in the education field as an English and poetry teacher at a public high school in the East San Francisco Bay Area. Her research on place-based learning has been supported by the Andrew W. Mellon Foundation, Columbia University's Earth Institute, and the Library of Congress' Teaching with Primary Sources. She teaches in the Adolescent Social Studies program at the City University of New York.
Freda Lin is the co-director of YURI. Being a student activist leader for Asian American Studies at Northwestern University led her to become a middle and high school history teacher. After leaving the teaching field, she facilitated social movement history tours with Freedom Lifted, and consulted with the Center for Asian American Media and UC Berkeley History-Social Science Project. As the Education Program Director of the Fred T. Korematsu Institute, Freda implemented programming to promote awareness of the World War II Japanese American incarceration experience and its connection to current issues.
Karishma Desai is an Assistant Professor in the Education, Culture and Society Program at Rutgers University's Graduate School of Education. Drawing on transnational feminist and anthropological lenses, she studies the politics of knowledge at the intersections of gender, globalization, and education in South Asia and the United States. Karishma was a literacy and social studies teacher in New York City and Chicago, a founding instructional leader at a middle school in central Queens and has worked in teacher/school leader professional development and curriculum design in the United States and internationally for over fifteen years.
Tran Templeton, Ed.D., is an Assistant Professor in Early Childhood Studies at the University of North Texas. She studies children's photography and literacy practices as well as works with teachers in attending to children's perspectives in ways that lead to curricular change. A 1.5 generation Vietnamese American, Tran was a special education teacher and school director (in Houston and Guatemala City) for 8 years and an early childhood teacher in NYC for 5 years.
Facilitators
Roseann Liu is Assistant Professor of Education Studies at Wesleyan University. Drawing from critical race and abolitionist frameworks, she teaches and researches structural inequalities in education, including its effects on communities of color and the organizing strategies used to enact change. She writes about the pitfalls and possibilities of progressive pedagogy and multiracial coalitions. These interests are informed by her experiences as a student and teacher in New York City public schools. She engages broad audiences through producing short films and writing op-eds that have been featured in Colorlines, The Philadelphia Inquirer, and Hechinger Report.
Noreen Naseem Rodríguez is an Assistant Professor of Teacher Learning, Research and Practice in the School of Education at the University of Colorado Boulder. Her research interests include the culturally sustaining pedagogies of Asian American and Latinx teachers and the teaching of so-called "difficult histories" to young learners through children's literature. She was a bilingual elementary educator in Austin, Texas for nine years and is the co-author of the forthcoming book Social Studies for a Better World: An Anti-Oppressive Approach for Elementary Educators.
Deborah Wei is an educator and community activist. She helped found Asian Americans United in 1985 to organize low-income and working class Asian Americans; its victories include winning reform in the School District of Philadelphia for immigrant students and families, improving language access across the city, and stopping the construction of a stadium and a casino in Chinatown. She worked as a multicultural studies curriculum specialist in Philadelphia for 13 years, focusing on curriculum development and teacher training in K-12 AAPI studies . She was a founder and founding principal of Philadelphia's Folk Arts-Cultural Treasures Charter School, a model for best practices in serving immigrant and refugee families.