Sales Have Ended
Registrations are closed
Thanks for your interest. Unfortunately, we are no longer accepting registrations for this offering. If you're interested in additional offerings or in the video playback of this session, please contact Samantha at sclarke@yanjep.org.
Sales Have Ended
Registrations are closed
Thanks for your interest. Unfortunately, we are no longer accepting registrations for this offering. If you're interested in additional offerings or in the video playback of this session, please contact Samantha at sclarke@yanjep.org.
About this Event
As teaching artists come to grips with the effects of the pandemic and plan for the 2020-2021 school year, it is clear that virtual learning must now be part of their skill set. The field, however, is changing as rapidly as it is growing. In this webinar, we'll update new developments in virtual education, explore interaction and presentation strategies, and share best practices for using technology to increase creativity.
Our goal is to turn the focus of this workshop around, so that is not centered on "virtual teaching" but rather on "virtual learning" so we'll strive to see everything through the lens of that student sitting on the other side of the screen. What is their experience? How can we engage them on all kinds of levels to heighten their engagement and experience in the arts?
Each participant of this webinar will be invited to join a Coffee Talk debrief on Monday, July 20 from 3:00 - 4:00 PM. This informal discussion will be lightly moderated and will be an opportunity for participants to discuss the information of the webinar and the processes for application, as well as share successes/opportunities for growth.

Welcome Artist Bio
KINOBE (pronounced chi-no-bay) is a Ugandan singer/songwriter and multi-instrumentalist whose work has been described as "some of the most exquisite music coming out of Africa today." In addition to performing and recording, Kinobe's educational programs provide interactive and engaging experiences for students of all ages and demonstrate how music is a powerful vehicle for community empowerment. Kinobe's greatest dream has been to teach children how to use the power of music to inspire others to see the world as a global village and that we are all more similar than different.
Presenter Bios
JOHN BERTLES and CARINA PIAGGIO are teaching artists, administrators, and professional development specialists focusing on training for arts performers and presenters through Kennedy Center; and they are also the husband-and-wife co-founders of Bash the Trash Environmental Arts. Since the quarantine they have been presenting online programs for schools and museums, as well as professional development sessions for arts educators who need to take their programs online.
PEG KOETSCH is a National Teaching Artist for the Kennedy Center and Distance Learning Coordinator for the Smithsonian American Art Museum, Peg develops interactive, multi-disciplinary, inquiry-based resources for teaching students and training educators around the world. She is also the founder of Learning Insights which specializes in using art forms to strengthen critical thinking skills and creative pedagogies, by modeling strategies developed while the education manager for 5 museums.
JEANETTE MCCUNE is the Director of School and Community Programs at the John F. Kennedy Center for the Performing Arts, provides strategic leadership and vision for Kennedy Center's local and national arts education partnerships with schools and community based organizations. School and Community Programs include DC School and Community Initiatives, Changing Education Through the Arts, Turnaround Arts, Ensuring the Arts for Any Given Child, and Partners in Education. Prior to her appointment as the lead for School and Community programs, Jeanette served as Director of DC School and Community Initiatives from 2001 to 2017 leading Kennedy Center's relationships with Washington, DC public and charter schools, and local community collaborators, and was lead for the former Dance Theatre of Harlem Residency at Kennedy Center and Musicals in the Schools.
KERRI SULLIVAN is the District Supervisor of the Arts, K-12 at Bridgeton Public Schools. Kerri has twenty years of experience in a variety of PK-12, higher education, and nonprofit settings. She has served on various committees and writing teams including the 2020 New Jersey Student Learning Standards in the Arts, NJ Social-Emotional Learning & Arts Framework, and the 2018 & 2020 editions of New Jersey's Arts Integration Think & Do Workbook. Kerri holds teaching certificates for theatre in New Jersey and Delaware and a principal certificate in New Jersey. Kerri has a BFA from The University of the Arts, a MA from New York University and she is currently working on her doctorate in Educational Leadership & Management at Drexel University.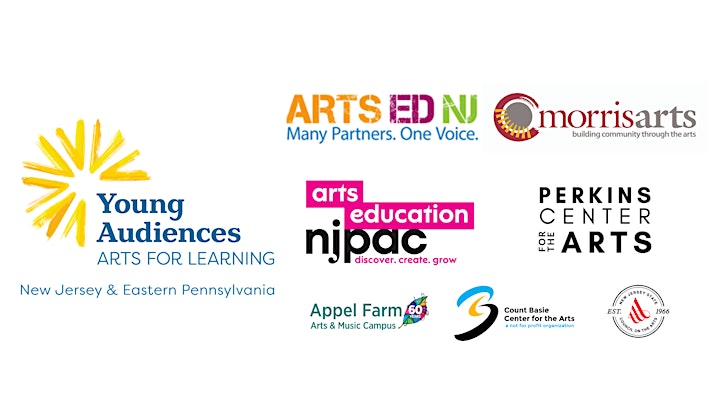 Registration for the Teaching Artist Summer Series will open on July 2, 2020 at 12:00 PM. Registration for each session will close at 12:00 PM the day prior to the workshop. Participants are welcome to register for any number of events. Video playback will be sent to each of the registrants at the conclusion of the workshop and will be made available for a limited time to registrants who could not attend the live experience. For more information on program descriptions, speaker information, and requirements, visit njaec.org.
Lead sponsorship for the Teaching Artist Summer Series is provided by Young Audiences Arts for Learning NJ & Eastern PA (YA). Co-Sponsors for the Teaching Artists Summer Series are Arts Ed NJ, Morris Arts, New Jersey Performing Arts Center (NJPAC), and Perkins Center for the Arts. Presenting sponsors include Appel Farm Arts & Music Campus, Morris Arts, NJPAC, and YA. Additional support for the Teaching Artists Summer Series comes from Count Basie Center for the Arts and the New Jersey State Council on the Arts.

The New Jersey Arts Education Collective is a partnership of arts education organizations whose mission is to provide the highest quality professional development for teaching artists and the arts education community.
The Collective believes teaching artists offer a unique contribution to the lives of students, teachers, and communities. The Collective envisions a network of support between teaching artists and arts education specialists to develop skills, share resources, and strengthen the field to benefit New Jersey's students by providing essential/critical learning of and through the arts.