Teaching Artist Summer Series: Natural Links How to Curriculum Mine for SEL
Sales Have Ended
Registrations are closed
Thanks for your interest. Unfortunately, we are no longer accepting registrations for this offering. If you're interested in additional offerings or in the video playback of this session, please contact Samantha at sclarke@yanjep.org.
Sales Have Ended
Registrations are closed
Thanks for your interest. Unfortunately, we are no longer accepting registrations for this offering. If you're interested in additional offerings or in the video playback of this session, please contact Samantha at sclarke@yanjep.org.
About this Event
Although the value of Social Emotional Learning (SEL) makes so much sense to us as teachers and artists, we often get stuck trying to "add" SEL into our lessons. We try to create new lessons that are specifically SEL or we get stuck figuring out how to incorporate SEL into existing lessons.
In this interactive workshop, we will explore natural links within your existing curriculum that lend themselves to SEL and guide you through the process of "curriculum mining." After reviewing the five competencies of SEL, we will model how to mine existing lessons for SEL-based standards. Participants will then search their own curriculum for intentional SEL opportunities, link them to SEL standards, and expand upon these connections with appropriate arts activities and assessment.

Artist Bio
JACQUALYNN TOMASELLO is a native of South Jersey who works out of her studio near downtown Woodbury and focuses most of her work in the Philadelphia region. She is an artist, writer and designer, creating works for galleries and commissions for private, public and non-profit clients. Her work ranges from small ink pieces to large sculptural installations and murals. As a teaching artist, Jacqualynn has worked with children, at-risk youth, teens, adults and seniors. She is a dedicated local volunteer and arts advocate and is the creator of the FAF Coalition in Woodbury, NJ.
Presenter Bios
KRISTINA HILL holds a BA in Speech Language Pathology/Audiology and Special Education from Marymount Manhattan College. A lifelong visual and performing artist, Kristina began her career in education as a speech therapist for children with autism, where she was able to further develop her love of the arts by utilizing an arts-integrated approach to traditional therapy. For almost 20 years, Kristina has developed and implemented arts integrated educational programming for public schools and community centers for underserved populations in the tri-state area. She is also the founder of Creative and Curious, an early childhood arts integrated program with an emphasis on social emotional learning. Kristina joined the summer leadership team at Appel Farm in 2017 as the Head of Visual Arts and was brought on as the Arts Integration and Steam Education Director in 2019.
JULIA WEEKES is an educational management leader, educator, and artist. Julia brings nearly thirty years of experience in leadership and management, arts education, arts and science integration, early childhood education, project-based learning, cooperative learning, and progressive education to her new role as Appel Farm Art and Music Center Programs and Creativity Director.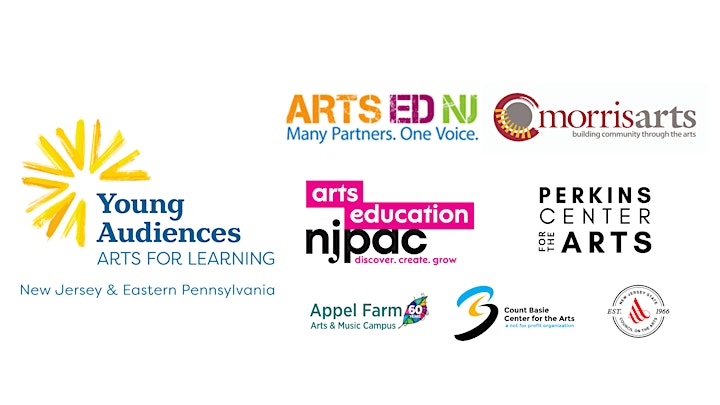 Registration for the Teaching Artist Summer Series will open on July 2, 2020 at 12:00 PM. Registration for each session will close at 12:00 PM the day prior to the workshop. Participants are welcome to register for any number of events. Video playback will be sent to each of the registrants at the conclusion of the workshop and will be made available for a limited time to registrants who could not attend the live experience. For more information on program descriptions, speaker information, and requirements, visit njaec.org.
Lead sponsorship for the Teaching Artist Summer Series is provided by Young Audiences Arts for Learning NJ & Eastern PA (YA). Co-Sponsors for the Teaching Artists Summer Series are Arts Ed NJ, Morris Arts, New Jersey Performing Arts Center (NJPAC), and Perkins Center for the Arts. Presenting sponsors include Appel Farm Arts & Music Campus, Morris Arts, NJPAC, and YA. Additional support for the Teaching Artists Summer Series comes from Count Basie Center for the Arts and the New Jersey State Council on the Arts.

The New Jersey Arts Education Collective is a partnership of arts education organizations whose mission is to provide the highest quality professional development for teaching artists and the arts education community.
The Collective believes teaching artists offer a unique contribution to the lives of students, teachers, and communities. The Collective envisions a network of support between teaching artists and arts education specialists to develop skills, share resources, and strengthen the field to benefit New Jersey's students by providing essential/critical learning of and through the arts.