Teaching and Supporting Emergent Bilingual Students in Dual Immersion Schoo...
Description
Building on the success of last year's event, NRCAL proudly presents its third Institute of Professional Development in partnership with Project Become. This Institute will focus on implementing and assessing programs that are designed to meet the needs of the emergent bilingual students and families. Share best practices that include:
a) valuing student's funds of knowledge
b) differentiating and adapting instruction
c) evaluating student learning outcomes
AM and PM Sessions are offered in Spanish, Vietnamese or English
---
Tentative Schedule: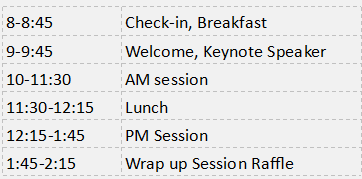 ---
Breakfast and lunch will be provided.
Keynote speaker:
Dr. Randall B. Lindsey, Ph.D
Dr. Delores B. Lindrey, Ph.D
Prize raffle at the end of the conference.
Call (657) 278-4335 or email nrcal@fullerton.edu for more information.
If you have a discount code, you can enter it in Check Out.