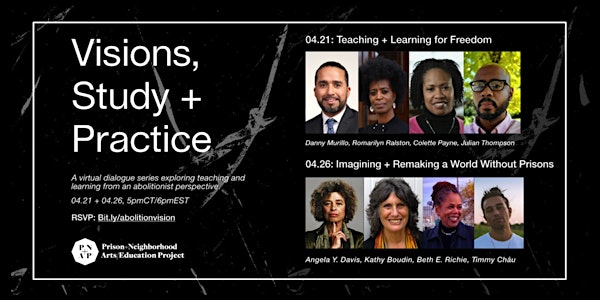 Teaching and Learning for Freedom: Visions, Study, and Practice
A virtual conversation exploring teaching and learning from an abolitionist perspective.
About this event
In partnership with local and national community-based organizations that continue to lead the way to shape abolition – groups like Critical Resistance, Black & Pink, Love & Protect, Parole Illinois - Prison+Neighborhood Arts/Education Project (PNAP) is kicking off two years of programming with two events featuring key thinkers in conversation about teaching and learning, cultural work, and abolition.
Join us and learn from local and national organizers, cultural workers, educators, and scholars who are building radical teaching and learning pathways for currently and formerly incarcerated communities, sustaining crucial campaigns for freedom, and creating more just and beautiful communities.
This is the first event of a two-part series. We encourage you to register for Imagining and Remaking a World Without Prisons: Visions, Study and Practice as well.
These events are free but if you have the resources and support the strong abolitionist work of PNAP please consider donating. Donate here.
Panelists:
Colette Payne
Colette Payne is a student at Harold Washington College in Chicago and the mother of three sons. She joined the Visible Voices group of Chicago Legal Advocacy for Incarcerated Mothers (CLAIM) in 2001 and has been an active member of the Leadership Council and Speakers Bureau since 2012. Her passion is to educate families to build healthier communities. In 2012 Colette testified before the Cook County Board's Commission on Women's Issues and participated in the Community Renewal Society's legislative advocacy in Springfield, the state capital. She has served in a delegation to meet with Illinois Department of Corrections officials to improve prison conditions and expand community release for women. Collette In December 2013, she was hired as CLAIM's Visible Voices Coordinator, and in July of 2014, CLAIM became a program of Cabrini Green Legal Aid (CGLA). Colette is living proof that change is possible.
Julian Thompson
Julian Thompson is an Assistant Professor in the Department of Criminology, Law, & Justice at the University of Illinois at Chicago. He has a Ph.D. in Social Welfare from the Crown Family School of Social Work, Policy, and Practice at the University of Chicago, a Master of Arts in Sociology from DePaul University, and a Bachelor of Social Work from Loyola University at Chicago. His research interests include law, punishment, and carceral practices, mental health & therapeutic governance, race & inequality, prison abolition, and discourse theory and analysis. He is a native of Chicago and has been engaged in community-based projects and organizing efforts that focus on reentry, post-incarceration education, and employment for the past 10 years.
Danny Murillo
Danny Murillo is a co-founder of the Underground Scholars Initiative at the University of California, Berkeley. He was the Program Analyst at Vera Institute of Justice, working on a nationwide post-secondary prison education project. He was the research and program analyst at Corrections to College, a project focused on educational equity and creating access to higher education for currently and formerly incarcerated people. Most recently, Danny was the program analyst at the Campaign for College Opportunity. He is the primary author of their latest report: The Possibility Report: From Prison to College Degrees in California.
Danny has been awarded the John W. Gardner Fellowship for Public Service, the Soros Justice Advocacy Fellowship; the Returning Citizens Fellowship; and Just Leadership USA Leading with Conviction Fellowship. He has appeared in Decarcerated Podcast, GQ Magazine, National Public Radio (NPR), Option B Stories, The Appeal Podcast, The New Yorker Magazine, Univision, and 60 Minutes with Oprah. Danny is currently a graduate student at California State University, Long Beach.
Romarilyn Ralston
Romarilyn Ralston is program director of Project Rebound at California State University Fullerton and also serves as the Co-chair of the CSU Project Rebound Policy and Advocacy Committee. Romarilyn is a black feminist prison abolitionist scholar working to interrupt criminalization at the intersections of race, gender, and education. Romarilyn earned a Master in Arts degree in Liberal Arts at Washington University in St. Louis and Bachelor in Arts degree in Gender & Feminist Studies at Pitzer College. She has received several honors and awards for her work over the years including being named Pitzer College's 2020 Distinguished Alumni Honoree, California Senator Ling Ling Chang's 2020 Woman of Distinction Social Justice Champion awardee, and National Council of 100 Black Women (Orange County Chapter), 2018 Civil Rights and Advocacy recipient. Romarilyn is a 2017-2018 Women's Foundation of California Women's Policy Institute alumnus where she served as a fellow and an integral member of the criminal justice reform team to pass several pieces of legislation in law. In addition, Romarilyn has completed fellowships with Just Leadership USA, Leading with Conviction 2018, CORO in Public Affairs, 2015, and Napier Initiative for Justice and Peace, 2014.