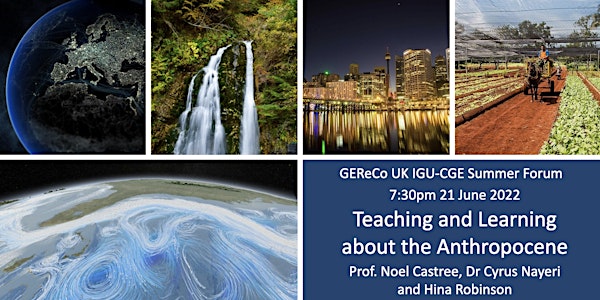 Teaching and Learning about the Anthropocene
This open forum invites geography teachers to consider how they can engage with the Anthropocene and environmental issues in the classroom.
About this event
This GEReCo open forum engages with the Anthropocene.
Noel Castree will summarise the scientific origins and evolution of the concept (Revkin, 2016), and then identify key themes and implications for geographers. The presentation raises questions about what is taught in school geography and how.
Cyrus Nayeri and Hina Robinson will then respond by considering how engagement with environmental issues can emerge in the school classroom and some practical steps teachers can take, including ways to use art and student voice. Attendees will then be able to join the discussion and put their questions to the three panellists.
Noel Castree is Professor of Society & Environment at the University of Technology Sydney (Australia) and Professor of Geography at Manchester University.
Cyrus Nayeri is Head of Geography at Dulwich College and Course Director (acting) for the Geography PGCE course at King's College London.
Hina Robinson is a geography teacher and Diversity lead at Southend High School for Girls. She is also a member of the Geographical Association governing body and joint chair of its diversity and inclusion working group.
Reading: Andrew Revkin (2016) 'An Anthropocene journey', Anthropocene Magazine, Issue 1. The magazine (the 7th issue is forthcoming) contains content-rich, readable stories and is available online via Future Earth, the multinational platform for research into global environmental change: https://www.anthropocenemagazine.org/anthropocenejourney/