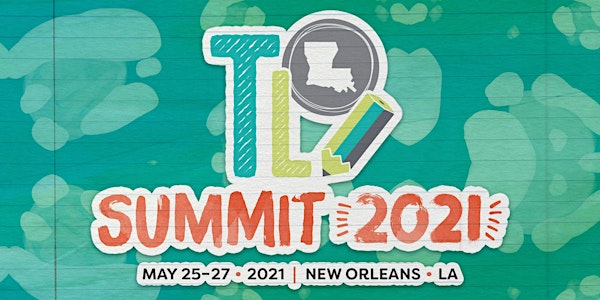 Teacher Leader Summit 2021
The 2021 Teacher Leader Summit is a professional development conference which brings together Louisiana birth to grade 12 educators.
When and where
Location
New Orleans Ernest N. Morial Convention Center 900 Convention Center Boulevard Registration Lobby Outside Great Hall New Orleans, LA 70130
Refund Policy
Contact the organizer to request a refund.
About this event
The 2021 Teacher Leader Summit is an annual professional development conference which brings together Louisiana birth to grade 12 educators and content experts who inspire, innovate, and impact meaningful growth for every student. Educators participating in the event will share their knowledge, learn new skills, and prepare for the 2021-2022 school year.
The in-person Teacher Leader Summit will take place from May 25 - 27, 2021 at the New Orleans Ernest N. Morial Convention Center (NOENMCC). As space is limited, seats for this event are being allocated to school systems.
Participants who register for the in-person Summit will also have access to the Virtual Companion Summit, though a separate registration will be required in order to participate. Attending the in-person Summit does not mean you must attend the Virtual Series; it is an additional option. Participants who register for the Teacher Leader Summit: The Virtual Series will only have access to the virtual content.
Scheduling Sessions
Session scheduling will be done via the Sched app. Early bird registrants will gain access on April 7. Regular registration ticket holders will gain access on April 9.
Registering for the Event
Registration for the Summit will occur in three phases: early bird registration via allocation (January 8 through March 1, 2021), regular registration via allocation (March 2 through April 12, 2021), and a potential first-come, first-serve registration for any remaining tickets (opens April 13, 2021).
Note: Due to capacity constraints, there will be no onsite registration this year. All registrations must be completed in advance of arriving at the event.
Cancellations, Refunds, Transfers, and Exchanges
Individuals may cancel their registration at any time through EventBrite. To receive a refund of registration fees, individuals must cancel their registration no later than May 10, 2021, ten business days before the Summit begins. No refunds will be issued after May 10, 2021. The refund will automatically be credited to registrants' accounts within 5–7 business days.
All Teacher Leader Summit tickets are non-transferable. This means only the person whose name is on the original registration confirmation may use that ticket. Should this person not be able to attend, he/she should request a refund via EventBrite. Another educator cannot attend in their place using the same ticket. A completely new and separate ticket must be purchased at the prevailing rate using the registration code shared with the school system. School school systems run into complications with this process they are encouraged to reach out to the Show Managers at LDOEEvents@la.gov.
To exchange a 3-day ticket for a 1-day ticket or vice versa, registrants must cancel their original registration and re-register for the desired ticket. The cancellation policy described above still applies.
Event T-shirts
T-shirts are now available for purchase. T-shirts will be available for purchase on the website until May 14 to account for shipping to ensure all t-shirts arrive in advance of the in-person event. It has not yet been determined if the t-shirt vendor will be able to be onsite during the mornings of the in-person event and thus those interested in purchasing a t-shirt are encouraged to do so via the website.
Contact For Help and Questions
Educators requiring assistance can reach the Summit Show Managers by emailing LDOEEvents@la.gov. Please allow 48 hours for a response.