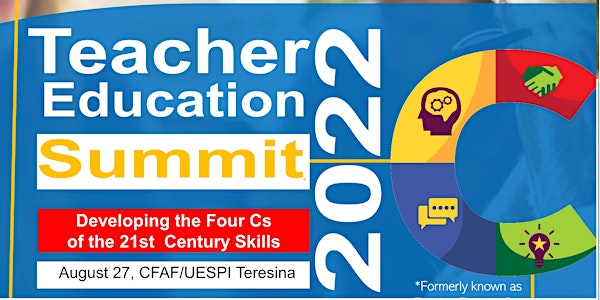 TEACHER EDUCATION SUMMIT
Teacher Education Summit is a one-day professional development event organized by United States-Brazil Exchange Alumni – Chapter Piaui
About this event
The event is scheduled for August 27 (sat) and will include a keynote and different workshops from English Language Teachers and invited speakers.
Title Developing The 4 cs of the 21 Century
Panel Developing The 4 cs of the 21 Century
The Teacher Education Day provides resources to support teachers in a very challenging time for public education. Teaching is one of the professions that is never able to stand still for long as it's a constant evolving profession, where the individual must maintain professional development in conjunction with the speed in which new skills and knowledge are founded. For these reasons, CFAF/UESPI is committed to providing learning opportunities for teachers to experiment with and employ new teaching strategies for the immediate and unforeseen future.
Teachers and professionals attending the keynote and workshops will have a better understanding of strategies for addressing topics that are relevant to build the four Cs of the 21 centuries.