Description
Join us for our Teach-In series featuring a screening of Unlocking the Cage, followed by a discussion with Colleen Plumb and Kevin Schneider.
Unlocking the Cage follows animal rights lawyer Steven Wise in his unprecedented challenge to break down the legal wall that separates animals from humans. After 30 years of struggling with ineffective animal welfare laws, Steve and his legal team, the Nonhuman Rights Project, are making history by filing the first lawsuits that seek to transform an animal from a thing with no rights to a person with legal protections.
Based on scientific evidence and supported by affidavits from primatologists around the world, Steve maintains that cognitively complex animals such as chimpanzees, whales, dolphins, and elephants have the capacity for limited personhood rights (such as bodily liberty) that would protect them from physical abuse. Using writs of habeas corpus (historically used to free humans from unlawful imprisonment), Wise argues on behalf of four captive chimpanzees in New York State.
Unlocking the Cage captures a monumental shift in our culture, as the public and judicial system show increasing receptiveness to Wise's impassioned arguments. It is an intimate look at a lawsuit that could forever transform our legal system and one man's lifelong quest to protect "nonhuman" animals.
Post-film discussion will be led by Colleen Plumb and Kevin Schneider.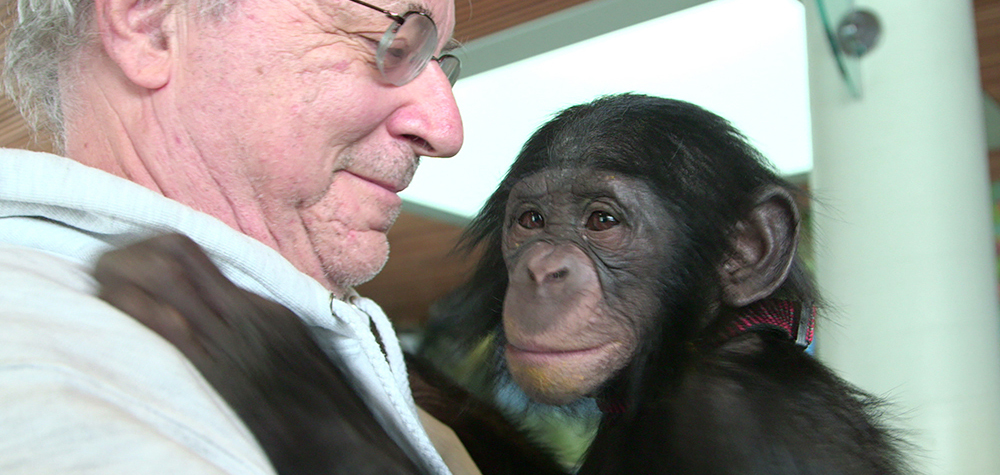 Colleen Plumb is a photographer whose work examines human ambivalence towards animals, and the contradictory ways animals are woven into the fabric of American culture. Plumb's focus for the past 16 years has been an inquiry into a society whose appetite for animals, whether in flesh or in reproduction, with admiration or obsession, is voracious. Colleen completed an MFA in Photography from Columbia College Chicago (1999), and a BFA in Visual Communication from Northern Illinois University (1992). Her work has been exhibited both nationally and internationally. She is currently an adjunct faculty member at Columbia College Chicago.
Kevin Schneider is the Executive Director of the Nonhuman Rights Project (NhRP). He graduated with a B.A. in political science from the University of Massachusetts in 2009 and earned his law degree from Florida State University in 2013, with a specialization in environmental and land use law. While working as an attorney and animal rights advocate in New York, he began volunteering with the NhRP; he was named Executive Director in 2015. Kevin lives in New York City. In addition to his interest in nonhuman rights and personhood, Kevin is an advocate for reforming the food system with a focus on plant-based foods.
This special Facets Teach-In is co-hosted by the Catherine Edelman Gallery and follows the opening of the gallery's current exhibition, Targeted. Targeted features pieces from Colleen Plumb's Path Infinitum, an exploration of the complexities and contradictions of keeping wild animals in captivity and raises questions about what it means to participate as a spectator; from Live, Love, Refugee, a project by Omar Imam that examines the mental state of Syrian refugees in Lebanon; and from the newest body of work by Garrett O. Hansen, as series that takes on the role of a memorial and confronts one of the most pressing, ongoing social issues in America – gun violence.
Targeted opens July 14, 2017, and runs through September 1, 2017.