Description
Join us for our Teach-In series featuring a screening of Volker Schlöndorff's adaptation of Margaret Atwood's The Handmaid's Tale, followed by a discussion with Professor Helen Thompson.
he July Teach-In will be led by Helen Thompson (Ph.D. Duke, English; M.A. Johns Hopkins, The Writing Seminars; B.A. Amherst College, English and Chemistry), a Professor of eighteenth-century British literature, philosophy, and the history of science at Northwestern University. She is an affiliate of the Gender and Sexuality Studies Program, where she teaches feminist theory and second-wave feminism.
She is the author of Ingenuous Subjection: Power and Compliance in the Eighteenth-Century Domestic Novel (University of Pennsylvania Press, 2005) and the soon-to-be-published Fictional Matter: Empiricism, Corpuscles, and the Novel (University of Pennsylvania Press, 2017).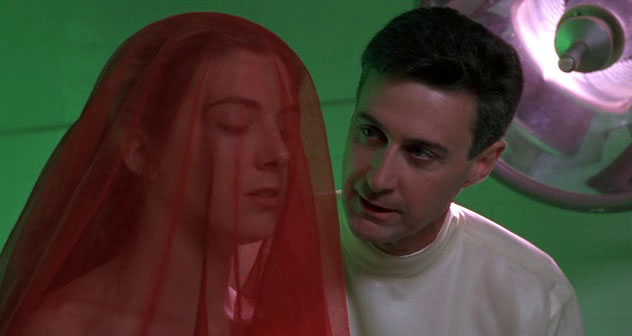 Based on the novel by Margaret Atwood and adapted for the screen by Harold Pinter, Schlöndorff's 1990 The Handmaid's Tale is set in a future United States where pollution has rendered 99% of American women infertile. Offred (Natasha Richardson), part of the reproductive 1%, is forced to become a "Handmaid," a sexual slave who serves as a surrogate for sterile couples.
Operating as a fundamentalist Christian dictatorship, this dystopian reproductive economy places Offred under the immediate supervision of the cold-hearted Serena (Faye Dunaway) and the larger authoritarian male control of Serena's husband, "The Commander" (Robert Duvall). The film is a story of "surrogate motherhood run amok in a society dominated by iron-fisted pulpit thumpers turned fascist militarists" (Rita Kempley, The Washington Post). Made just after the political heyday of the Christian right, the film clearly intends to do for the Moral Majority what Orwell did for Communism in 1984—to envision the horrifying consequences of its ideology.