Description
LET'S CELEBRATE!
This academic year, Teach For America DFW made a large and intentional investment in support of our current and rising alumni. Join us at this signature event to learn about what's been happening and how YOU play a role in the #PathwayToOneDay. Light bites and beverages will be provided.
Attire: Dress to Impress! We recommend that you wear business casual or professional attire (i.e. blazer, slacks, skirt, etc).
Parking:
We encourage our attendees to park at the Ross Tower Garage. Look for the blue & white balloons. After you park, head across Ross and walk down Akard Street towards FIG (across the street from the Fairmont Hotel).
Once you check in with TFA-DFW staff you will receive a parking validation. Be careful not to lose it, as it will pay for your parking for the evening. Each attendee will only receive one validation.
Note: Do NOT park in any spot that says "reserved" (levels 1 & 2).
Garage Address: Ross Tower Garage, 720 North St. Paul Street, Dallas, TX 75201
Venue Address: Fashion Industry Gallery, 1807 Ross Ave, Ste 167, Dallas, TX 75201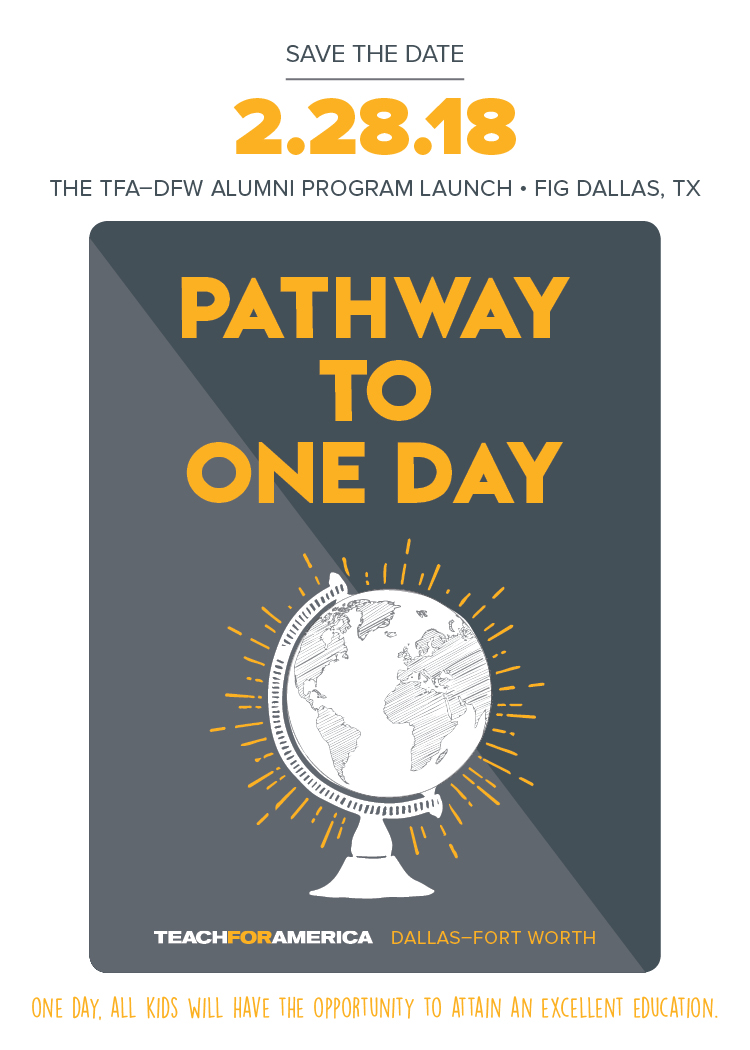 ---
How can I follow and share moments from the event on social media?
Check out our Snapchat filter! In addition, use our hashtags #TFADFW and #PathwayToOneDay. Be sure to tag us in any photos that you take!
I have some friends that haven't RSVP'd yet, can they still come?
Yes! Encourage them to RSVP or we can sign them up upon arrival tomorrow evening.
-------------------------------------------------------------------------
We are pumped to see you tomorrow evening at the #PathwayToOneDay!
If you have any questions, feel free to contact me at courtney.crossjohnson@Teachforamerica.org. Don't miss out!
RSVP link: http://pathwaytooneday.eventbrite.com
We are also thrilled to announce our #TFAFamous keynote speaker, Kaya Henderson (NYC '92), Former Chancellor of D.C. Public Schools!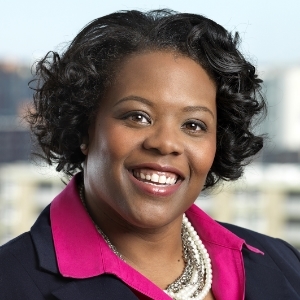 Kaya Henderson leads the Global Learning Lab for Community Impact at Teach For All. There, she seeks to grow the impact of locally rooted, globally informed leaders, all over the world, who are catalyzing community and system-level change to provide children with the education, support, and opportunity to shape a better future. She is perhaps best known for serving as Chancellor of DC Public Schools from 2010-2016. Her tenure was marked by consecutive years of enrollment growth, the highest graduation rates in the history of the district, improvements in student satisfaction and teacher retention, increases in AP participation and pass rates, and the greatest growth of any urban district on the National Assessment of Education Progress (NAEP) over multiple years.
Most recently, Kaya has served as a Fellow with the Chan Zuckerberg Initiative, a Superintendent-in-Residence with the Broad Leadership Academy, a coach with Cambiar Education, and a Distinguished Scholar in Residence at Georgetown University.
Kaya's career began as a middle school Spanish teacher in the South Bronx, through Teach For America. She went on to work as a recruiter, national admissions director, and DC Executive Director for Teach for America. Henderson then served as the Vice President of Strategic Partnerships at The New Teacher Project (TNTP) until she began her tenure at DCPS as Deputy Chancellor in 2007.
A native of Mt. Vernon, NY, Kaya graduated from Mt. Vernon Public Schools. She received her Bachelor's degree in International Relations and her Master of Arts in Leadership from Georgetown University, as well as honorary degrees from Georgetown and Trinity University. Her board memberships include The Aspen Institute, The College Board, Robin Hood NYC, and Teach For America. She chairs the board of Education Leaders of Color (EdLoC), an organization that she co-founded.
---
We hope to see you on February 28 at the #PathwayToOneDay!