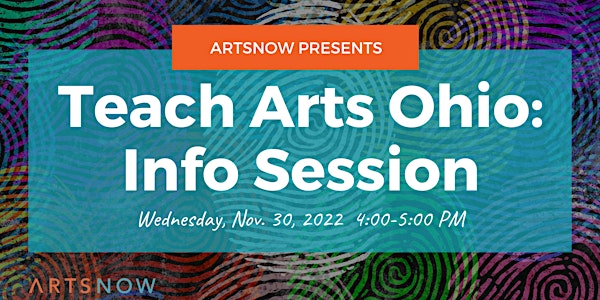 Teach Arts Ohio: Info Session
Join ArtsNow as we host Ohio Arts Council built to- Expand Your Curricular Toolkit: Apply for a Grant to Work with a Teaching Artist!
About this event
Educators:
Have you ever imagined what it could be like to integrate a professional artist (such as a graphic designer, photographer, actor, dancer, poet, or musician) into your district, school, or classroom?
Are you interested in thinking, learning, and teaching in new and different ways?
Perhaps you're excited at the opportunity to expose your students to the lives and roles of professional artists in their community.
Artists:
Are you interested in learning how to engage with local school districts? Do you want to explore in school time opportunities in your region?
If so, you're invited to a virtual professional development session on Wednesday, November 30 from 4 – 5 p.m. to learn about grant funding to work with a professional teaching artist during the 2023-2024 academic year.
Who Should Attend?
Educators and teaching artists who want to learn more about funding opportunities to bring artists into classrooms.
Meet The Speaker
Jarred Small serves as Arts Learning Coordinator with the Ohio Department of Education. Learn more about Jarred here and connect with him on LinkedIn!