Description
Celebrate Two Visionaries who believe in the possibility of change. This is a personal journey through the lives of militant feminists, Alice Paul and Zoe Nicholson.

SCHEDULE
1:30 Doors open
2:00 Performance with Q & A if time permits
4:00 Tea & Biscuits Reception with book signing and information tables
Reception Co - Hosted by Co4: The LGBT Center on 4th St.
305 E. 4th Street, Suite 202, Santa Ana
(above the Frida Cinema)

​This multi-media stage presentation features Alice Paul Scholar, Zoe Nicholson. With a backdrop of hundreds of photographs and newspaper clippings, Zoe tells the story of the great teacher of Nonviolent Direct Action and the incendiary thread of tea in the American Women's Revolution; Seneca Falls: 1848 to Washington DC 2018.

Alice was an astounding woman whose influence and life was almost entirely redacted into obscurity by jealous and disapproving moderates. This small Quaker woman carried a fire for Equality that could not be extinguished - no matter the defeats, the rise and fall of public opinion or her declining age. Alice never rested from the sustained campaign for the 19th Amendment to 54 more years writing and advocating for the Equal Rights Amendment.

Publicly fasting on water for 37 days for the ERA, Summer, 1982, Zoe had no idea that the author of the ERA and founder of American NVDA, Alice Paul was going to be the North Star for the rest of Zoe's life. With each revelation, each phone interview, a rich bibliography, hundreds of hours scouring newspapers, and fantastic contacts through online ancestry apps, the puzzle pieces came into focus.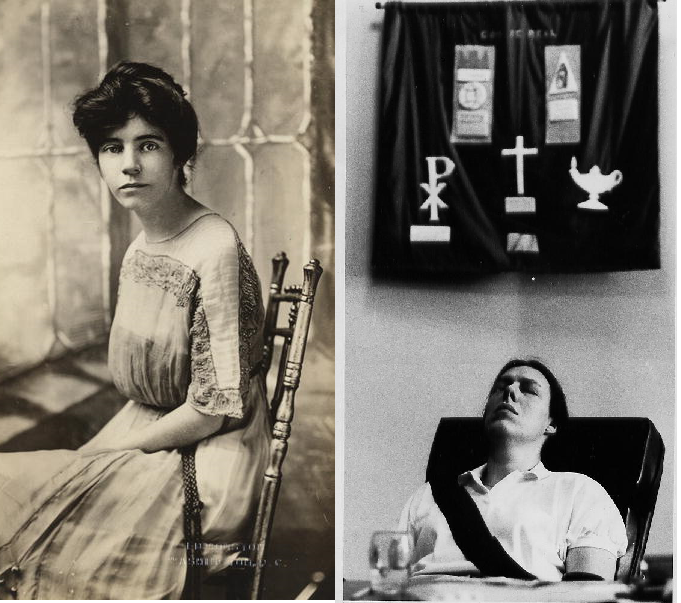 I have to admit, going into the premiere of Tea with Alice and Me, I was not certain I would be able to communicate my heart song about Miss Paul. I know I can tell a good story and that I can speak with ease to a room full of people, however that was not my principle mission. Women, tea, revolution and dispelling the curse of invisibility was my assignment. Alice is my North Star, my teacher, my inspiration and I am committed to carry on as far as the winds allow. I am very happy in reaching so high, collating over 40 years of passion and setting hearts on fire. Zoe Nicholson