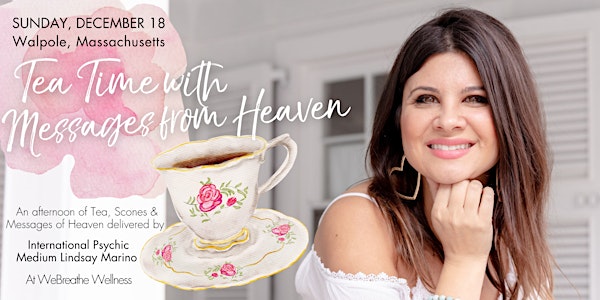 Tea Time with Messages From Heaven in Walpole Massachusetts
Have you been missing a passed Loved One & wanting to know if they're still around you? Join us for tea, scones, & messages from loved ones.
When and where
Location
WeBreathe Wellness 55-85 West Street #2nd floor Walpole, MA 02081
About this event
Have you been missing a passed Loved One and wanting to know if they are still around you? Just as much as you want to connect with them, they want to communicate with you!!!!
Come Join International Psychic Medium Lindsay Marino on
Sunday, December 18, 2022
For an afternoon of Tea, Scones, & Messages from Passed Loved Ones
At WeBreathe Wellness in Walpole, Massachusetts
During this Messages from Heaven event, Lindsay will connect random audience members with their loved ones in spirit and give messages filled with memories and messages. Even if you don't receive a reading during this event, you will experience the love and healing from the heavenly realm. Join us for a beautiful afternoon of spirit connection.
Tickets : $72
Limited Tickets available
There won't be any tickets sold at the door, YOU MUST PURCHASE TICKETS ONLINE.
Messages start directly at 2:00pm
Lindsay is excited to share love from the other side, with you.
Please print your Eventbrite ticket and present it at the door.
*The purchase of tickets does not guarantee a reading. Loved Ones with lead Lindsay.
*******No Refunds or Exchanges for future events*****
"Lindsay's loving presence as the conduit for our communication, I was able to experience my mother's love with her soul soaring, learnings, knowing she is at peace and happy brought me joy." -Claire Chew, Grief Coach
IF YOU HAVE ANY QUESTIONS ABOUT THE EVENT YOU MAY EMAIL: LINDSAY@LINDSAYMARINO.COM