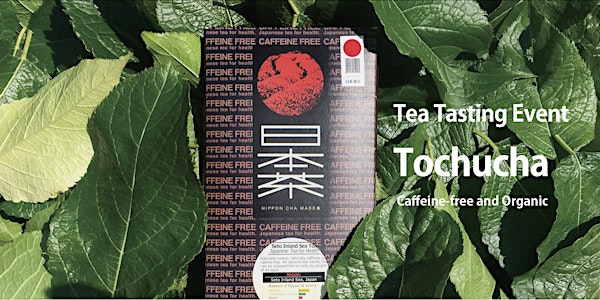 Multiple dates
Tea Tasting Event: Tochucha Tea(Caffeine-free and Organic)
Enjoy your caffeine-free, organically grown Tochucha tea!
Date and time
Monday, March 27 · 5 - 6:45pm EDT
Location
Nippon Cha (Williamsburg) 214 Bedford Avenue Brooklyn, NY 11249
About this event
This time, we are going to hold a tasting event to enjoy Tochucha (Japanese herbal brown tea).
The instructor will be Mr. Yoshitsugu Nagano, a Japanese Tea Master who is an expert with Japanese tea.
Tochu (eucommia) is a very vigorous plant that has survived for about 60 million years overcoming the ice age.
It also appears in the oldest pharmaceutical book in China and was described as a medicine for eternal youth and longevity.
Today, its high efficacy has been scientifically proven, and its effects on fat combustion and blood pressure stabilization have been recognized.
The Nippon Cha brand's Tochucha is carefully grown on small islands in Japan's Seto Inland Sea. Tochu trees contain sticky ingredients so that the harmful insects cannot eat it. Therefore, it can be grown without agricultural chemicals. Additionally, the islands have been famous for citrus cultivation since long time ago, and the know-how of extracting sweetness from the sea breeze that is used to grow Tochu. That's why Nippon Cha's Tochucha is very sweet.
And since Tochucha is an herbal tea, it doesn't contain caffeine. So, it's a great tea that anybody can have at any time.
Let's take this opportunity to enjoy Nippon Cha's sweet Tochucha!
About the organizer
I am licenced tea master of Ueda soko ryu which originated by samurai warriors and has continued over 400 years.
I am currently based in New York,  I hold tea ceremony and also offer tea ceremony classes.
I have been working and established my style as modern tea ceremony that incorporates new expressions into the traditional tea ceremony to create new way of engaging tea ceremony.
広島の地で400年続く武家茶道上田宗箇流のティーマスターの資格を持ち、正教授をしております。
現在、ニューヨークを中心に茶道家として茶会の開催や、お稽古を行なっております。
伝統を踏まえながら、現代的な完成や価値観を茶の湯に入れ込むスタイルを確立し、新たな茶の湯の魅力創造を行なっております。