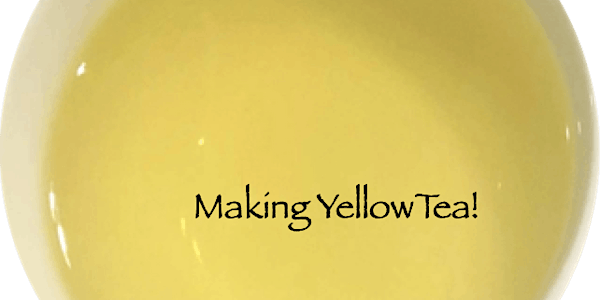 Tea Processing 201 - Yellow
It's different! It's delicious! It's soooo special! Join Jason, Timmy, & Virginia as we show you the why and how of making yellow tea.
About this event
Yellow tea is a fermented green tea, but so much more. It's clean, fresh, sweet, yet slightly brothy flavor emerges from a process that Jason and Timmy at The Great Mississippi Tea Company have made all their own.
The origins of yellow tea have been shrouded in mystery — over the centuries only tiny amounts have been made and appreciated by tea conniosseurs in China and Korea. Although it's still rare, more and more people have had a chance to taste it: it never ceases to amaze and delight!
In this series of classes, we'll guide you through the essentials of creating a yellow tea from your leaf— from the pluck to the cup. You'll:
learn the how and why of each step;
explore the proper processing equipment for the quantity of leaf you grow;
and discover how you'll know when you've got it right!
October 9 (11am - 12pm CDT) - Plucking: find out why certain leaves are better than others for yellow tea, and why you can be "less picky;"
October 16 (11am - 12pm CDT) - Sun Withering/Conditioning: traditional yellow tea isn't sun-withered, but Jason and Timmy found that this step adds a special floral note to their tea and they do it without sun!
October 23 (11am - 12pm CDT) - Kill-green/Sweltering/Fermenting: how you go from kill-green to fermenting and how you go about fermenting will dictate the panoply of flavors you will get from your leaves — methods to choose from and how to monitor your results will be key;
October 30 (11am - 12pm CDT) - Rolling & Drying: how to roll and dry — and why!
November 6 (11am - 12pm CDT) - Tasting & Marketing: you've made this exceptional tea—now how do you get people to try it and love it? We'll send you a tea sample so we can all start on the same page.
Ticketing:
All Course Pass is available starting September 18 @ 11:30 CDT. This pass includes entry into all four lecture/discussions in this series, including teas for tasting.
A la Carte tickets are available for each lecture/discussion of the series. Tickets for the first lecture/discussion is available from September 18 - October 9 @ 12pm CDT. With the exception of the tasting event, each subsequent lecture/discussion will become available to purchase one hour after the previous one, and will be available until 1 hour before the lecture/discussion begins. These tickets are $50 each.
The Tasting Event ticket is available starting September 17 @ 5pm CDT. This event is $60 and will include a sample that will be shipped to you prior to the Event. Please sign up for this class by October h in order to insure that you receive the tea sample.
NOTE: This is the FOURTH in a series of classes on processing your leaf to make tea!
In preceeding classes we've covered Black, Green, and Oolong classes. Please contact us for more information about these classes.
FAQs:
What is included in the ticket price? All tickets include access to the online event.
Can I buy more than one ticket? Yes, each ticket provides access to one individual. If you would like to participate with a friend, multiple tickets should be purchased.
Classes have already taken place. If I buy the All Course Pass, will I get access to those classes too? Yes. The All Course Pass participants will receive links to all of the classes which will be available after the class has ended. This way, you can catch up on past classes no matter when you enroll.
How do I join the online event? Prior to the online event taking place, you will receive a number of emails reminding you of the date and time. Within these emails will also be a link to the Online Event Page which has the video conferencing link to join.
Do I need to download special software or an app to participate in the video conference? The online event will be conducted via the video conferencing platform, Zoom. You should be able to click the link provided and access the video conference in any web browser from a desktop computer or laptop. However, you will need to give permission to the browser to use your camera and microphone. If you would like to access the video conference on a smart device (smartphone, tablet, etc.) you will need to download the Zoom app to the device that you are using to access it. Note, in rare cases you may need to update your browser or computer. Be sure to test your accessibility a day or two before the online event.
Can I take part in the online event by phone only? Yes, on addition to the Zoom link you will get a call-in phone number so you can attend via phone and participate with audio only.
What happens if I lose internet connection during the online event? If you lose internet connection and leave the video conference, try clicking the link again to re-join. We will give you a phone number in case you run into difficulties during the event.
Can you help me with my technical difficulties accessing the video conference? Yes. In the email invitation you receive we will include a phone number to call in case you run into difficulties joining the event.
Can I ask questions during the online event? Yes! We encourage you to ask questions but please do so using the chat feature—this will ensure we avoid people talking over each other. The chat moderator, Virginia, will ensure that your questions are answered.
Will the online event be recorded? Please note: All sessions will be recorded and may be used by US Tea Experience, LLC at their discretion. By signing up, you are agreeing to allow US Tea Experience, LLC to use these recordings, which may include, but are not limited to, your voice, likeness, or name, at their discretion for any purpose they deem fit. You are also relinquishing your rights or claims to any payment (past, present, or future) or royalties from US Tea Experience, LLC for your participation in these recordings.
What happens if I miss a class? All recordings will be made available to paying participants of the series or of a particular class in the series depending on ticket purchase. Recordings will be available indefinitely through The US Tea Experience's online school at usteaexperience.teachable.com
How will you ensure the online event is a safe environment? We ask that all participants be polite and courteous. JKV, LLC d/b/a The US Tea Experience and its sponsors/partners reserve the right to remove with no refund any participant from the video conference who is disruptive or behaving inappropriately.