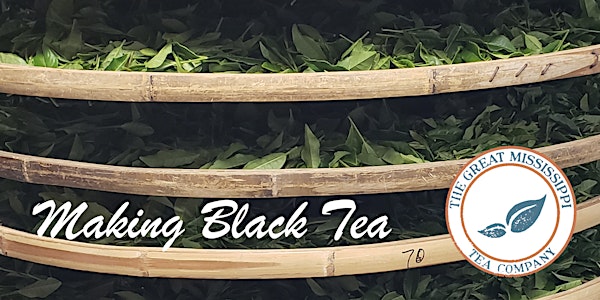 Tea Processing 101 - Black Tea (2022)
Make & sell a delicious black tea? Award-winners Jason McDonald, Timmy Gipson, & Virginia Lovelace show you the how and why of each step.
Date and time
May 14, 2022 · 9am - June 25, 2022 · 10am PDT
About this event
Processing the leaf to create a delicious black tea may seem simple, and it can be if you know what you are doing!
In this series of classes (presented as lecture/discussions), we'll guide you through the essentials of creating a black tea from your leaf— from the pluck to the cup. You'll:
learn the how and why of each step;
explore the proper processing equipment for the quantity of leaf you grow;
and discover how you'll know when you've got it right!
May 14 (11am - 12noon CDT) - Plucking: find out why certain leaves are better than the others for creating a black tea, and how to carry out the pluck both by hand and with machines;
May 21 (11am - 12noon CDT) - Withering: discover why withering conditions are critical to the success of your tea making—time, temperature, humidity, all play a role;
[Note: no lecture/discussion May 28 — Memorial Day Holiday in US]
June 4 (11am - 12noon CDT) - Rolling: rolling may look straighforward, but it isn't! You'll learn how to roll and what to look for to ensure the leaf is ready for oxidation;
June 1 1 (11am - 12noon CDT) - Oxidizing: oxidation is more than exposing the leaf to the air—understand what is happening in the leaf as oxidation progresses, and what you can do to make it progress "just so;"
June 1 8 (11am - 12noon CDT) - Drying: sounds simple, but there are secrets to making this last step finish the tea to perfection!
June 25 (11am - 12noon CDT) - Tasting & Marketing: you've made this exceptional tea—now how do you get people to try it and love it? We'll send you a tea sample so we can all start on the same page.

Ticketing:
The All Course Pass is available now. This pass includes entry into all six classes in this series, including the Tasting & Marketing class.
If you wish to receive the tea samples, you must purchase your All Course Pass by June 10th @ 10am CDT.
If you purchase the All-Course pass after the classes have started, you will be given access to the videos of the classes you will have missed. Note that if you wish to receive the tea samples, you must purchase your All Course Pass by June 10th @ 10am CDT.
A la Carte tickets are available for each class of the series. Tickets for the first class are available until July 9 @ 10am CDT. With the exception of the tasting event, tickets for each subsequent individual class will be available until 1 hour before the next class begins. These tickets are $50 each.
The Tasting Event ticket is available from now until June 10th @ 10am CDT. This event is $75 and will include samples that will be shipped to you prior to the class on June 25th, hence the need to sign up early.
NOTE: This is the FIRST in a series of classes on processing your leaf to make delicious tea!
Coming next:
Tea Processing 101 - Green Tea & Yellow Tea (July 9 - August 13)
Tea Processing 201 - Oolong (September 10 - October 15)
FAQs:
What is included in the ticket price? All tickets include access to the online clases for which you have a ticket, and also to the videos made during the classes.
Can I buy more than one ticket? Yes, each ticket provides access to one individual. If you would like to participate with a friend, multiple tickets should be purchased.
Classes have already taken place. If I buy the All Course Pass, will I get access to those classes too? Yes. The All Course Pass participants will receive links to all of the videos of all theclasses. These videos will be available as soon as possible after the event. This way, you can catch up on past classes & discussions no matter when you enroll.
How do I join the online event? Prior to the online event taking place, you will receive a number of emails reminding you of the date and time. Within these emails will also be a link to the Online Event Page which has the video conferencing link to join.
Do I need to download special software or an app to participate in the video conference? The online event will be conducted via the video conferencing platform, Zoom. You should be able to click the link provided and access the video conference in any web browser from a desktop computer or laptop. However, you will need to give permission to the browser to use your camera and microphone. If you would like to access the video conference on a smart device (smartphone, tablet, etc.) you will need to download the Zoom app to the device that you are using to access it. Note, in rare cases you may need to update your browser or computer. Be sure to test your accessibility a day or two before the online event.
Can I take part in the online event by phone only? Yes, on addition to the Zoom link you will get a call-in phone number so you can attend via phone and participate with audio only.
What happens if I lose internet connection during the online event? If you lose internet connection and leave the video conference, try clicking the link again to re-join. We will give you a phone number in case you run into difficulties during the event.
Can you help me with my technical difficulties accessing the Zoom event? Yes. In the email invitation you receive we will include a phone number to call in case you run into difficulties joining the event.
Can I ask questions during the online event? Yes! We encourage you to ask questions but please do so using the chat feature—this will ensure we avoid people talking over each other. The chat moderator, Virginia, will ensure that your questions are answered.
Will the online event be recorded? Yes. Please note: All sessions will be recorded and may be used by The Great Mississippi Tea Company, LLC at their discretion. By signing up, you are agreeing to allow The Great Mississippi Tea Company, LLC to use these recordings, which may include, but are not limited to, your voice, likeness, or name, at their discretion for any purpose they deem fit. You are also relinquishing your rights or claims to any payment (past, present, or future) or royalties from The Great Mississippi Tea Company, LLC for your participation in these recordings.
What happens if I miss a class? All recordings will be made available to paying participants of the series or the particular class in the series depending on ticket purchase. Recordings will be kept indefintely. These are made available through The US Tea Experience's online school at usteaexperience.teachable.com. Shortly after your first class we will enroll you directly in our Teachable school, so you can access the videos.
How will you ensure the online event is a safe environment? We ask that all participants be polite and courteous. The Great Mississippi Tea Company, LLC and its sponsors/partners reserve the right to remove with no refund any participant from the video conference who is disruptive or behaving inappropriately.
Here's a video we made for the International Virtual Tea Festival 2020 that shows some of the processes we'll discuss: