Description
Once again conservatives from around the state are converging on Austin to make sure our unified voice is heard! And this year we are partnering with Terri Hall of Texans for Toll-Free Highways to add extra power to our efforts. If you agree with these 5 core principles, we welcome you to join us.
Limited government
Fiscal responsibility
Personal responsibility
Rule of law
National sovereignty
We have a full day of activities planned for Monday, April 17, to coincide with Tax Day -- the birthday of the modern tea party. And being the good conservatives that we are, it's all FREE. The only thing you have to cover is getting there, an optional t-shirt, and meals.
PARKING: The Capitol's Visitor Parking Garage is located at 1201 San Jacinto Blvd, Austin. More information about visitor's parking, including the fee schedule, can be found here: http://www.tspb.state.tx.us/plan/parking/parking.html. If this lot is full, there is additional parking available just north of the capitol at the Bob Bullock Museum at 1800 Congress Ave. It is a slightly longer walk from the museum to the capitol, but parking is more available there.
WHAT TO WEAR: If you did not order the event t-shirt, come in your own favorite tea party shirt!
8:30am-10:00am - For those able to arrive earlier in the morning, we've got work to do -- AND free breakfast tacos for everyone, generously provided by Ag Commissioner Sid Miller! We need volunteers to pass out legislative packets to every elected person's office, but many hands make light work! Join us at 8:30 outside the House floor doors for a very quick how-to and some breakfast, then grab your delivery assignment and go!
10:00am-11:00am - Gather at the South Steps for a group prayer time. After the large group prayer, we will break into 4 teams to pray at every entrance to the Capitol Building - North, South, East and West. After praying, return to the South Steps for the rally!

10:30am - press conference in Speaker's Press Room
11:30am-1:00pm - meet outside at the South Steps for our rally! (rain or shine, no seating) We'll hear from some of our favorite legislators, honor some top activists, listen to a motivational speech from our keynote speaker (Michael Quinn Sullivan of Empower Texans), and get a legislative update on bills most important to conservatives. Feel free to bring signs if you want! Don't California my Texas!
1:00pm - if you order in advance, we'll have Jason's Deli box lunches delivered immediately following the rally. This will save time from having to eat at the Capitol Grill. We've got a busy day to get on with! Order and pay here on Eventbrite, and then pick up your meal outside at the rally. No orders will be taken on site. You must order in advance.

1:45-3:00pm - legislative hangout hosted by Terri Hall of Texans for Toll Free Highways (Room: 3N.4 - Old Court of Appeals) -- this is a come-and-go opportunity to listen to conservative Representatives and Senators address the group as they are able to step away from the floor and/or meetings. We'll also have some key conservative organizations on hand. This will be a mix of speakers from the mic, as well as a chance to mingle with electeds, leaders and activists from around the state!
2:00pm - House gavels in. For those not at the jam session, plan to be there as we are welcomed from the floor!
3:15pm-4:00pm - first breakout sessions - choose from these options:
Social Media For Individuals led by Wade Miller of Heritage Action (Room: Reagan 131) - If you are an activist and you're not on Facebook and Twitter, you have a lot of room to step up your game! Come find out how to maximize your social media presence to best help our joint efforts. This session is good for beginners and experienced people alike, as Wade will walk you through all you need to know.
Follow The Money led by Dale and Mary Huls of Clear Lake Tea Party (Room: Reagan 100) - It's not enough to support the good guys; you have to know how to fight the bad guys too. Well, who are they? Follow the money and find out! Dale and Mary will teach you how to use online tools to discover who is behind some of the cover groups that politicians hide behind. Use your "second vote" (your shopping choices) to make sure you aren't helping them fund the enemy! Learn how to dicipher the literature that floods your mailbox at election time. By the end of this presentation, you'll know who the big money players are and what they're up to. And you'll know how to track them down yourselves!
Voter Fraud In Texas led by Aaron Harris of Direct Action Texas (Room: 3N.3, Old Supreme Court) - Did you know that in late 2016 the state of Texas began unraveling the biggest voter fraud investigation in Texas history??? Aaron Harris has all the details -- and he should as he was the one who uncovered it all! Come find out how the Left has been cheating and get an update on where the case stands.
Kicking The Tires Of Candidacy led by Luke Macias, political consultant to all the best electeds (Room: Reagan 110) -- What a treat to have Luke with us! His skill and knowledge on running (and winning) elections is second to none. If you have ever considered running for office, or if you are often recruiting others to run, you must attend this session. Who makes a good candidate? What disqualifies someone as a viable option? How much money do you need? Where will it come from? How do you build a volunteer base and grow support? Do you really have to blockwalk? Where do you get walklists and signs and push cards? How much "free" time is required? Which office should you run for? Candidacy doesn't have to be so scary or confusing. Our side is overflowing with qualified individuals who would do a great job as servant leaders. Come see if one of those candidates should be you!
4:15pm-5:00PM - second breakout sessions - choose from these options:
Social Media For Groups led by Wade Miller of Heritage Action (Room: Reagan 131) - The first place people search when they want to know about your group is on the internet! Does your group have a strong and active presence? Come find out how to make sure you do! Learn how to set up a group, and how to keep it going. Find out about advertising and building your followers. You'll walk away with easy ideas on how to make a bigger impact!

Managing Media & Interviews led by Lee Stranahan of Breitbart News (Room: 3N.3, Old Supreme Court) - Let's face it...the media is not usually our friend! But it's a necessary evil and a powerful tool, so we'd better figure out how to best use it to our advantage! Lee will share ideas on how to conduct a smart interview, how to get the press's attention, how to handle being misrepresented, and how to put your group or cause in the best light. This is must-see training for group leaders especially!
All Politics Are Local led by Ross Kecseg of Empower Texans (Room: Reagan 100) - Yep, it's true: all politics really are local. For some reason we still don't give local politics at the city, school and county levels the attention required, but that would change if we knew just how much those entities affect our lives and our pocketbooks. Not only that, but the Left uses local politics as a farm team, and we should too. Don't immediately write this topic off... Ross is a great speaker and will leave you with your jaw on the floor.
State VS Federal Government led by Dwayne Stovall of Get Off My State! (Room: Reagan 110)- Aren't we all tired of the federal government overstepping its bounds and thinking there's nothing we can do about it? Don't believe it! We can and should push back. Dwayne has a great teaching style that will easily explain to you where things went wrong and how to fix them. And, Dwayne has already announced as a candidate running against Senator John Cornyn in his next re-election bid.
5:00pm - end of planned activities

All Day: Raging Elephants Radio will be broadcasting live. Stop by and say hi!
Please click the green TICKETS button towards the top of the page to pre-order lunch (optional), to let us know if you can help deliver legislative packets (helpful!), and/or to sign up for the breakout sessions (also helpful but not required). Please click here to order your Tea Party Day t-shirt (deadline March 21) OR click here to order the Toll-Free Texas t-shirt. Images of both are below, and they cost the same price. See you there!
Tea Party Day Shirt - the deadline to order shirts has passed, but please wear a tea party tshirt you already own!

(front)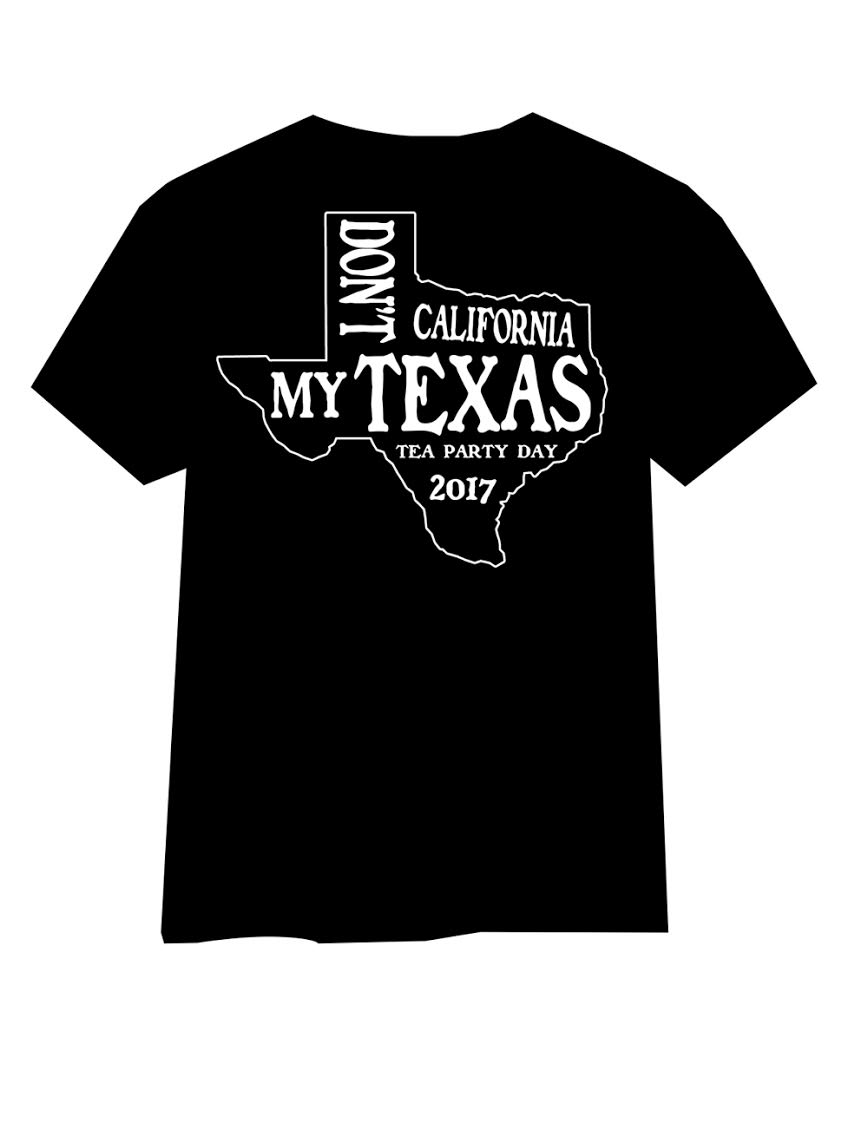 Tea Party Day Shirt (back)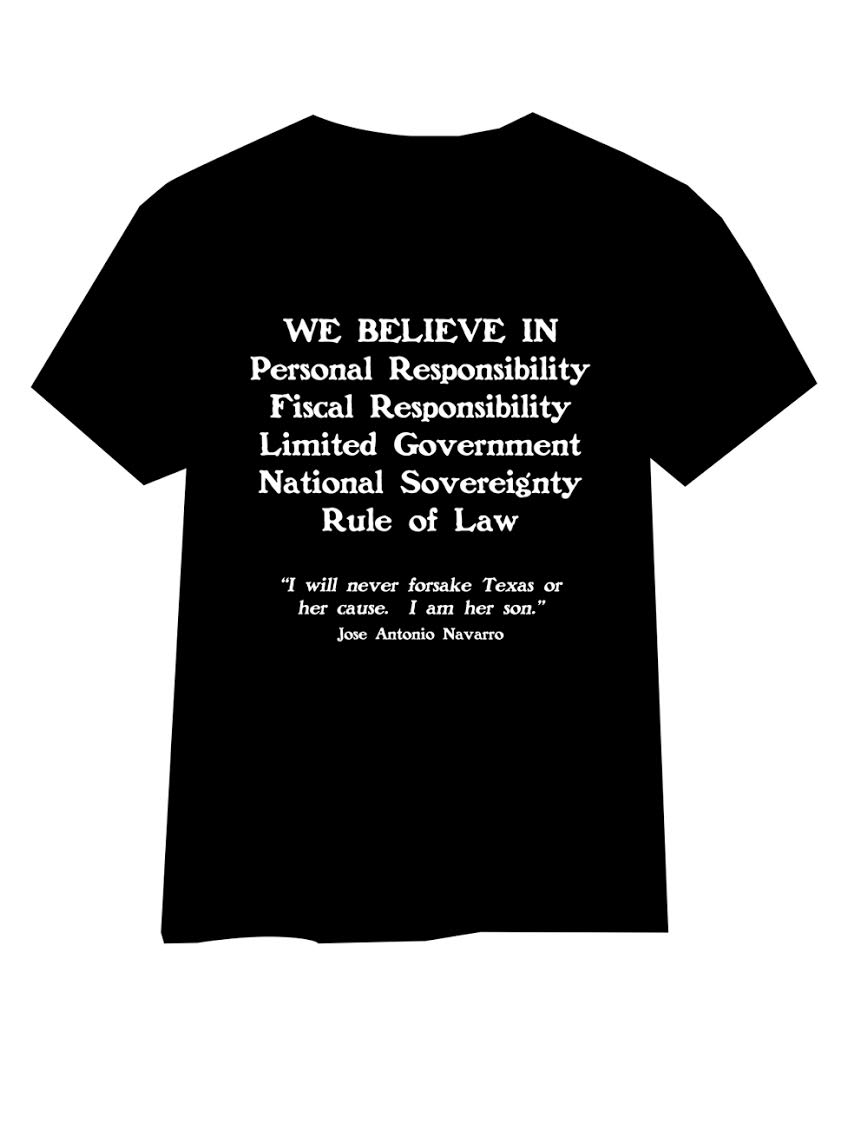 Toll Free Texas Shirt (front)
Toll Free Texas Shirt (back)