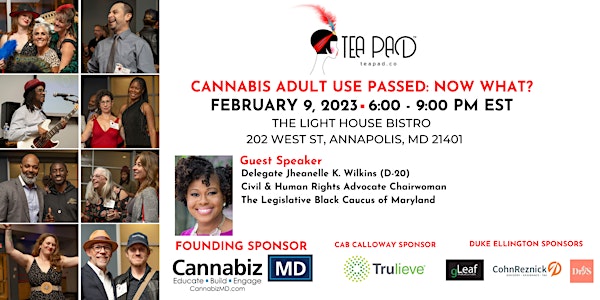 Tea Pad with Chairwoman Jheanelle K. Wilkins
Cannabis Adult Use Passed: What's Nex in Maryland?
When and where
Location
The Light House Bistro 202 West Street Annapolis, MD 21401
About this event
Join us at Tea Pad on February 9th at the Light House Bistro in Annapolis with our featured guest, human and civil rights advocate Chairwoman Jheanelle K. Wilkins. Chairwoman Wilkins will share her goals for the 2023 Maryland General Assembly and for the Maryland cannabis industry.
Chairwoman Wilkins' legislative achievements include legislation related to addressing maternal health disparities, justice transformation and curbing racial profiling, and advancing educational equity. She is the first Black woman to represent Maryland's District 20 (Montgomery County) in the Maryland House of Delegates. Today, she leads The Legislative Black Caucus of Maryland, Inc. (LBCM). LBCM is an organization of 60 members who dedicate themselves to the mission of ensuring that Black people in the great state of Maryland are equally protected and benefited by the promises of life, liberty, and the pursuit of happiness, as afforded by the United States Constitution. LBCM is the largest Black Caucus in the U.S.
LCBM has been instrumental in the advocacy and passage of legislation that has benefited Blacks, and all Marylanders, since the 1970s. The Black legislators and community leaders, who serve as members and partners of the LBCM have stood steadfast and united in articulating public policy positions that promote Black progress in Maryland.
Join Tea Pad, Chairwoman Wilkins, like-minded cannabis industry professionals, entrepreneurs, and students to network, educate yourself, and help advocate for cannabis policy and law that demands equal opportunity in the cannabis industry.
The Jazz greats whose music and lyrics are the backbone of the Civil Rights Movement are celebrated at every Tea Pad. The multi-talented Eric Scott performs throughout the night on February 9th. His unique brand of funk and soul is infused with powerful lyrics that are in alignment with Tea Pad's focus on change-making and positivity.
It'll be a night with "the live jazz, good eats, plentiful libations, and provocative conservation" that Tea Pads are famous for. It's our mission to build our advocacy community to ensure that the cannabis industry provides equal opportunity for all - no matter gender or race. We're demanding social change and equity in the cannabis industry.
Tea Pads are fundraisers for The Tea Pad Fellowship Program. We're particularly focused on advancing women and people of color in cannabis STEM (science, technology, engineering, medicine). Your ticket includes one drink ticket for a premium adult beverage, food, and incredible live music. The Tea Pad Fellowship Program provides Fellows with cannabis industry work experience coupled with cannabis science and policy education curated by sister social enterprise CannabizMD. More on TeaPad.co
"Live jazz, plentiful libations, good eats & provocative conversation at every Tea Pad!"
Refund Policy: No refunds are offered instead, 100% of the ticket will support The Tea Pad Fellowship Program.
Tea Pad Photography Policy With the purchase of your ticket(s), you understand and comply with the following:
Please be aware that Tea Pad, LLC will have photos and/or videos taken of its events. Tea Pad may use these photographs/videos in publications or other media material produced, used, or contracted by Tea Pad including but not limited to: corporate communication, online platforms, magazines, newsletters, invitations, television, website, social media, etc.
To ensure the privacy of individuals, images will not be identified using full names or personal information without written approval from the photographed subject. If a person does not wish to have their image recorded for marketing purposes, please make your wishes known to the photographer, and/or the event organizers. With your ticket purchase and attendance at Tea Pad, you understand will be taking their own photographs and hold Tea Pad harmless and free from any and all liability actual issues associated with photos and videos. By participating in a Tea Pad event, you consent to your voice, name, and/or likeness being used, without compensation, for use in any and all media.
Any person or organization not affiliated with Tea Pad may not use, copy, alter or modify Tea Pad photographs, graphics, videography, or other similar productions or recordings without the advance written permission of an authorized designee from Tea Pad, LLC.
Thank you for your understanding and cooperation.
Tea Pad Founding Sponsor + Sister Social Enterprise: CannabizMD
Join the mission by sponsoring Tea Pad!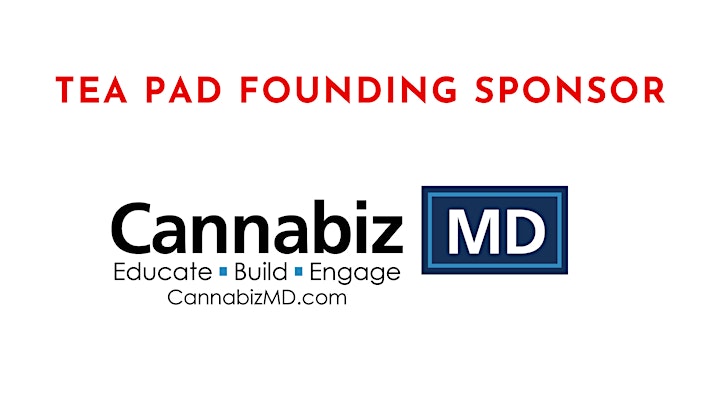 CannabizMD is a B2B medical cannabis industry platform empowering industry professionals to deliver optimal patient and product outcomes.