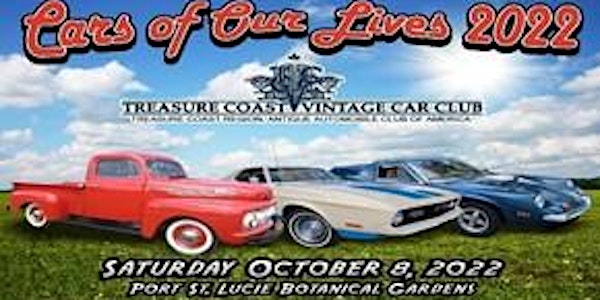 TCVCC Cars Of Our Lives Show 2022
Register your Vintage, Rod or Custom Show automobile for our annual TCVCC Cars Of Our Lives 2022 show at the Port St. Lucie Botanical Garden
When and where
Location
Port St. Lucie Botanical Gardens 2410 SE Westmoreland Blvd. Port St. Lucie, FL 34952
About this event
Registration opens on June 10.
Register your Vintage, Rod or Custom Show automobile for our annual TCVCC Cars Of Our Lives 2022 show at the Port St. Lucie Botanical Gardens on October 8th! We have several food trucks lined up along with face painting, hair decoration and ballloon animals for the kids.   Also, join us on Friday, October 7th, for a "Cheeseburger in Paradise" party at the 2nd Street Bistro in Fort Pierce. Come dressed in your best Parrot Head attire for music, food, dancing and prizes.
Ticket Prices: 
Friday night party, $25 per person, includes tax and tip. Cash bar.
Vehicles Preregistered $30.00, Day of show registration, $35 cash or check only.
Dash Plaques to all registrants.
Formal judging & awards for multiple categories.
Please, NO vehicle movement before 3 PM
Fire Extinguishers are required for all show cars.
No Charge for Spectators & Free Entrance to Gardens
Entertainment by Carlos.
Food trucks On-site.
Portion of Proceeds Benefit the Gardens
FAQs
What: A family-oriented car show featuring vehicles from 1900 through 1997.
Where: Port St Lucie Botanical Gardens, 2410 SE Westmoreland Blvd, Port St Lucie, FL. 34952
What Else? A Friday night kick-off party at the 2nd Street Bistro in Fort Pierce featuring a "Cheeseburger in Paradise" theme. Join us at 6 PM for cocktails and 7 PM for dinner. Afterwards enjoy dancing and fun. Come dressed in your best Parrot Head attire, (Hawaiian shirts, tie-die, straw hats, sarongs, flip flops) and enjoy the cheeseburger bar, french fries, cole slaw, pasta salad, dessert and coffee for only $25 per person, tax and tip included. A cash bar will be available.
REGISTRATION
Q: How do I register my vehicle in advance?
A: Exhibitor's vehicle must be pre-registered by October 5th.  Register on-line at EventBrite.  Registration Forms are also available online on the Treasure Coast Vintage Car Club website (https://treasurecoast.aaca.com/) and should be mailed BEFORE October 2nd, to:  Treasure Coast Vintage Car Club, Attn. Sally Franklin, 451 SW Manor Drive, Stuart, FL 34994.
Q: What is the cost of car registration?
A: $30 prior to October 5th, 2022
Q: What times do the gates open and registration close?
A: Gates open at 8 a.m. Drive on registration ends promptly at 10 a.m.
Q: How will each vehicle be identified?
A: By the owner's name, car category, year, make and model and a car number determined by the registration committee.
Q: What accommodations are there for trailers?
A: There is a designated area for trailer parking.  However, trailers are not allowed on the Show Field.
Q: Will volunteers be available to assist in the placement of the cars?
A: Volunteers will be on site to assist you and to escort cars to their assigned display spots. Parking volunteers will be wearing a fluorescent yellow vest as well as another significant identifier.
Q: How early can I show up in my vehicle?
A: No Show cars are permitted on the field until 8am. All cars must be in place by 10 a.m. The judging starts promptly at 11 a.m.
Q: When can I leave?
A: No car movement until 3 p.m., when the show is finished. Cars will exit according to class to make traffic move most efficiently. If you need to leave before 3 p.m., coordinate your departure with the chief volunteer in your car class.
JUDGING (Non-concourse judging) 
How will my car be judged? 
Competition Categories
b.  Stock American Vehicle 1900-1939
c.  Stock American Vehicle 1940-1949
d.  Stock American Vehicle 1950-1959
e.  Stock American Vehicle 1960-1969
f.   Stock American Vehicle 1970-1979
g.  Stock American Vehicle 1980-1997
h.  Modified 1900-1939
i.  Modified 1940-1949
j.   Modified 1950-1959
k.  Modified 1960-1969
l.  Modified 1970-1979
m.  Modified 1980-1997
n. Foreign 1900-1949
o. Foreign 1950-1959
p. Foreign 1960-1969
q. Foreign 1970-1979
r. Foreign 1980-1997
s. Rat Rods all years
3. The Owner/Exhibitor will classify their vehicle but it is subject to change by the judges if inappropriately classified.
4. Exhibitor's entry number must be clearly displayed on the driver's side windshield to be judged.
5.  Judging form (provided at Registration) must be filled out and placed on the driver's seat for your car to be judged. 
6. All cars on the Show Field must have a fire extinguisher.  Judged cars must have the hood up. Windows and convertible tops may be up or down.
7. Judges must have access to all areas of the show vehicle including interior and engine compartment. Judges WILL NOT open these areas for evaluation.
8. It is recommended you are available at judging to address any questions presented to you by the judges.
9. The Car Show Judges decisions are final. Tie breakers will be made by the judges after a short evaluation and possible re-inspection.
10. Car Show Awards will consist of winners in all categories (Best of Class plus 2 Runner-ups) as well as a Best of Show and the Participant's Choice Award will be given. Dash plaques will also be given to all registrants.
11. The winner of Best of Show is not eligible for other awards.
12. All vehicles must remain in the show area for the duration of the show (through 3:00 p.m.).
13.Awards ceremony will begin at 2 p.m. WINNERS MUST BE PRESENT FOR AWARDS.  
AMENITIES
Q: Will there be refreshments on the premises?
A: Refreshment stands will be available all day.
Q: Are alcoholic beverages permitted?
A: Alcoholic beverages are not permitted.
Q: What else will be taking place on site that day?
A: You may tour the entire Botanical Garden, including the Bamboo, Butterfly, and Cactus Gardens.
Festivities will include live music by DJ Carlos!
Q: May I sell my car at this event?
A:  "For Sale" signs are allowed on the front seat of show cars. 
Q: May I set up a tent for shade?
A: No. 
Q: Will there be security on site?
A: No. Contact any volunteer (identifiable by their florescent yellow vest) to report any suspicious activity.
BENEFITS
What cause will benefit from my participation?
Port St Lucie Botanical Gardens