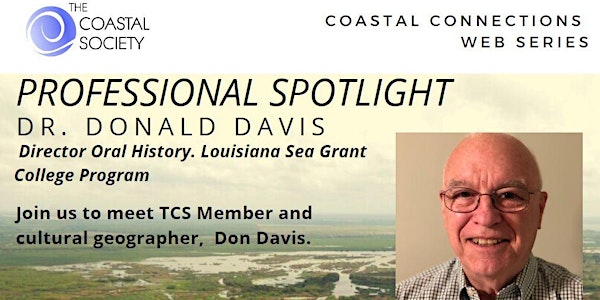 TCS Professional Spotlight with Don Davis
Join us for The Coastal Society's next Coastal Connections Professional Spotlight session with Dr. Donald Davis.
About this event
Join TCS members for the next Professional Spotlight session in The Coastal Society's Coastal Connections web conferencing series! Professional Spotlight sessions provide an opportunity for TCS members and invited guests to learn first-hand from coastal practitioners about their career path and job tips.
This session will feature Dr. Donald Davis, Director of Oral History at Louisana Sea Grant. Dr. Davis will provide an overview of his career as a cultural geographer and author. Participants will have the opportunity to ask questions and engage in discussion. The session is free, but it is intended for TCS members only. Please register through Eventbrite to receive a web link for the session.
Not yet a TCS member? Please consider joining at https://thecoastalsociety.org/home/membership/.
Questions? Contact TCSConnections@thecoastalsociety.org.
Featured Speaker Biography
Dr. Donald Davis is a cultural geographer, with a degree from the Geography and Anthropology Department at Louisiana State University. Don has been involved in Louisiana coastal-related research for more than a half-century. His research focuses on a wide array of renewable and nonrenewable resources vital to the use, and abuse, of Louisiana's wetlands. His professional career began in 1972 at Nicholls State University in Thibodaux, Louisiana. While at Nicholls, Don gave a paper at The Coastal Society's Second Annual Conference in 1976. Eleven years later, he was appointed to The Society's Board of Directors; he served two terms. In 1990, he was asked to join the LSU faculty as a Full Research Professor. Three years later, he accepted the position as Director of the Louisiana Applied and Educational Oil Spill Research Program. This was an appointed position. When he retired in 2009, he had been reappointed by four different governors. The decision to retire was prompted by an offer to serve as Director of Oral History for the Louisiana Sea Grant College Program. He is currently a Louisiana Sea Grant Scholar. In retirement, he has authored or co-authored four books and is currently working on a fifth. Along with Carl Brasseaux, they published, this year, Asian-Cajun Fusion: Shrimp from the Bay to the Bayou. Their 2017 book, Ain't There No More, Louisiana's Disappearing Coastal Plain was voted by the Louisiana Librarians Association best book on Louisiana published in 2017. In all of his work, his emphasis is on man-land relations and the importance of culture in the matrix of current and past events.