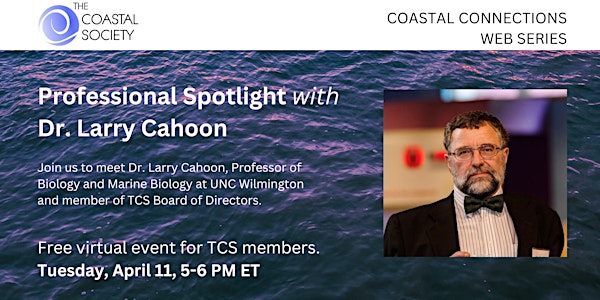 TCS Coastal Connections Professional Spotlight
Join us for the TCS Coastal Connections Professional Spotlight session with Dr. Larry Cahoon.
Date and time
Tuesday, April 11 · 2 - 3pm PDT
About this event
Join TCS members for the next Professional Spotlight session in The Coastal Society's Coastal Connections web conferencing series! Professional Spotlight sessions provide an opportunity for TCS members and invited guests to learn first-hand from coastal practitioners about their career path and job tips.
This session will feature Dr. Larry Cahoon, Professor of Biology & Marine Biology at UNC Wilmington and a Director on the TCS Board of Directors. Dr. Cahoon will provide an overview of his career, including his research in aquatic life and water quality and his experiences in coastal policy. Participants will have the opportunity to ask questions and engage in discussion. The session is free, but it is intended for TCS members only. Please register through Eventbrite to receive a web link for the session.
Not yet a TCS member? Please consider joining at https://thecoastalsociety.org/home/membership/.
Questions? Contact TCSConnections@thecoastalsociety.org.
Featured Speaker Biography
Dr. Cahoon is Professor of Biology & Marine Biology at UNC Wilmington, where he has served on the faculty since 1982. He earned a B.S. in Biology (summa cum laude) at Washington and Lee University in 1975 and a Ph.D. in Zoology at Duke University in 1981. His current teaching portfolio includes an undergraduate Limnology course and graduate courses in Biological Oceanography, Oceans and the Environment, and Coastal Ocean Science and Policy. His research interests include benthic-water column interactions in continental shelf waters, nearshore production and grazing processes, and a wide variety of water quality problems. His policy experiences include service on the North Carolina Marine Science Council, the NC Ocean Affairs Council, a Legislative Study Subcommittee on offshore energy exploration, an Ocean Policy Steering Committee for the NC Division of Coastal Management, as a member of the Board of Directors for Cape Fear River Watch, as Chair of CFRW's Advocacy Committee, and as Chair of the NC Ocean Resources Task Force.