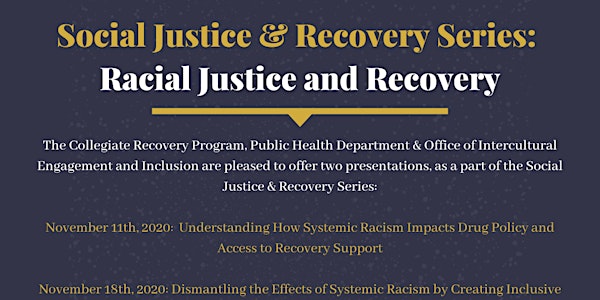 TCNJ Social Justice and Recovery Series: Racial Justice and Recovery
Sales Have Ended
Registrations are closed
Tickets for for this event are no longer available.
Presentation 1: Systemic Racism, Drug Policy, and Barriers to Recovery Presentation 2: Dismantling the Effects of Systemic Racism by...
About this event
Session 1: This presentation will focus on the intersections of systemic racism and laws as an artifact of slavery. Drug laws, policy, and enforcement became a way to ensure social control and create a permanent underclass. Drug law and policies target BIPOC citizens in the USA, destabilizing families, communities, and resources. These intentional actions have led to health disparities and barriers to accessing care as well as the development of culturally responsive support for people who experience Substance Use Disorder and access to recovery.
Session 2: This presentation will focus on actionable steps to mitigate and reverse the effects of systemic racism. Through an exercise of understanding one's privileged and marginalized identities, participants will allow for participants to recognize who has been excluded and begin to understand the role that systemic racism and oppression have played in creating intentional spaces. To create inclusive recovery community participants must be willing to recognize the role they play in upholding systems of oppression and center the experiences of those who are most marginalized on campus to create opportunities for healing, wellness, and recovery.