Description
The future of work is changing as much as the future of recruitment.
Today, 85% of the workforce consider themselves passive candidates and will consider an offer if it comes their way. Nevertheless, those candidates will not apply on job-boards or explore career pages.
How will you interact with them?
Tchoozz tech dating event.
With 8+ years of experience in recruiting, we have designed an interactive event format attracting local talents.
It combines speaker talks, company elevator pitches, networking and private face to face interviews of 5 minutes each. We truly recommend you to register your technical team to get the best of the event!


Chat face-to-face with candidates.
Our talent sourcing team has selected experienced local technical candidates (software engineers, software architects, system engineers, DevOps, Data analyst...) interested in exploring new job offers.

Join us, and get to know them.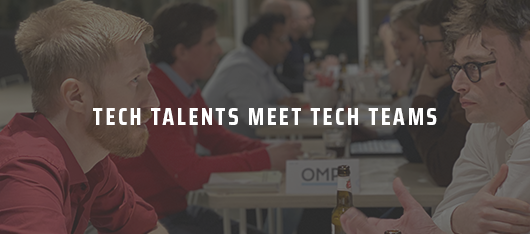 Startups, Major corporations, Consulting, Scaleups, this event fits you if:
You're rapidly growing and looking to expand your tech team

You're an employer looking for experienced tech talents (we screen candidates)

You're a company looking for innovative services to increase your brand awareness

You're a startup/scaleup looking for new team members
They're hiring with Tchoozz

Book directly your ticket on the event page or reach out to hello@tchoozz.com for more info.